This Bailey's latte masterfully blends the robust notes of espresso with the rich, creamy flavor of Baileys, resulting in a harmonious and indulgent drink.
This Bailey's Latte is a delightful fusion of rich espresso and velvety Irish cream that creates a luscious and indulgent beverage.
Whether you're starting your day with a touch of luxury or seeking a comforting treat to unwind, this recipe offers the perfect balance of flavors and a creamy texture that will warm your heart and awaken your senses.
Jump to:
Ingredients
Baileys Irish Cream: The star of this recipe, Baileys Irish Cream adds a luxurious and creamy element to the latte, with notes of rich chocolate, smooth caramel, and a hint of Irish whiskey. It brings a delightful richness that beautifully complements the espresso.
Espresso: The bold and robust flavors of espresso serve as the base for this latte, providing a strong and aromatic foundation that pairs perfectly with the creamy sweetness of Baileys Irish Cream. We used freshly brewed espresso, but you can use instant espresso if you like.
Hot Milk: A crucial component for creating the latte's velvety texture, hot milk adds a smooth and creamy element to the drink. It creates a delightful balance with the espresso and Baileys, resulting in a luxuriously indulgent experience.
Instructions
Start by brewing a strong cup of espresso or preparing instant espresso if you don't have an espresso machine.
Into your favorite coffee mug, add the prepared espresso and Baileys Irish Cream. Stir gently to combine the flavors.
Use a frother to froth the hot milk until it reaches a creamy and velvety consistency.
Pour the hot milk into the mug, reserving the foam.
Gently spoon the foam on top of your latte to add an extra layer of creaminess.
Top with optional garnishes like whipped cream or chocolate shavings, or simply enjoy the latte as is.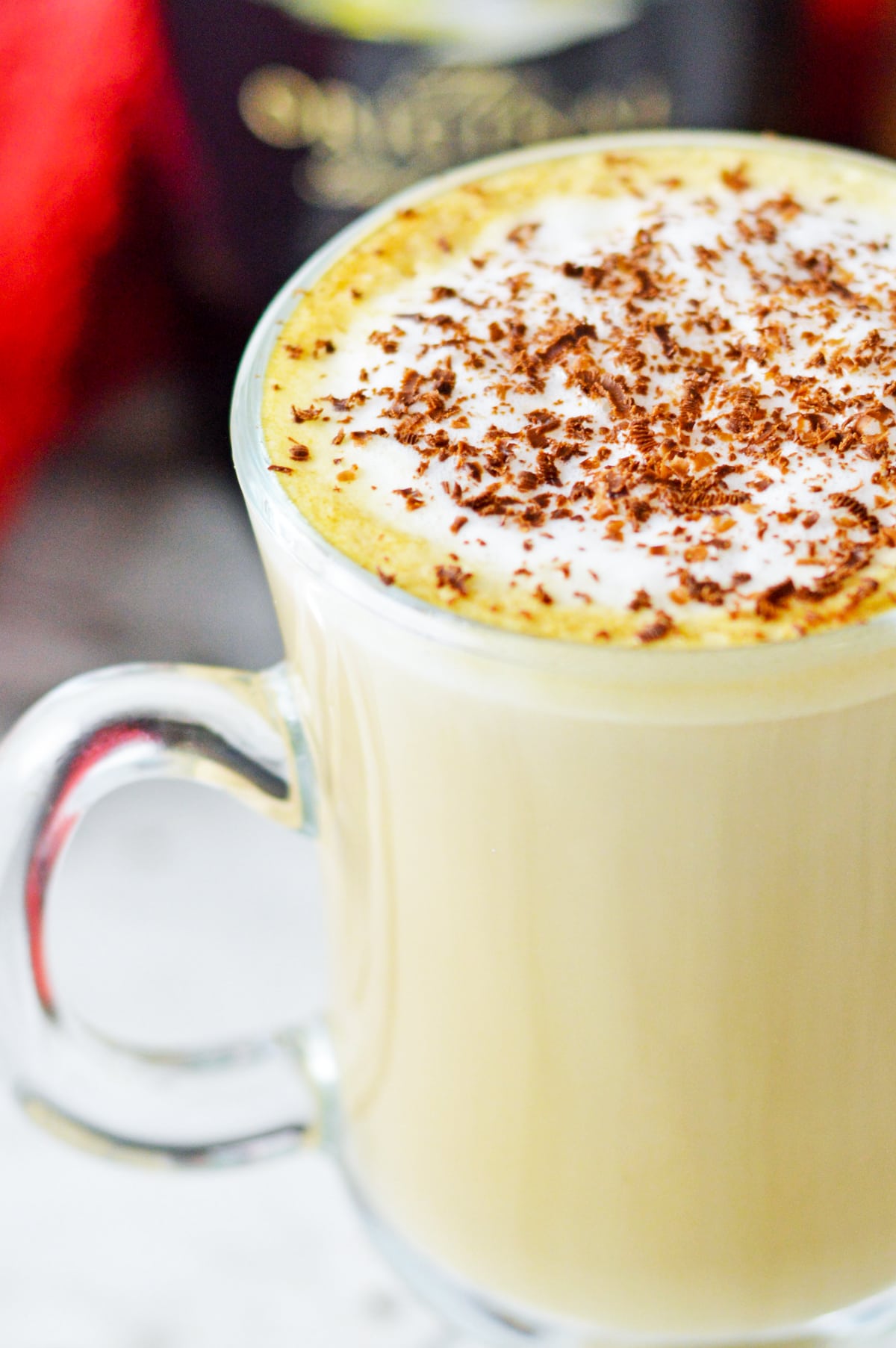 Savor every sip of this indulgent Bailey's Latte, allowing the rich flavors to envelop your palate.
Garnish Ideas
Whipped Cream: Top the latte with a dollop of freshly whipped cream for an extra touch of indulgence. The light and creamy texture of the whipped cream perfectly complements the rich flavors of the Bailey's Latte.
Chocolate Shavings: Sprinkle some chocolate shavings on top of the latte to add a hint of elegance and an extra burst of chocolatey goodness to each sip.
Caramel Drizzle: Drizzle a swirl of caramel sauce over the whipped cream or directly onto the latte for a delightful caramel accent that adds a touch of sweetness and visual appeal.
Dusting of Cocoa Powder: Lightly dust the latte with a sprinkle of cocoa powder to enhance the rich flavors and add a touch of sophistication.
Top Tips
Use freshly brewed espresso or good-quality instant espresso for the best flavor and aroma in your latte.
Froth the milk gently to create a creamy and velvety texture. Avoid overheating the milk, as it may affect the taste and texture.
Experiment with different garnishes or add a sprinkle of cinnamon or nutmeg to customize your Bailey's Latte according to your preferences.
Recipe
Yield: 1 Drink
Baileys Latte
Treat yourself to the irresistible combination of smooth Irish cream and rich espresso with this decadent Bailey's Latte recipe. Perfect for cozy mornings or as an after-dinner indulgence, this delightful drink is sure to satisfy your cravings.
Ingredients
1.5 oz. Baileys Irish Cream
1.5 oz. prepared Espresso
4.5 oz. hot milk
Whipped cream (for garnish)
Chocolate shavings (for garnish)
Instructions
In your coffee mug, combine espresso and Baileys Irish Cream. Stir gently.
Froth the hot milk using a frother, then pour it into the mug, reserving the foam.
Carefully spoon the foam on top of the latte.
Garnish and serve.
Cheers!
Notes
You can use fresh espresso or a good quality instant espresso.