Whisk up the refreshing tang of a Blackberry Mule, a vibrant cocktail that perfectly balances the sweetness of blackberries, the zesty kick of lime, the bite of vodka, and the spicy undertone of ginger beer.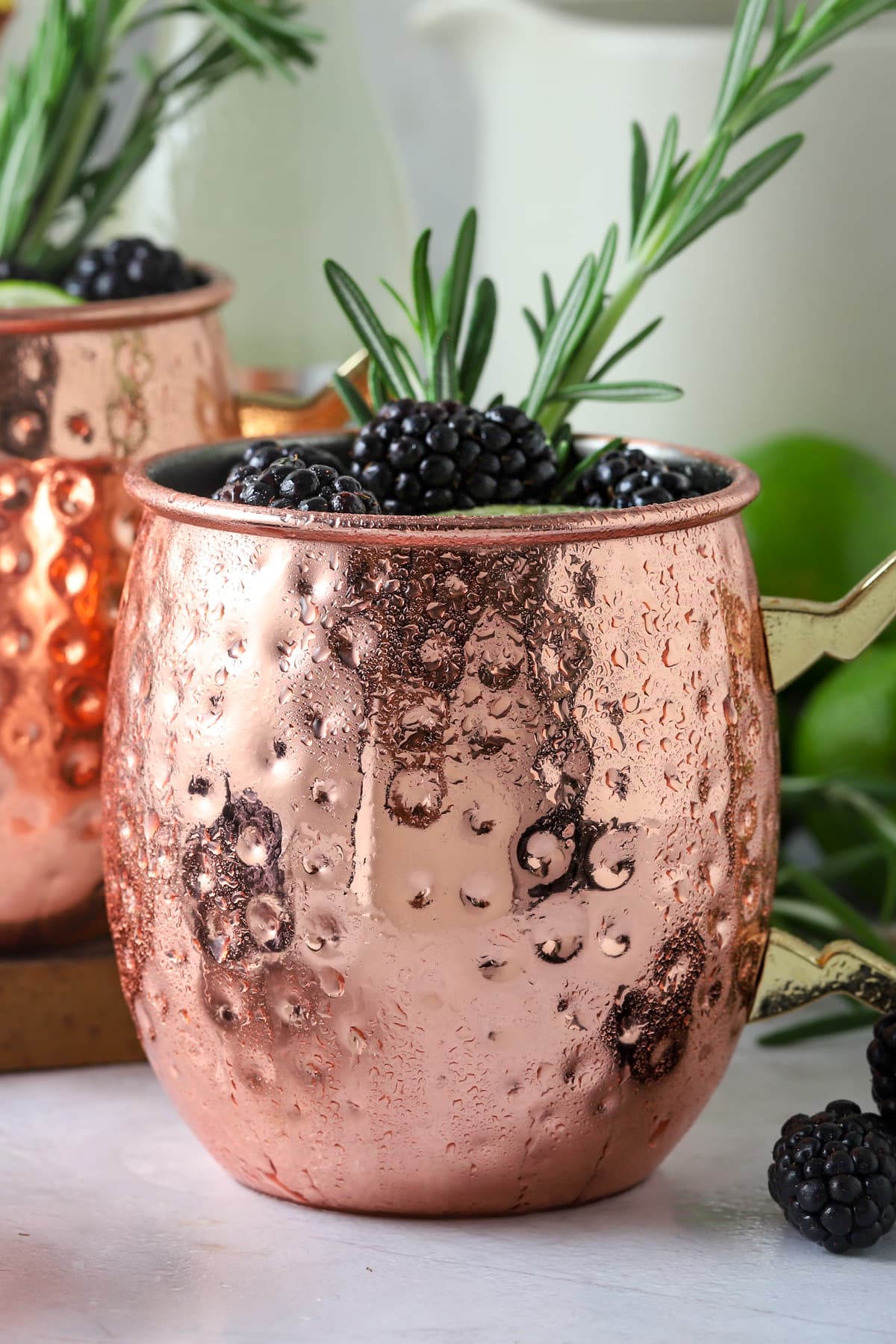 The Blackberry Mule is a delightful twist on the classic Moscow Mule. It is an excellent blend of sweet and tart with a splash of spice, making it the perfect drink for summer parties, lazy weekend afternoons, or any festive occasion.
The recipe finds its roots in the original Moscow Mule, known for its signature use of vodka and ginger beer served in a copper mug, while adding a contemporary fruity twist.
If you want to check out some other Moscow mule drinks, you'll enjoy our London mule and cranberry Moscow mule.
Have extra blackberries on hand? Be sure to check out some of our other blackberry cocktails, like our blackberry daiquiri.
This post may contain affiliate links. That means if you click on a link and buy something, we may earn a small commission at no cost to you. We only recommend products we love and think you would enjoy too. You can read the full disclosure here.
Jump to:
Why You'll Love This Drink
The balance between the sweet blackberries and zesty lime adds a refreshing touch to the cocktail.
The ginger beer offers a spicy kick, contrasting beautifully with the other flavors.
The drink is very easy to prepare, requiring only a few ingredients and steps.
It's a versatile cocktail, perfect for any occasion.
Ingredients
Blackberries: The primary source of sweetness in this cocktail, adding depth and a fruity essence.
Lime Wedges: Brings a zesty tang, counterbalancing the sweetness of the blackberries.
Vodka: Provides the alcoholic punch, while being neutral enough not to overpower the other ingredients.
Ginger Beer: Gives the drink a spicy finish and fizzy texture, completing the flavor profile.
Instructions
Start by thoroughly washing your blackberries and lime. Then, in a cocktail shaker, muddle the blackberries.
Next, add the vodka and lime juice to the shaker.
Add some ice and shake well to mix all the ingredients.
After that, strain this mixture into a copper mug filled with ice.
Finally, top it off with ginger beer and garnish your drink with the a lime wedge.
Enjoy your Blackberry Lime Moscow Mule!
Garnish Ideas
Fresh Mint: Its freshness will elevate the overall taste.
Lime Wheel: A more decorative and appealing version of lime.
Blackberry Skewer: Adding blackberries on a skewer brings a touch of elegance.
Edible Flowers: They add a pop of color and make the cocktail look extravagant.
Crystalized Ginger: Will complement the ginger beer and add a delightful texture.
Top tips
Use fresh, high-quality ingredients for the best flavor.
Be sure to thoroughly muddle the blackberries and lime to release their juices.
Don't skip the copper mug, it helps to keep the drink cool.
Adjust the ratio of ingredients to suit your personal preference.
Make sure to use a strainer to get a smooth drink.
Substitutions
Rum or Gin: These can be used instead of vodka if you prefer.
Club Soda: A good non-alcoholic substitute for ginger beer.
Blueberries or Raspberries: Can replace blackberries for a different flavor profile.
Variations
Add a splash of orange or cranberry juice for a fruity kick.
Infuse the vodka with herbs like basil or mint for an interesting twist.
Use flavored vodka for an extra punch.
Recipe
Yield: 1 Drink
Blackberry Mule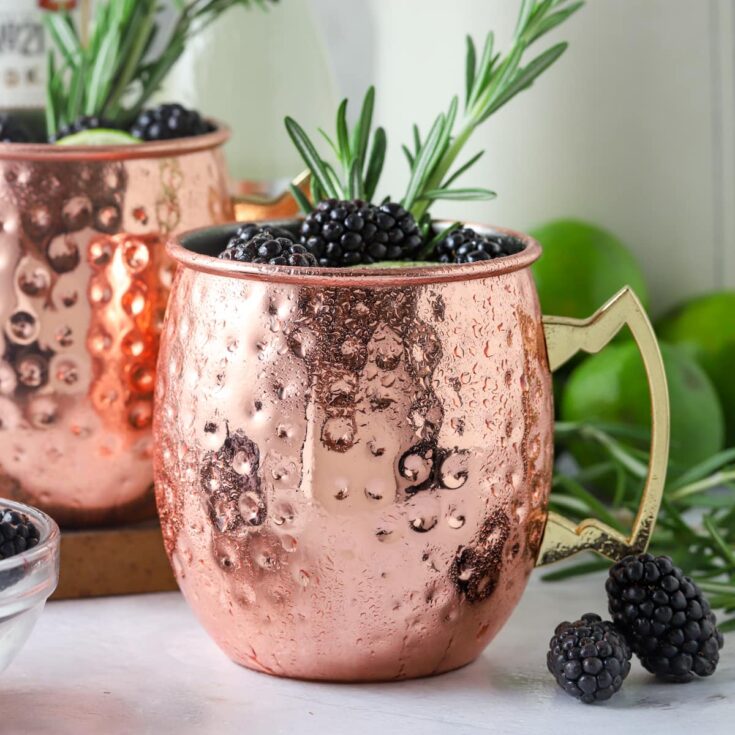 Experience a flavor fiesta with our Blackberry Mule - a tantalizing cocktail that artfully marries the juicy sweetness of blackberries and citrusy lime with the boldness of vodka and the fiery notes of ginger beer. Perfect for every occasion, this vibrant and easy-to-make drink promises an unforgettable sensory journey with every sip.
Ingredients
3-5 Blackberries
1 ½ Ounces vodka
6 Ounces ginger beer
Instructions
In a cocktail shaker, muddle the black berries.
Add in ice, vodka and lime juice.
Shake for 20-30 seconds.
Fill copper mug with ice.
Using a strainer pour blackberry vodka mixture into copper mug.
Top with ginger beer and garnish.
Cheers!
Notes
Use more blackberries for a sweeter, stronger fruit flavor or less blackberries for a more subtle flavor.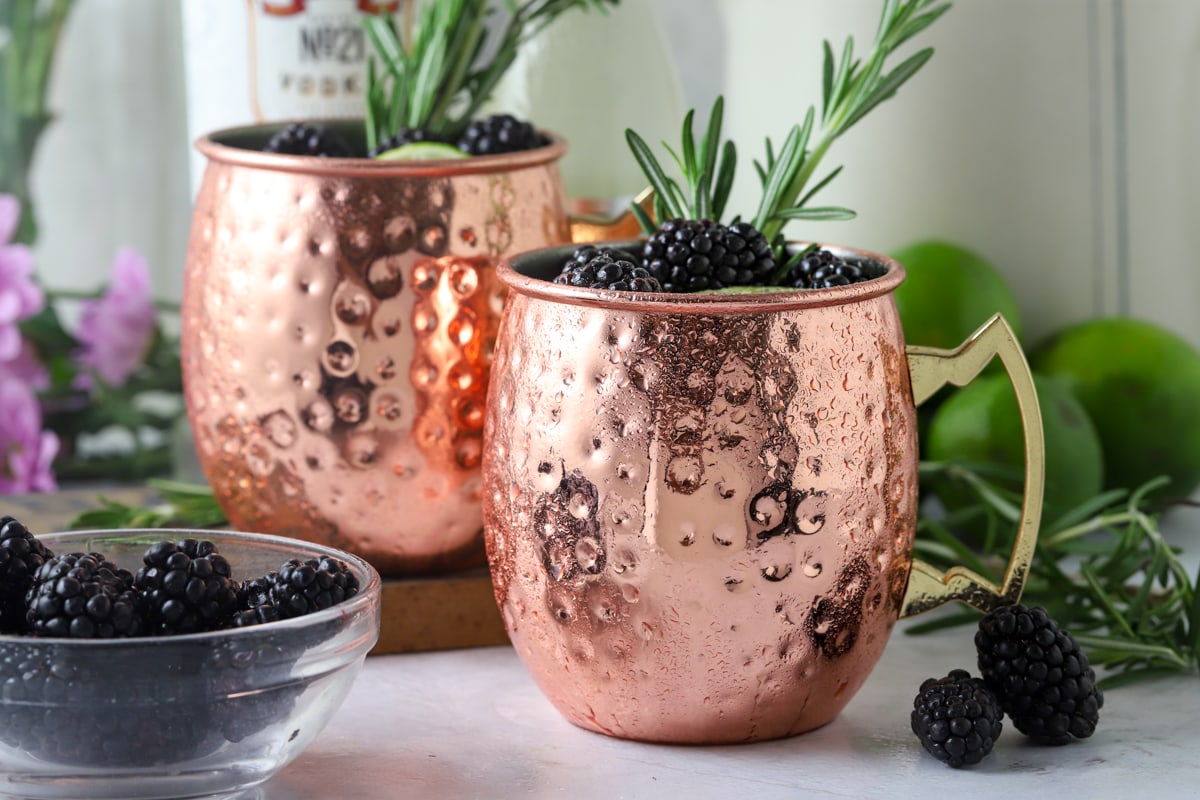 When to make these:
For a summer-themed party.
As a refreshing after-dinner drink.
When you're hosting a cocktail party.
For a Sunday brunch.
During a BBQ gathering.