This blue mimosa recipe is a fun and vibrant blue sparkling drink perfect for all sorts of occasions. These blue cocktails make excellent holiday drinks, to use as Tiffany mimosas (perfect for engagement parties), or for fun tropical themed parties.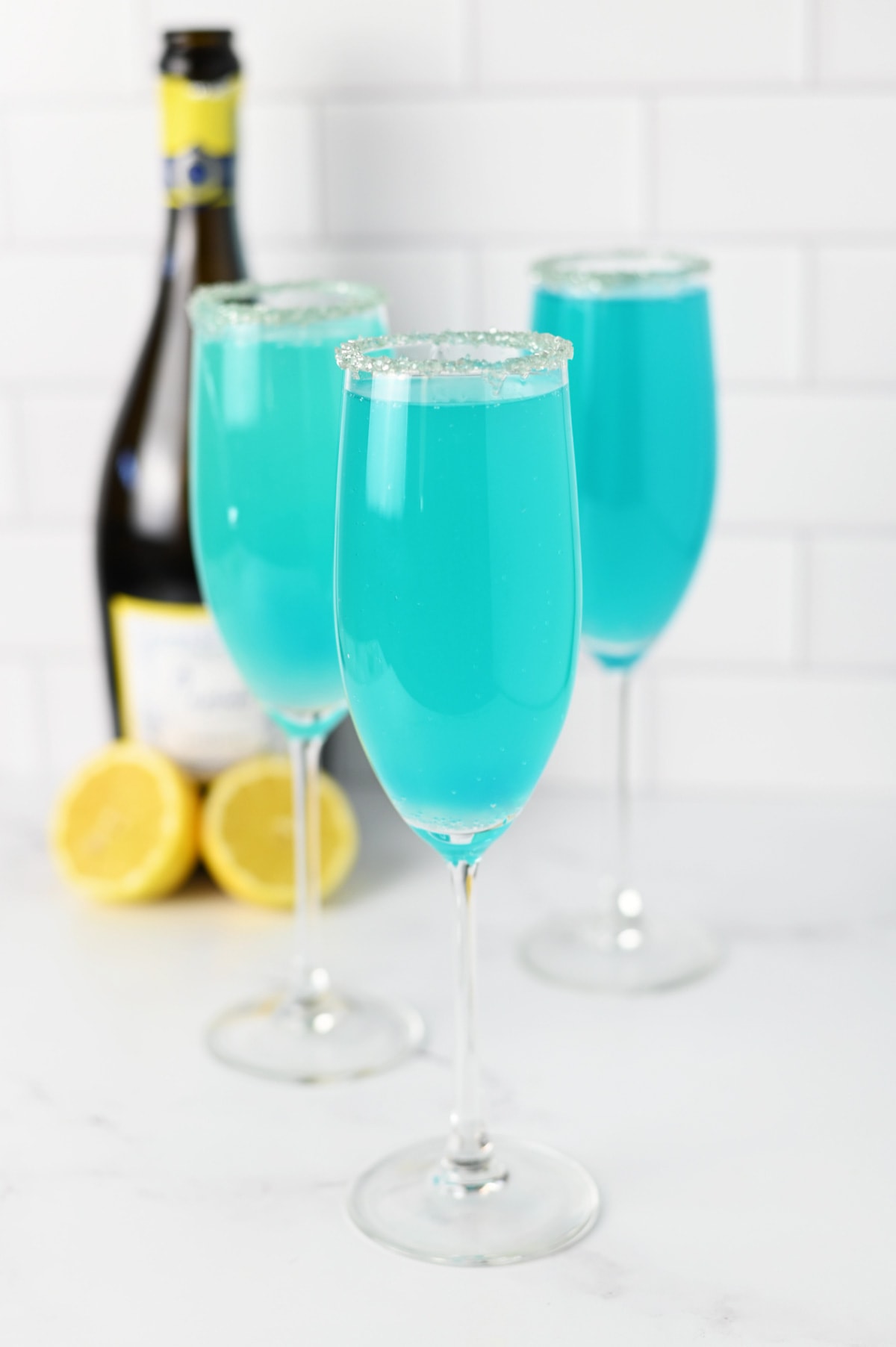 These blue Mimosas are an elegant twist on the traditional champagne cocktail, bringing an irresistible splash of color to your glass.
Reminiscent of the azure seas, they are perfect for beach parties, brunches, or any celebration that demands a touch of glamour.
These make a gorgeous tiffany blue cocktail, which is perfect for engagement parties or as a bachelorette party cocktail.
Its origins may be rooted in the classic mimosa, but its striking blue color sets it apart and promises an exciting taste experience.
You'll also notice there is no orange juice in this particular mimosa, much like some of our other favorite mimosa recipe. The orange juice is swapped out for blue curacao liqueur. So no blue food coloring is necessary.
Jump to:
Why You'll Love This Drink
Vibrant color that adds a festive touch to any occasion.
A delightful balance of sweet and tart flavors.
Easy to make yet looks incredibly sophisticated.
A perfect blend of familiar and exotic tastes.
Ingredients
For cold drinks, make sure to chill all of your ingredients ahead of time, as there is no ice in these drinks to cool them after.
Lemonade: Not just a simple thirst quencher, lemonade lays the foundation for this cocktail. Its citrusy freshness rejuvenates the senses, while its zesty tang ensures that the drink remains vibrant and lively. This ingredient transforms the cocktail from just another bubbly drink to a refreshing experience.
Prosecco: The Prosecco's role is two-fold. Firstly, it brings the signature effervescence that mimosas are renowned for, making every sip a bubbly delight. Secondly, its richness and depth, derived from the fermentation of Glera grapes, elevate the drink, providing a sophisticated backdrop against which the other flavors can shine.
Blue Curacao: This Caribbean liqueur is the heart of the drink's exotic appeal. Made from the dried peels of the Laraha citrus fruit, blue curacao liqueur bestows the cocktail with its captivating blue hue. More than just color, it also infuses the drink with subtle tropical undertones, reminiscent of sun-kissed beaches and balmy evenings.
Corn Syrup: While it may seem like an unusual cocktail ingredient, the corn syrup is perfect for creating a beautiful rim of silver around your glass.
Silver Sugar Sprinkles: The final touch of magic! These sprinkles are not just about aesthetics, though they undoubtedly elevate the drink's visual appeal. It makes the drink feel very glamorous.
Glassware and Equipment
Champagne flutes: A champagne glass is the traditional choice for mimosas.
Saucer: For dipping rims.
Alternatives: Coupe glasses or wine glasses if champagne flutes aren't available. You can read more about types of cocktail glasses here and why the choices make a difference.
Instructions
Let's start by rimming our glasses. First pour a shallow layer of corn syrup into one saucer and silver sugar sprinkles into another.
Next, gently dip the rim of the champagne flute first into the corn syrup, ensuring an even coat.
Then, immerse it into the sprinkles for a sparkling finish.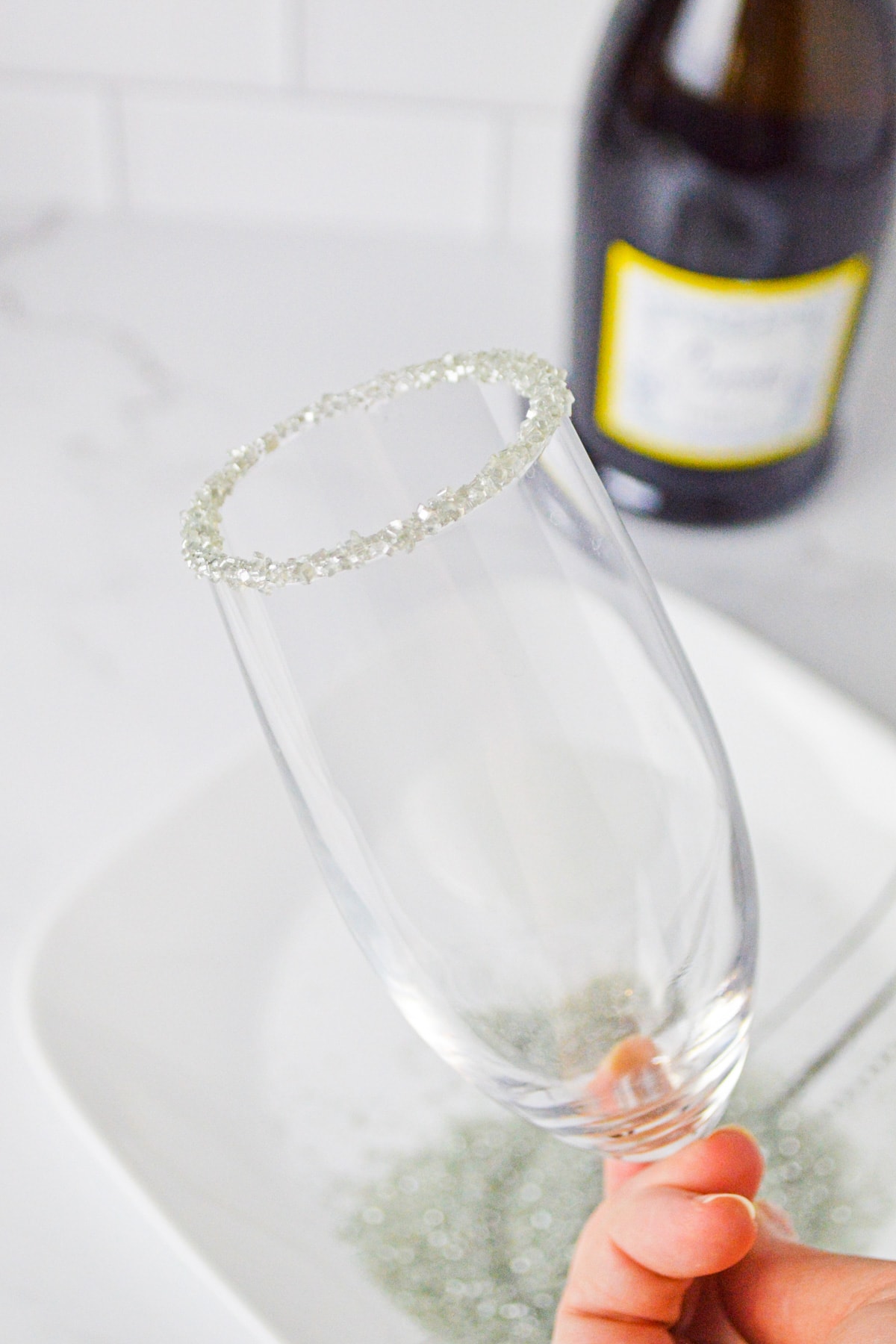 To create the mimosa, start by pouring lemonade, filling up to the halfway point of the flute.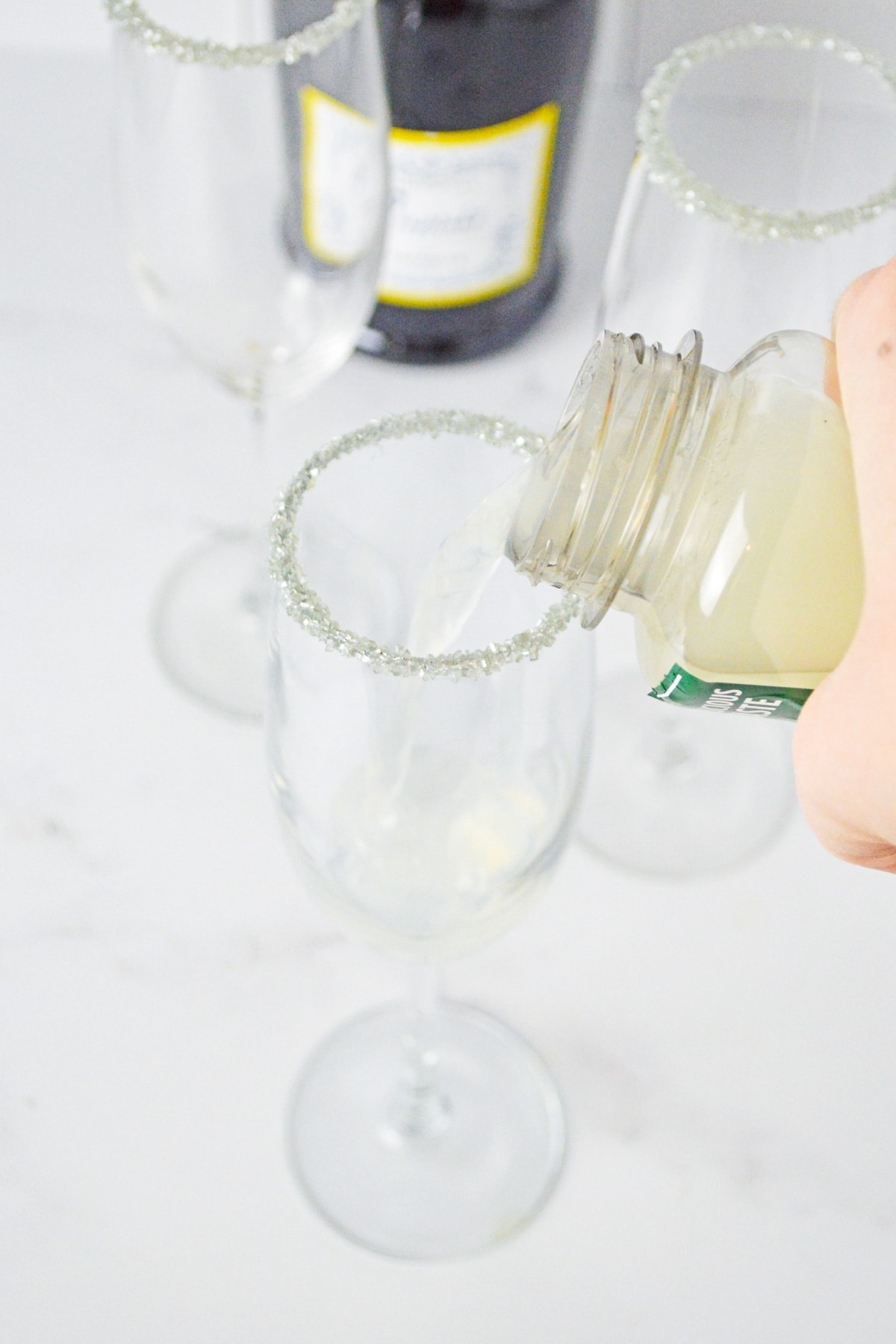 Add a splash of blue curacao for color and tropical flair.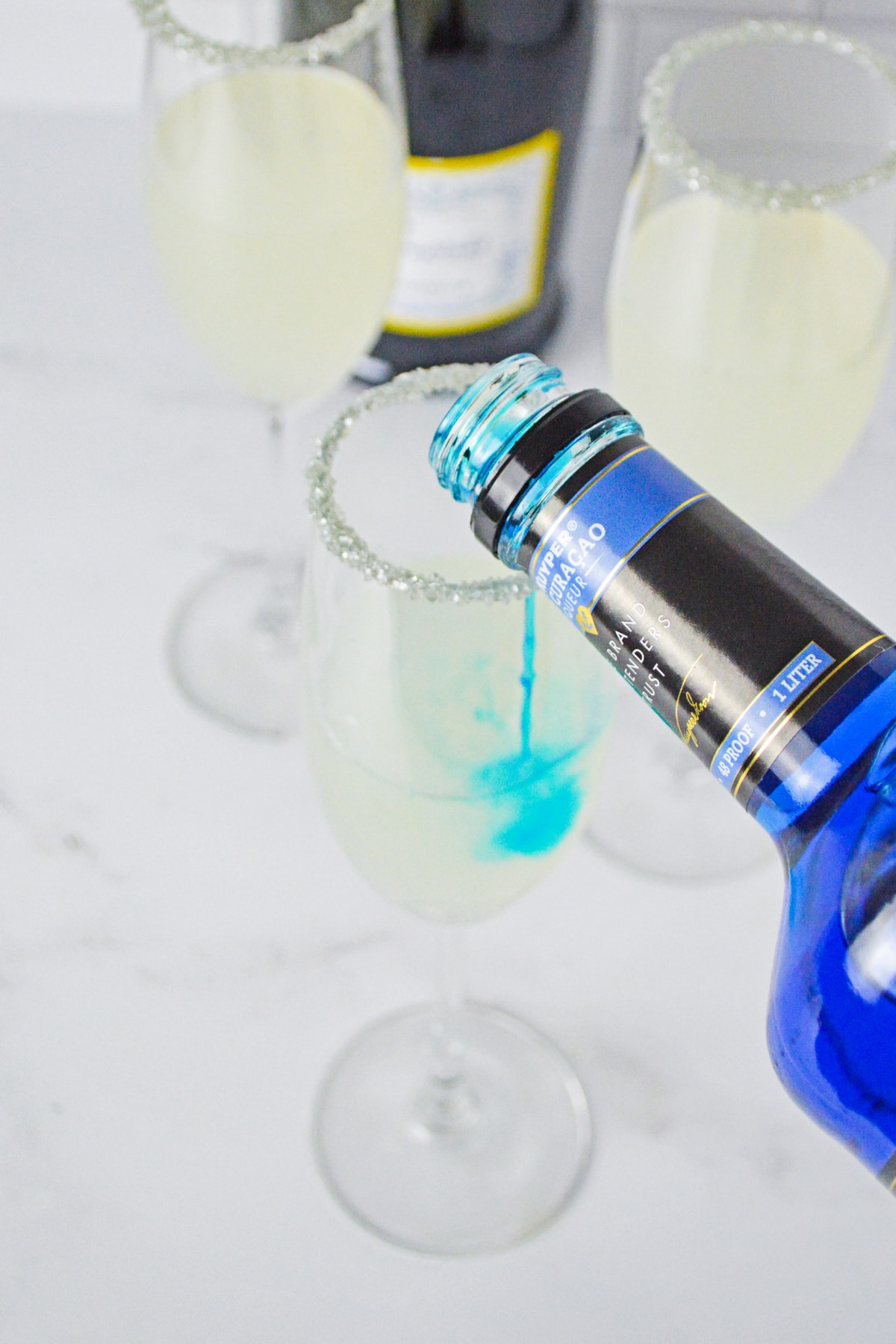 Finally, top it up with Prosecco for that classic bubbly touch. Adjust the blue curacao to your desired shade.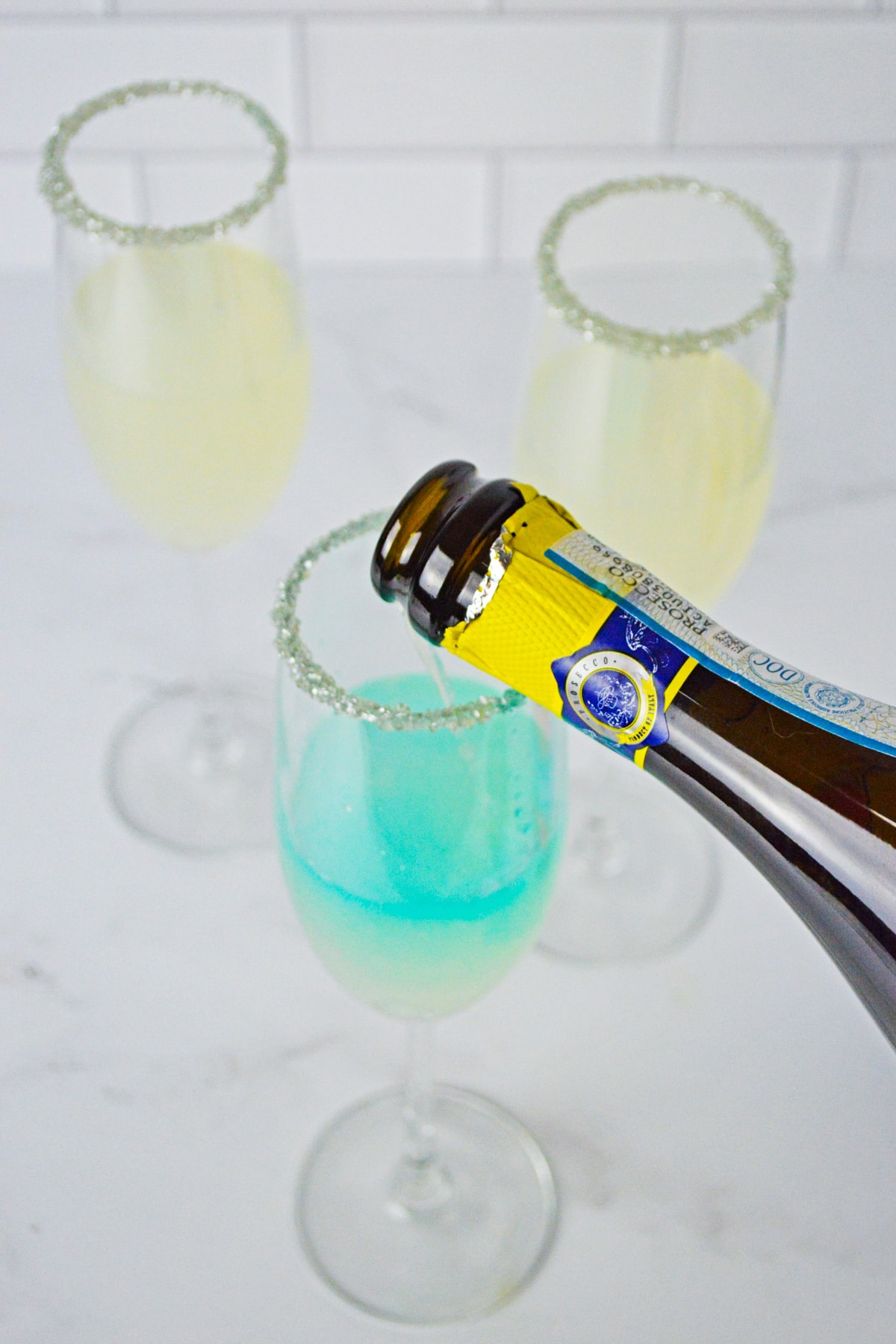 And that's it. Your blue mimosa is ready to serve!
Serve immediately. Cheers!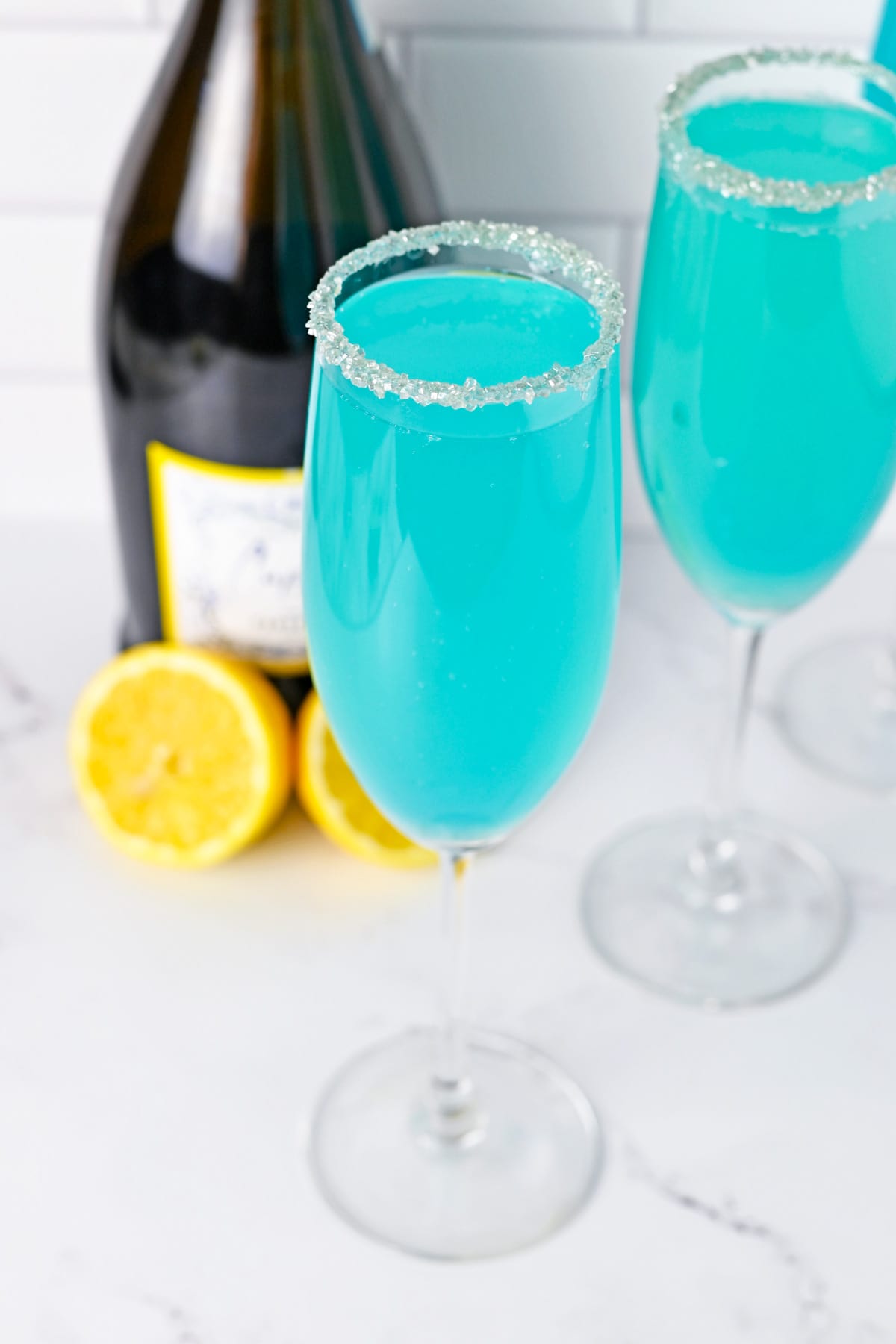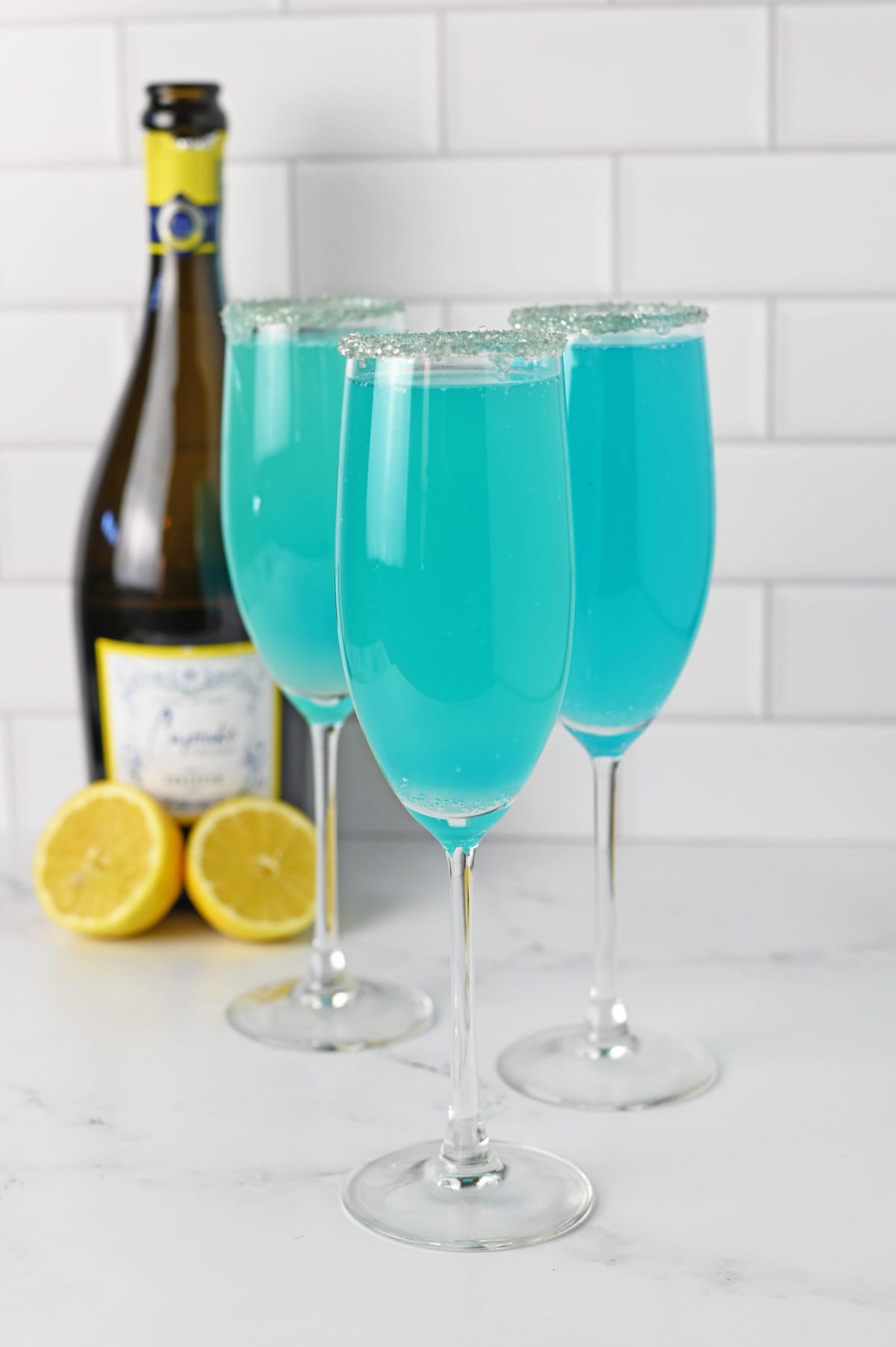 Garnish Ideas
Personally, I think these blue mimosas are perfect with the sparkling rim. But if you are looking for some alternative garnish ideas, here are some good ones that pair well with these blue cocktails.
Lemon Twist: A classic touch and a nod to the lemonade base.
Edible Glitter: For an extra touch of sparkle.
Blueberries: Their natural color complements the drink.
Mint Leaf: Offers a fresh contrast and aromatic presence.
Frozen Grapes: These not only cool down the drinks but adds a fun flavor as well.
Top Tips
Always Use Chilled Ingredients for the Best Results: A cold drink is not only more refreshing, but chilled ingredients also help maintain the drink's integrity. When ingredients like lemonade and Prosecco are cold, they mingle better, ensuring a crisp, consistent flavor throughout the drink. Plus, using chilled components ensures your mimosa stays cooler for longer, enhancing the overall drinking experience.
Adjust the Amount of Blue Curacao to Achieve the Desired Hue: The beauty of this Blue Mimosa lies in its vibrant color, and you have the control to determine its intensity. Depending on the occasion or your personal preference, you might want a lighter pastel blue or a deeper azure. By adjusting the blue curacao, you can achieve the perfect shade that fits the mood.
For a Less Sweet Version, Opt for a Dry Prosecco: Prosecco comes in various sweetness levels, from brut (very dry) to dolce (very sweet). If you're looking to cut back on the sugary notes in your mimosa, choosing a brut or extra brut Prosecco will give you a drink that's more on the crisp and tart side, allowing the lemonade's natural tanginess to shine through.
To Prevent Overfilling, Pour Prosecco Gently and at an Angle: The art of pouring is crucial, especially with bubbly drinks. To ensure you don't end up with a foamy overflow or waste any of that precious Prosecco, tilt your champagne flute at about a 45-degree angle and pour the Prosecco gently down the side. This method not only prevents overfilling but also retains the beverage's effervescence, ensuring that every sip is bubbly and delightful.
Substitutions
Orange Liqueur: For a more citrusy flavor in place of blue curacao.
Soda Water: For a non-alcoholic version, replace Prosecco.
Variations
Add a touch of vodka for an extra kick.
Incorporate a splash of pineapple juice for a tropical twist.
Recipe
Yield: 1 Drink
Blue Mimosa
Brighten up your day with Blue Mimosas, a celestial blend of crisp Prosecco and mesmerizing blue curacao, with the refreshing hint of lemonade.
Ingredients
3 ounces lemonade
3 ounces Prosecco
Splash of blue curacao
Corn syrup (for the rim)
Silver sugar sprinkles (for the rim)
Instructions
Start by rimming the glasses. Pour corn syrup into a shallow dish and the silver sprinkles into a separate dish.
Dip the rim of the glass into the corn syrup first, then into sprinkle mixture ensuring the entire rim is coated well.
To make mimosas, fill the glass halfway with lemonade.
Then add splash of blue curacao. Fill rest of glass with champagne.
Notes
To make drinks darker blue add more curacao. To make them a lighter, more tiffany blue shade, use less curacao.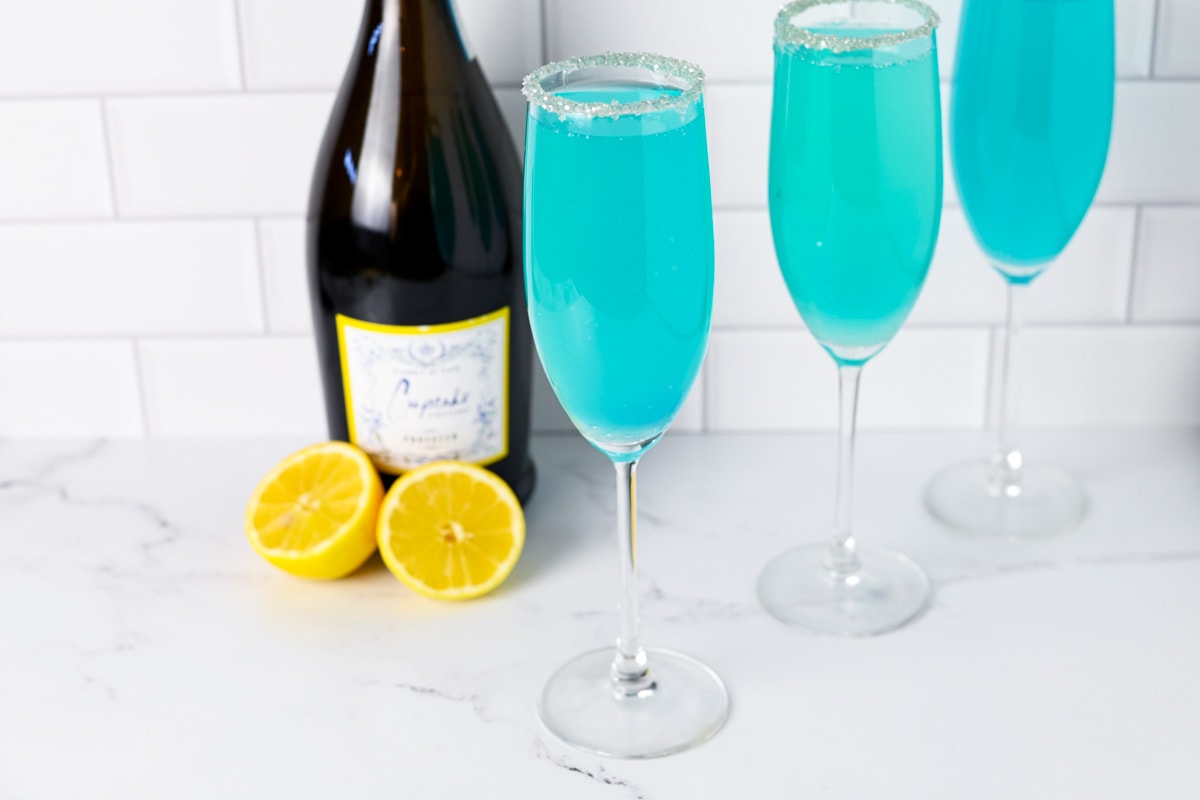 When to Make These:
Beach-themed parties
Summer brunches
After-dinner drinks
New Year's Eve celebrations
Engagement parties
FAQs
Can I make this without alcohol?
Yes, replace Prosecco with soda water for a non-alcoholic version.
Is there a way to get a darker blue shade?
Yes, to make your blue mimosa a darker blue, increase the amount of blue curacao to achieve a darker hue.
Can I prepare this in advance for a party?
Yes, but add the Prosecco just before serving to retain its bubbles.
Is blue curacao very sweet?
It's moderately sweet with a hint of bitterness. You can adjust the amount according to your taste.
Can I use other sprinkles for the rim?
Absolutely! Choose any color or flavor of sprinkles that match your theme.
How can I make it less sweet?
Opt for a dry Prosecco and adjust the amount of blue curacao.
Is there a non-blue version?
You can use an orange liqueur instead of blue curacao for a traditional mimosa with a twist.
What food pairs well with this drink?
Light appetizers, seafood dishes, or a cheese platter complement the drink beautifully.