Indulge in the heavenly mix of creamy dessert and spirited charm with the Cheesecake Cocktail. Every sip promises velvety richness with a surprise kick. It's like a cheesecake martini.
The Cheesecake Cocktail is more than just a drink; it's an experience. This cocktail captures the creamy decadence of the iconic cheesecake dessert, perfect for those who like their drinks with a dash of indulgence.
Great for dessert-themed parties or as an after-dinner treat, it evokes the nostalgic feelings of digging into a freshly baked cheesecake.
It's made of rich and creamy Kaluha and vanilla vodka, and we coat the rim of the glass with graham cracker crumbs to really give it that cheesecake feel.
The incorporation of some classic spirits only amplifies the rich history of enjoying desserts and drinks together.
It's the perfect dessert cocktail and one of my personal favorite cocktail recipes to satisfy a sweet tooth.
Jump to:
Why You'll Love This Cocktail
Creamy, smooth texture reminiscent of cheesecake.
Perfect balance of sweet and spirited.
Offers an innovative way to enjoy a classic dessert.
Impresses guests with its gourmet twist on a traditional cocktail.
Ingredients
For this cheesecake cocktail recipe, you'll need the following ingredients.
Vanilla Vodka: Infused with the sweet aroma of vanilla, adding depth and warmth to the cocktail.
Cream (half & half): Provides a creamy, silky texture that's reminiscent of classic cheesecake.
Amaretto: A hint of sweet almond flavor elevating the cocktail's taste.
Kahlua: Introduces rich coffee undertones that complement the sweetness.
Graham Cracker Crumbs: Offer a delightful crunch and earthiness that rims the drink.
Honey: Adds a touch of natural sweetness.
Ice: Enhances the texture and ensures a refreshing temperature.
*To make graham cracker crumbs just place several graham crackers into a plastic bag and crush them with a rubber mallet or rolling pin.
Instructions
Start by preparing your glass with the crust coating by coating the rim in honey.
The easiest way to do that is to pour honey into a shallow dish then dip the cocktail glass upside down in the honey.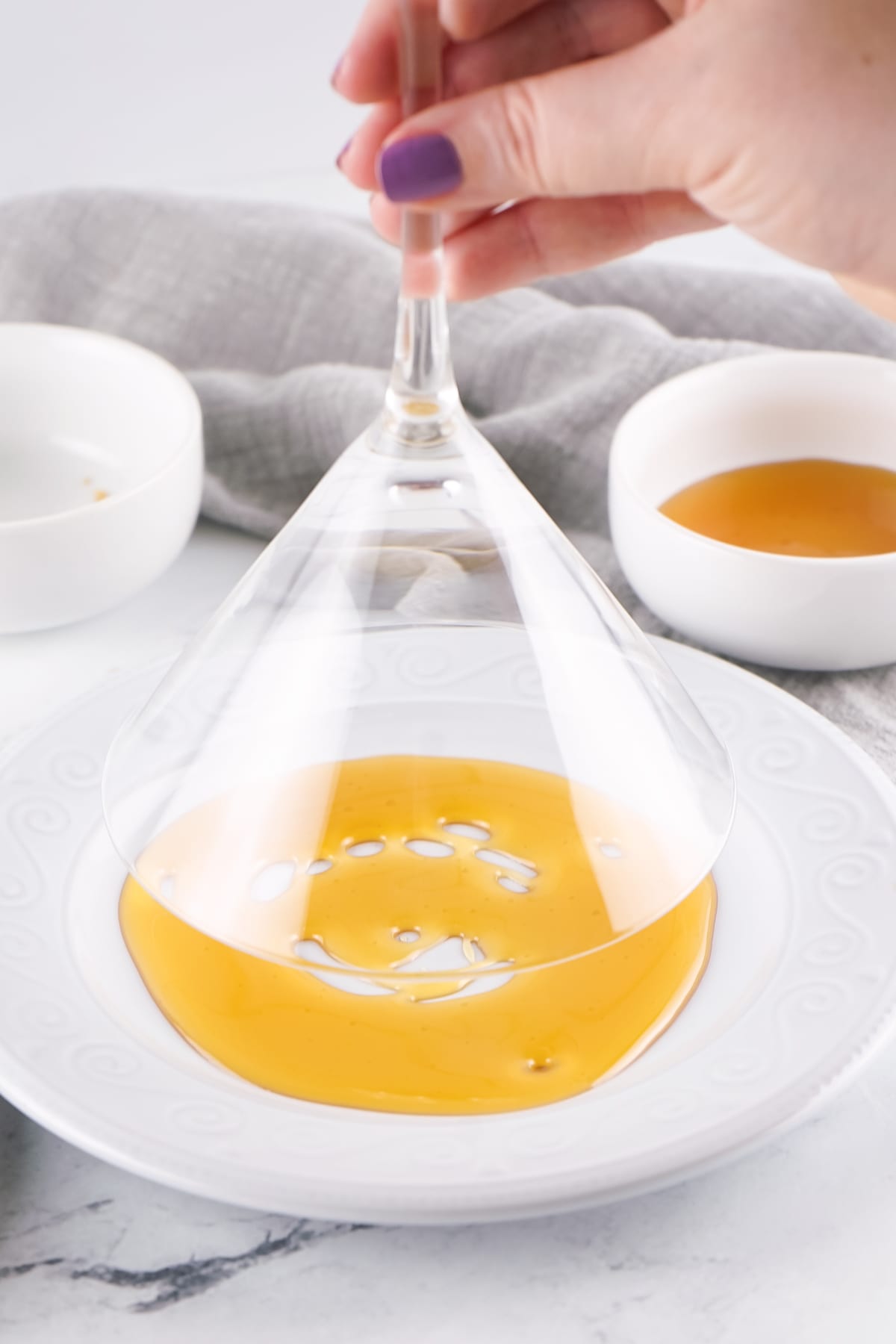 Then generously dip into graham cracker crumbs, that are sprinkled onto a separate shallow dish.
Once set aside, grab a cocktail shaker. If you're using ice, toss in a handful or roughly half a cup.
Next, pour in the Kahlua, amaretto, vanilla vodka, and cream into the shaker.
Vigorously shake the mixture for about 30 seconds.
Finally, strain your concoction into the prepared glass, ensuring a smooth pour, and relish every sip.
Garnish Ideas
Whipped Cream: A dollop can enhance the dessert feel.
Cherry on Top: Adds a pop of color and a burst of tangy flavor.
Chocolate Shavings: Introduce a chocolatey dimension.
Lemon or Orange Zest: Brings in a citrusy note that contrasts the sweetness.
A Small Slice of Cheesecake: Truly indulgent and thematic.
Fresh Berries: Lends freshness and a pop of color.
Mint Sprigs: Gives a refreshing aftertaste.
Top Tips
Quality Over Quantity: Investing in quality spirits makes a world of difference. Premium spirits not only offer a smoother finish but can significantly elevate the overall taste of the cocktail.
Ice Matters: While some might skip it, using ice during the shaking process serves a dual purpose. It not only chills the drink but also helps in integrating the flavors more harmoniously. The resultant refreshing coldness amplifies the drinking experience.
Personalize Your Blend: Every individual's preference for creaminess may vary. Play around with the ratio of vodka and Kahlua until you hit your sweet spot. Remember, adjusting the quantities can help you achieve a taste tailored to your palate.
The Graham Experience: Rimming the glass with graham crumbs isn't just for aesthetics. It imparts a crunchy texture and a hint of earthiness with each sip, enhancing the cheesecake feel. So, even if you're tempted to skip, give it a try at least once.
Shake It Right: A good shake is crucial for blending the ingredients properly. Ensure you shake vigorously for the full 30 seconds to ensure the ingredients meld well and the drink achieves its desired creamy texture.
Fresh Ingredients: While spirits have a long shelf life, always ensure that your cream is fresh. This not only guarantees the best flavor but also the right consistency.
Explore Glass Options: While any glass will do, serving in a chilled martini or coupe glass can add a touch of elegance and keep the drink cooler for longer.
Substitutions
Vanilla Extract & Plain Vodka: If vanilla vodka isn't available.
Almond Milk: For a lighter, dairy-free version.
RumChata: In place of Kahlua for a cinnamon twist.
Variations
Chocolate Cheesecake Cocktail: Add chocolate syrup.
Strawberry Cheesecake Cocktail: Blend with fresh strawberries.
Mocha Cheesecake Cocktail: Incorporate a shot of espresso.
Recipe
Yield: 1 Cocktail
Cheesecake Cocktail
The Cheesecake Cocktail is not just a drink; it's a dessert in a glass. Let the layered flavors of vanilla, almond, and coffee whisk you away to a gourmet paradise.
Ingredients
2 Ounces Vanilla Vodka
2 Ounces Cream (half & half)
1 Ounce Amaretto
1 Ounce Kahlua
Graham Cracker Crumbs (optional for rimming the glass)
Honey (optional for rimming the glass)
Ice (optional for shaking)
Instructions
Rim the glass with honey and dip in graham crumbs. Reserve.
Add ice to the shaker if desired.
Pour Kahlua, amaretto, vanilla vodka, and cream into the shaker.
Shake well for 30 seconds, then strain into the glass. Serve!
Notes
Using ice while shaking enhances the drink's chillness. However, if you prefer a less cold beverage, feel free to omit the ice.
When To Make These
These cheesecake cocktails are perfect to whip up for:
Dessert-themed parties.
After-dinner drinks.
Date nights at home.
Celebratory occasions like anniversaries.
When you're in the mood for a gourmet treat.
I hope you enjoy this easy cheesecake drink as much as we do. Cheers!
FAQs
Can I prepare the Cheesecake Cocktail in advance for a party?
While you can premix the alcoholic components in advance, it's best to add the cream and shake with ice just before serving to maintain freshness and creaminess.
I don't have a shaker. Can I still make this cocktail?
Yes, if you don't have a shaker, you can stir the ingredients vigorously in a glass or use a mason jar with a tight lid as an alternative.
What other flavored vodkas can I use?
While vanilla vodka is recommended, you can experiment with caramel, chocolate, or even berry-flavored vodkas to add a different twist.
How important is rimming the glass with graham cracker crumbs?
Rimming the glass enhances the cheesecake experience by adding texture and flavor with each sip. However, it's optional and can be skipped if preferred.
Can I use regular coffee instead of Kahlua?
Kahlua adds both coffee flavor and alcoholic content. If you're looking to replace it, use coffee syrup or a strong brewed coffee, but keep in mind the alcohol content will be reduced.
Are there any other liqueurs that pair well with this cocktail's flavor?
Yes, Baileys Irish Cream, Frangelico (hazelnut liqueur), or Chambord (raspberry liqueur) can be experimented with for different flavor profiles.