If you're looking for a refreshing and sophisticated cocktail that's perfect for sipping on a warm summer evening, look no further than the Elderflower Cucumber Martini. This cocktail blends together the delicate floral notes of elderflower liqueur with the crispness of cucumber to create a drink that is both light and refreshing.
The Elderflower Cucumber Martini is like a cool breeze on a hot summer day, with its refreshing and crisp taste that will leave you feeling rejuvenated.
The subtle sweetness of elderflower liqueur perfectly complements the fresh and clean taste of cucumber, creating a flavor profile that's light and airy yet still packs a flavorful punch.
Jump to:
Ingredients
Vodka: This clear and smooth spirit is the base of the cocktail, providing a neutral canvas for the other flavors to shine through.
Elderflower liqueur: This sweet and floral liqueur adds a delicate yet distinctive flavor to the drink, giving it a touch of sophistication and elegance.
Chopped cucumber: The fresh and juicy cucumber pieces add a crisp and clean taste to the cocktail, making it incredibly refreshing and invigorating.
Lime juice: The tartness of lime juice balances out the sweetness of elderflower liqueur, creating a harmonious blend of flavors that's both tangy and sweet.
Basil: The fragrant herb adds an earthy note to the drink, complementing the floral flavors of elderflower while also adding depth and complexity.
Instructions
In a cocktail shaker, measure and pour in your vodka and elderflower liqueur.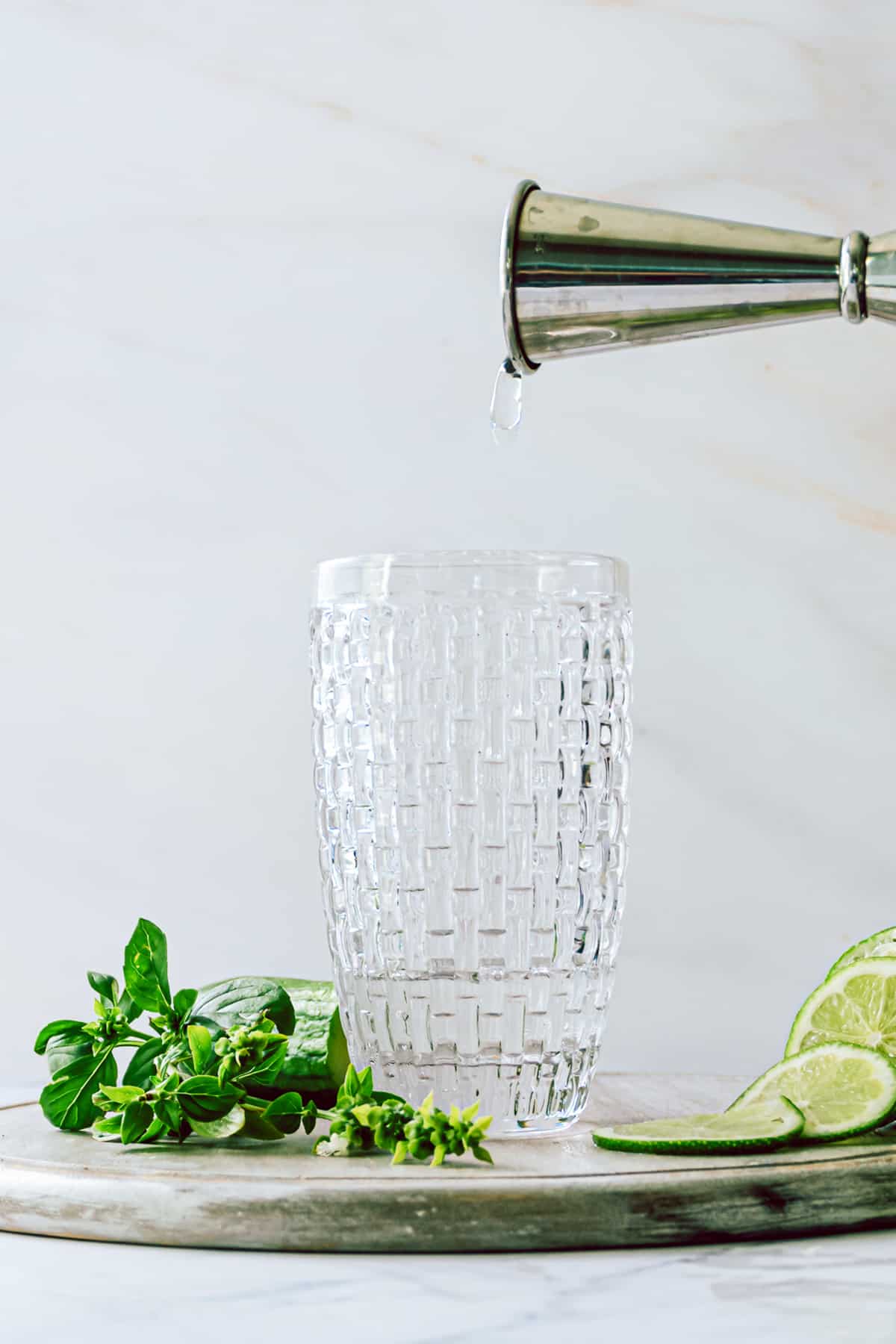 Add in your lime, cucumber and basil.
If using chopped cucumber and not cucumber purree, muddle your ingredients together for 30 seconds to release the flavors of the cucumber and basil.
Add ice and shake well for 30 seconds.
Using a strainer, pour into your favorite cocktail glass and garnish.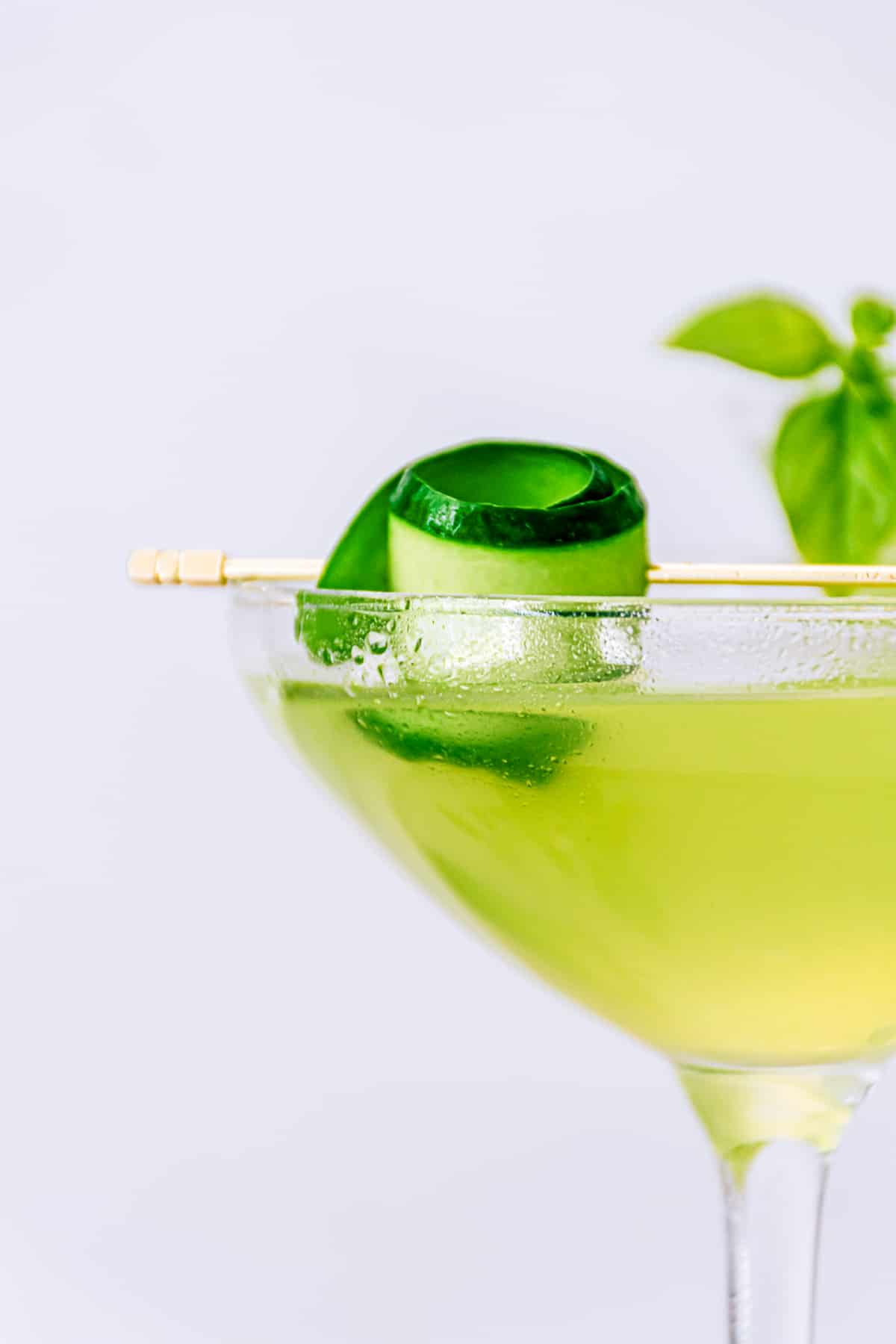 Best Garnishes
Here are some of the best garnishes to complement the flavors of the Elderflower Cucumber cocktail.
Cucumber slice: A simple and classic garnish that adds an extra pop of freshness to the drink, while also making it look even more tempting.
Cucumber ribbon: Clean and cut cucumber, using a mandolin or vegetable peeler, slice thinly and skewer onto a toothpick
Lime twist: A small piece of twisted lime peel can add a burst of citrus aroma to the cocktail, enhancing its tangy flavors and making it even more refreshing.
Basil leaf: A sprig of fresh basil on top of the drink not only looks beautiful but also enhances the herbal notes in the cocktail, adding a subtle yet delightful layer of flavor.
Edible flowers: For an elegant touch, you can add edible flowers such as violets or lavender to your cocktail. These will not only make your drink look stunning but also add a delicate floral flavor that complements the elderflower liqueur.
Sugar rim: If you have a sweet tooth, you can rim your glass with sugar before pouring in your cocktail. This will create a sweet and crunchy contrast to the refreshing flavors of cucumber and elderflower.
Yield: 1 Dink
Cucumber Elderflower Cocktail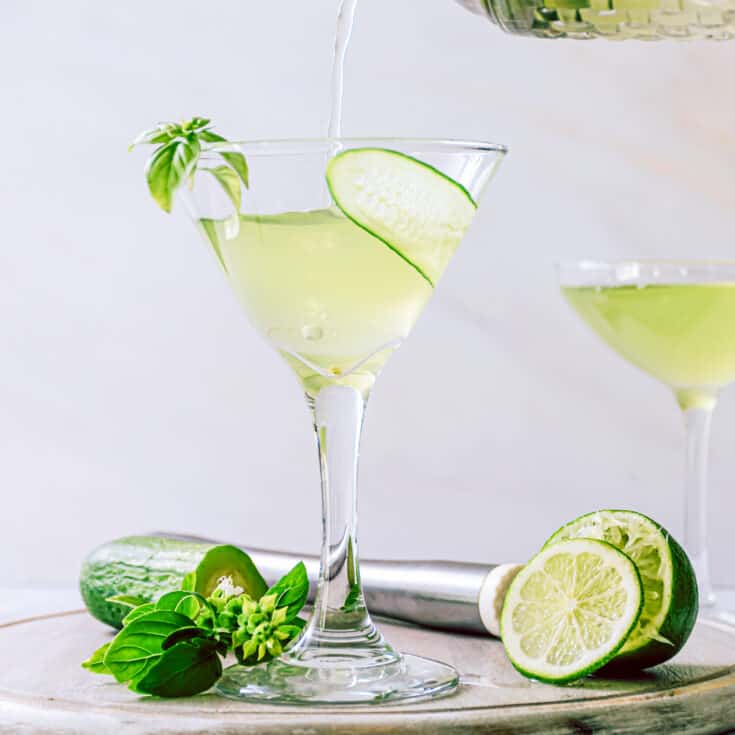 Ingredients
1 ounce Elderflower Liqueur
2 ½ ounces Vodka
½ cup chopped or pureed cucumber
½ ounce Lime Juice (4 thick lime wheels)
1 sprig of Basil (about 6 Basil leaves)
Ice
Instructions
In a shaker, add vodka, elderflower liqueur, cucumber, lime and basil.
Muddle for 30 seconds to fuse the flavors.
Add ice and shake vigorously for 30 seconds.
Strain and pour into a glass and garnish before serving.