Embrace the tropics with this lusciously creamy and refreshing Frozen Coconut Limeade Cocktail, a delightful concoction that'll make you feel like you're lounging on a sun-kissed beach with every sip. This frozen delight is the perfect way to kick back, relax, and let your taste buds do the hula dance!
Are you ready for a tropical escape in a glass? Look no further than our Frozen Coconut Limeade, a magical blend of zesty lime, velvety coconut cream, and a cheeky splash of coconut rum.
This frosty drink is the ultimate crowd-pleaser, perfect for poolside parties, backyard barbecues, or just chilling out with friends on a warm summer day.
So grab your blender, sunglasses, and favorite Hawaiian shirt – it's time to get whisked away to paradise!
Jump to:
Ingredients
Frozen limeade: The star of the show that brings a tangy, zesty punch to this tropical delight.
Ice: The key to achieving that oh-so-satisfying slushy texture that'll transport you straight to the beach.
Coconut cream: Rich, smooth, and decadent – it's the luxurious touch that makes this drink an indulgent treat.
Water: Balancing out the bold flavors and ensuring the perfect consistency for sipping.
Coconut rum: A tropical twist that adds a playful kick and elevates this drink to a vacation-worthy masterpiece. We used malibu but you can use your favorite type of rum.
Fresh lime wedges or slices: The pièce de résistance, adding a pop of color and a final zesty flourish to this tantalizing concoction.
Instructions
Unleash your inner mixologist and let the fun begin! Start by measuring out all of the ingredients and tossing them into a high powered blender.
Blend everything together until you achieve a frosty, smooth consistency.
Pour your velvety creation into your favorite cocktail glasses and let the garnishing magic commence with fresh lime slices or wedges.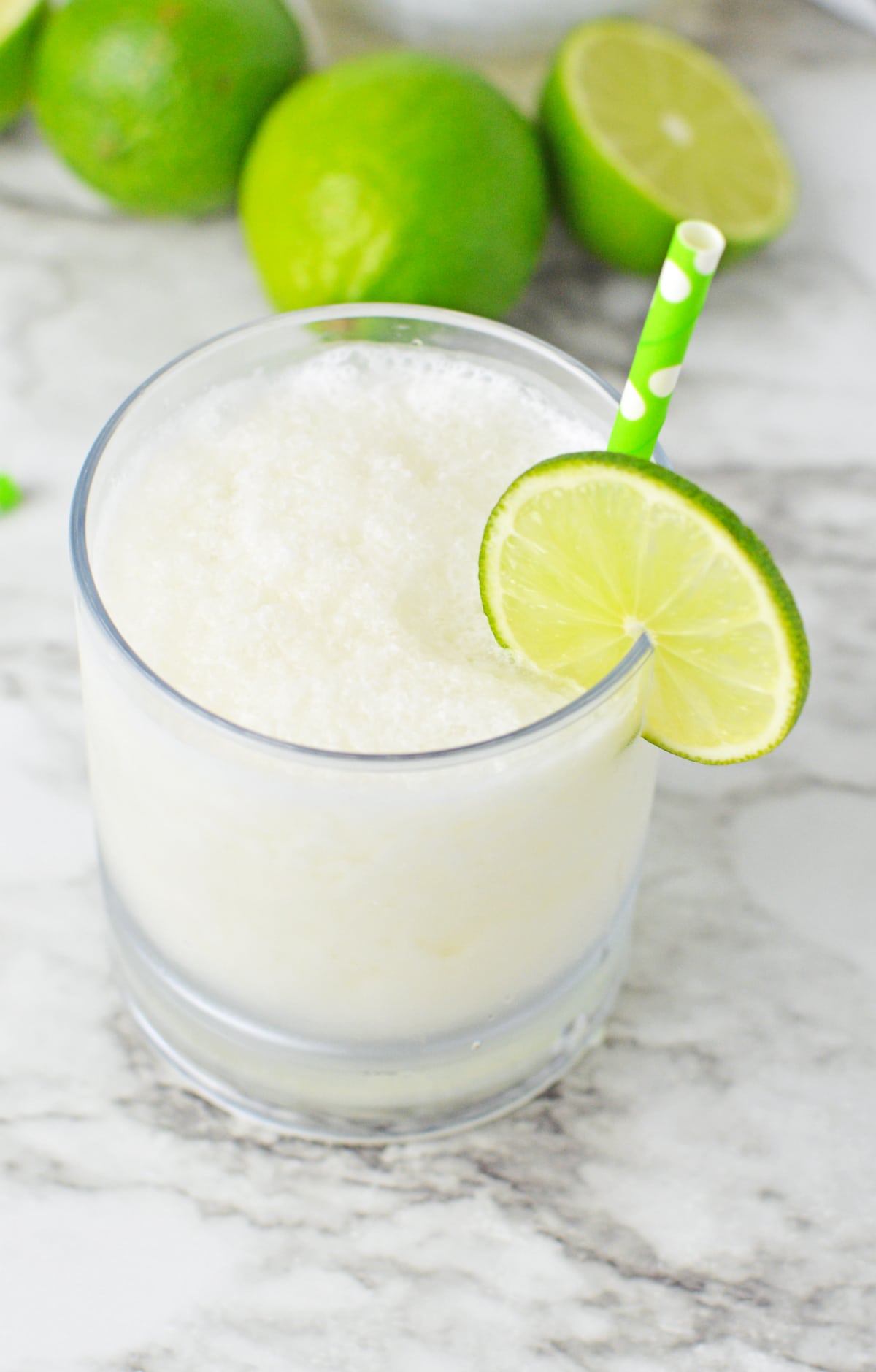 Garnish Ideas
Fresh lime wedges or slices: The classic choice for a burst of citrusy goodness and a vibrant pop of color.
Toasted coconut flakes: Add a delightful crunch and an extra layer of coconutty bliss to your frosty treat.
Mint sprigs: A refreshing touch that adds visual appeal and a subtle hint of cool, minty aroma.
Pineapple wedge or slice: Add a touch of island flair to your Frozen Coconut Limeade with a juicy pineapple wedge or slice, bringing a burst of tropical sweetness and an eye-catching visual appeal.
Edible flowers: Garnish your drink with vibrant, edible flowers like orchids or hibiscus for an elegant and whimsical touch that instantly elevates the presentation of your cocktail.
Umbrella pick: Embrace the tropical theme with a colorful cocktail umbrella, adding a playful and festive vibe to your Frozen Coconut Limeade.
Citrus zest: Sprinkle some freshly grated lime or lemon zest on top of your drink for an extra pop of citrus aroma and a visually appealing contrast against the creamy texture.
Maraschino cherry: Top off your drink with a bright red maraschino cherry for a classic cocktail garnish that adds a touch of sweetness and a pop of color.
Top Tips
Here are our top tips for the tastiest frozen cocktail:
Quality ingredients: For the most flavorful and delicious drink, use high-quality coconut cream, fresh lime juice, and premium coconut rum. The better your ingredients, the more satisfying and enjoyable your cocktail will be.
Pre-chilled ingredients: To ensure your drink maintains its frosty texture, start with pre-chilled ingredients, such as frozen limeade and cold coconut cream. This will help keep your Frozen Coconut Limeade icy and refreshing throughout the blending process.
Powerful blender: A high-powered blender is key to achieving the perfect slushy consistency. Make sure your blender can handle crushing ice and blending frozen ingredients for a smooth, frosty finish.
Adjust sweetness to taste: Depending on your preference, you may want to customize the sweetness of your drink by adding a touch of simple syrup or agave nectar. Taste as you blend and adjust accordingly for a perfectly tailored cocktail.
Experiment with flavors: Feel free to get creative with your Frozen Coconut Limeade by adding other tropical fruit juices, like pineapple or mango, for an even more exotic twist.
Prepare garnishes in advance: To save time when serving your drinks, prepare your garnishes ahead of time. Slice limes, toast coconut flakes, and gather any other desired garnishes so they're ready to go when your cocktail is blended to perfection.
Serve immediately: To fully enjoy the frosty, refreshing nature of this cocktail, serve it right away after blending. This ensures that the drink stays icy cold and maintains its optimal flavor and texture.
Chill your glasses: As an extra touch, chill your cocktail glasses in the freezer for 10-15 minutes before serving. This not only adds to the presentation but also helps to keep your Frozen Coconut Limeade colder for a longer period of time.
Recipe
Yield: 2-4 Servings
Frozen Coconut Limeade Cocktail
Sip your way to a tropical paradise with our Frozen Coconut Limeade, a frosty blend of zesty lime, creamy coconut, and a splash of coconut rum. Perfect for summer parties and lazy afternoons, this delightful concoction is sure to impress.
Ingredients
6 ounces frozen limeade
4 cups ice
¾ cup coconut cream
1 cup water
1 cup coconut rum
fresh lime wedges or slices for garnish
Instructions
Add limeade, ice, coconut cream, water, and coconut rum to your blender.

Blend until you achieve a smooth consistency.
Pour the mixture into your preferred cocktail glasses, and top it off with fresh lime slices or wedges as garnish.
Notes
Chilling your glasses before hand will help keep your frozen cocktail colder, longer.
This boozy Frozen Coconut Limeade is a delightful and refreshing cocktail that perfectly captures the essence of a tropical getaway.
With its harmonious blend of zesty lime, creamy coconut, and a hint of coconut rum, this frosty treat is sure to impress and satisfy.
By following the tips shared above and adding your personal touch with creative garnishes, you can elevate your cocktail-making skills and create memorable experiences for yourself and your guests.
So, gather your ingredients, fire up that blender, and indulge in the ultimate summer escape with this tantalizing Frozen cocktail. Cheers!