Indulge in the refreshing delight of a Frozen Fuzzy Navel, where the tangy allure of orange meets the lusciousness of peach. This icy concoction is the perfect summer companion, ready to be enjoyed within minutes.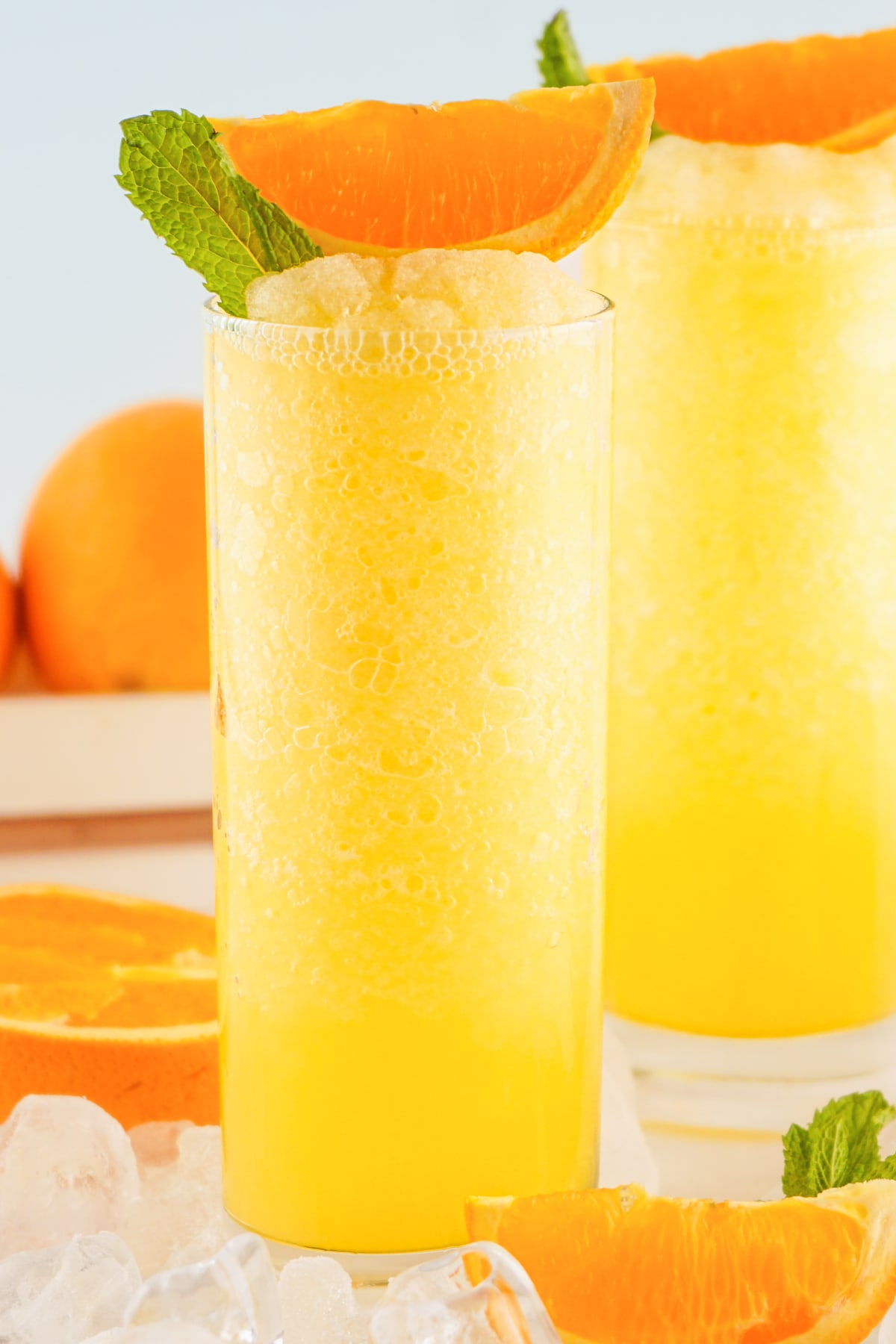 When the mercury rises, beat the heat with a Frozen Fuzzy Navel, an irresistible blend of orange juice, peach schnapps, and vodka.
This frozen version of a fuzzy navel cocktail is a delightful twist on the popular cocktail.
This vibrant drink brings together the sunny flavors of orange and peach, creating a symphony of taste that will transport you to a tropical paradise.
Whether you're hosting a pool party or simply relaxing on a lazy afternoon, this frosty beverage is sure to elevate your summer experience.
Jump to:
Ingredients
Ice Cubes: The essential ingredient for achieving the slushie consistency that makes this drink so enjoyable.
Orange Juice: You can use fresh squeezed orange juice or choose your favorite ready made orange juice, whether it's pulp-free or with some juicy bits. It adds a zesty citrus base to the cocktail.
Peach Schnapps: This fruity liqueur brings the sweet and succulent flavor of ripe peaches to the mix, complementing the orange perfectly.
Vodka: A smooth and versatile spirit that adds a gentle kick to the Frozen Fuzzy Navel, elevating it from ordinary to extraordinary.
Orange Slices (optional garnish): A cheerful garnish that enhances the drink's visual appeal and provides a burst of fresh citrus aroma.
Mint Leaves (optional garnish): Delicate mint leaves not only add a touch of greenery but also lend a cool and refreshing note to the overall experience.
Instructions
Start by gathering all your ingredients, ensuring you have a powerful blender and highball glasses at the ready.
Fill the blender with your ice cubes and add in the orange juice.
Then pour in the vodka and peach schnapps.
Blend until the mixture reaches a smooth and slushie-like consistency.
Grab your highball glasses and pour the Frozen Fuzzy Navel mixture into them.
If you desire an extra touch of finesse, garnish each glass with a vibrant orange wedge and a sprig of mint.
Now, take a moment to appreciate the tantalizing blend of orange and peach in this visually appealing and delightful concoction.
Sip and savor the cool, refreshing goodness of the Frozen Fuzzy Navel. Enjoy!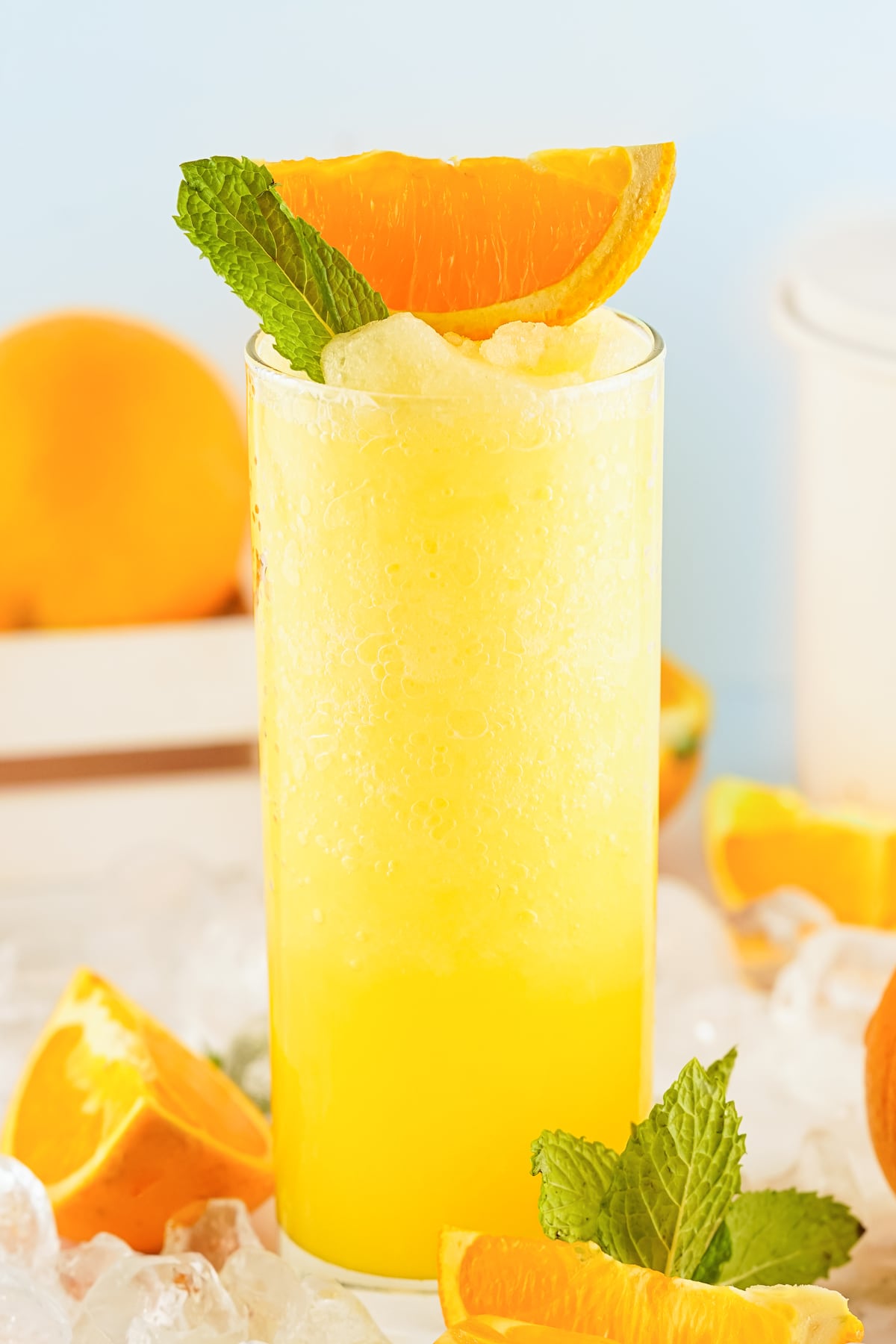 Garnish Ideas
Orange Wedge: The bright and tangy flavor of the orange wedge complements the drink's citrusy base, offering a burst of juicy goodness with each sip.
Mint Sprig: The aromatic freshness of mint adds a touch of sophistication to the drink, creating a harmonious balance between the fruity elements.
Peach Slice: A fresh peach slice not only accentuates the drink's peachy essence but also adds a touch of vibrant color and juiciness to each sip.
Cocktail Umbrella: For an extra festive feel, pop in a colorful cocktail umbrella. It not only adds a fun visual element but also evokes the feeling of being on a sun-soaked beach vacation.
Edible Flowers: Float a few edible flowers, such as nasturtiums or pansies, atop your Frozen Fuzzy Navel for an elegant and eye-catching garnish that adds a hint of floral aroma.
Citrus Twist: Add a twist of lemon or lime peel to the drink, giving it a zesty aroma and a bright pop of color that complements the fruity flavors.
Maraschino Cherry: Place a maraschino cherry on top for a classic cocktail garnish that adds a touch of sweetness and a burst of vibrant red color.
Top Tips
If your blender struggles to blend the drink thoroughly, utilize the tamper that often comes with blenders. It assists in mixing the ingredients as they blend, ensuring a smooth consistency.
Adjust the sweetness according to your preference by gradually adding white granulated sugar, up to a maximum of two tablespoons.
Feel free to use your preferred type of orange juice, whether it's pulp-free or contains some delicious bits.
For a more pronounced orange flavor, consider adding peeled orange slices to the blend before blending. It's the perfect way to enhance the citrus kick of the drink.
Be mindful not to increase the liquid quantity, as it may result in a thinner consistency unless you prefer it that way!
Substitutions
Instead of peach schnapps, you can substitute it with peach liqueur or even peach nectar for a non-alcoholic version.
If vodka isn't your spirit of choice, try using white rum or even tequila for a unique twist on this classic recipe.
Variations
Fuzzy Strawberry Slush: Replace the orange juice with strawberry juice, and swap the peach schnapps with strawberry liqueur. Garnish with fresh strawberries for an extra fruity touch.
Tropical Fuzzy Navel: Add a splash of coconut rum to the mix for a tropical twist. Garnish with a pineapple wedge and a maraschino cherry for a vacation-inspired flair.
Recipe
Yield: 2 Drinks
Frozen Fuzzy Navel
Beat the heat with a Frozen Fuzzy Navel recipe. This delightful blend of orange juice, peach schnapps, and vodka creates a refreshing slushie that's perfect for hot summer days. Garnish with orange wedges and mint leaves for an added touch of freshness.
Ingredients
4 Cups Ice
1 cup Orange Juice
½ Cup Peach Schnapps
½ Cup Vodka
Orange Slices (optional garnish)
Mint Leaves (optional garnish)
Instructions
Add all ingredients, excluding garnishes, to a strong blender.
Blend until smooth.
Garnish and serve.
Cheers!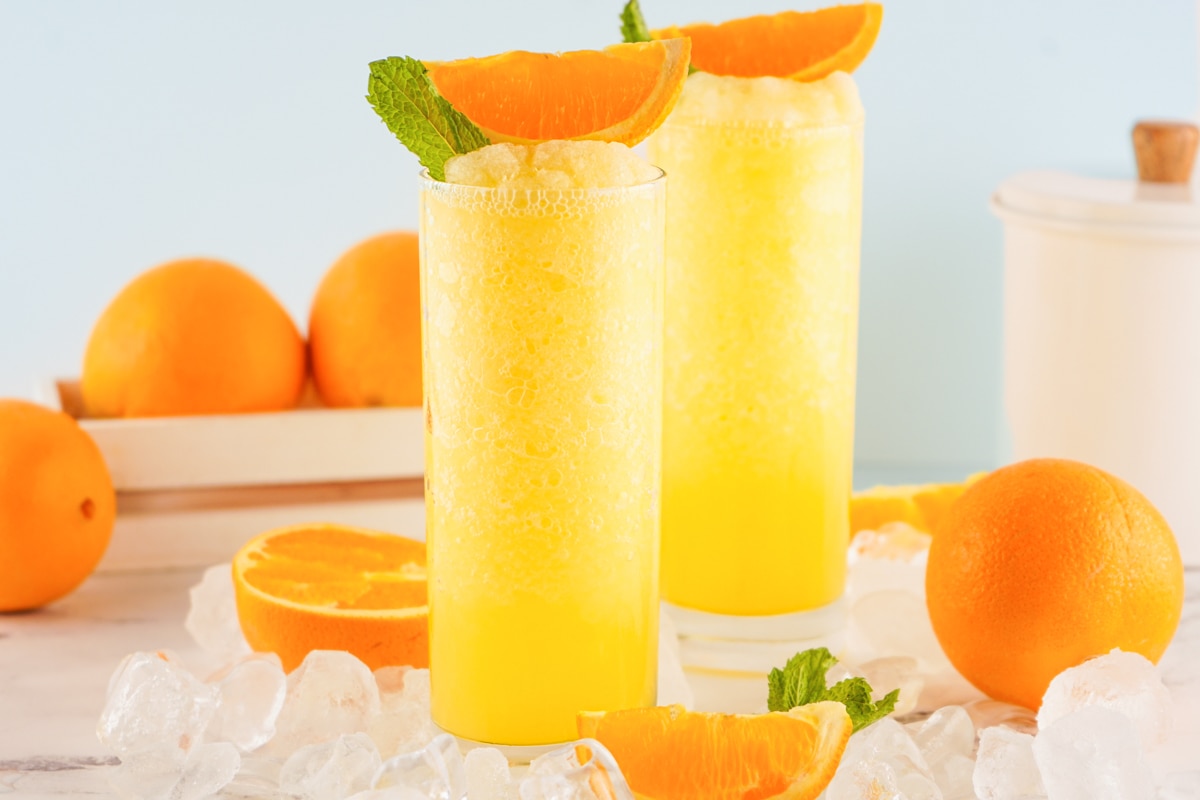 Frozen Fuzzy Navel is a delightful and refreshing summer drink that offers a perfect blend of fruity flavors and a cooling sensation.
Whether you're hosting a summer party or simply wanting to unwind on a warm day, the Frozen Fuzzy Navel is sure to hit the spot and become a favorite go-to beverage. Cheers to sipping on this frosty, fruit-filled delight!