This vibrant Kamikaze cocktail is a classic cocktail for a reason! with its tangy twist, subtle sweetness, and powerful punch, it takes you on a journey through flavors that is sure to impress your taste buds.
The Kamikaze drink, named after the daring Japanese World War II fighter pilots, is a popular drink known for its balance of sweet, sour, and strong components.
Perfect for any occasion, its simple yet versatile nature makes it a favorite among both cocktail novices and aficionados.
Similar to a margarita in its composition, the Kamikaze offers a delightful mix of citrus and strong spirit flavors, providing a refreshing, yet potent punch.
It's similar to the kamikaze shots and our blue kamikaze shots but the cocktail is better for sipping on.
This post may contain affiliate links. That means if you click on a link and buy something, we may earn a small commission at no cost to you. We only recommend products we love and think you would enjoy too. You can read the full disclosure here.
Jump to:
Why You'll Love This Recipe
This drink is easy to make with minimal ingredients
Perfect balance of sweetness and tanginess
A strong, refreshing drink for any occasion
A classic cocktail that never goes out of style
Its versatility allows for numerous variations
Ingredients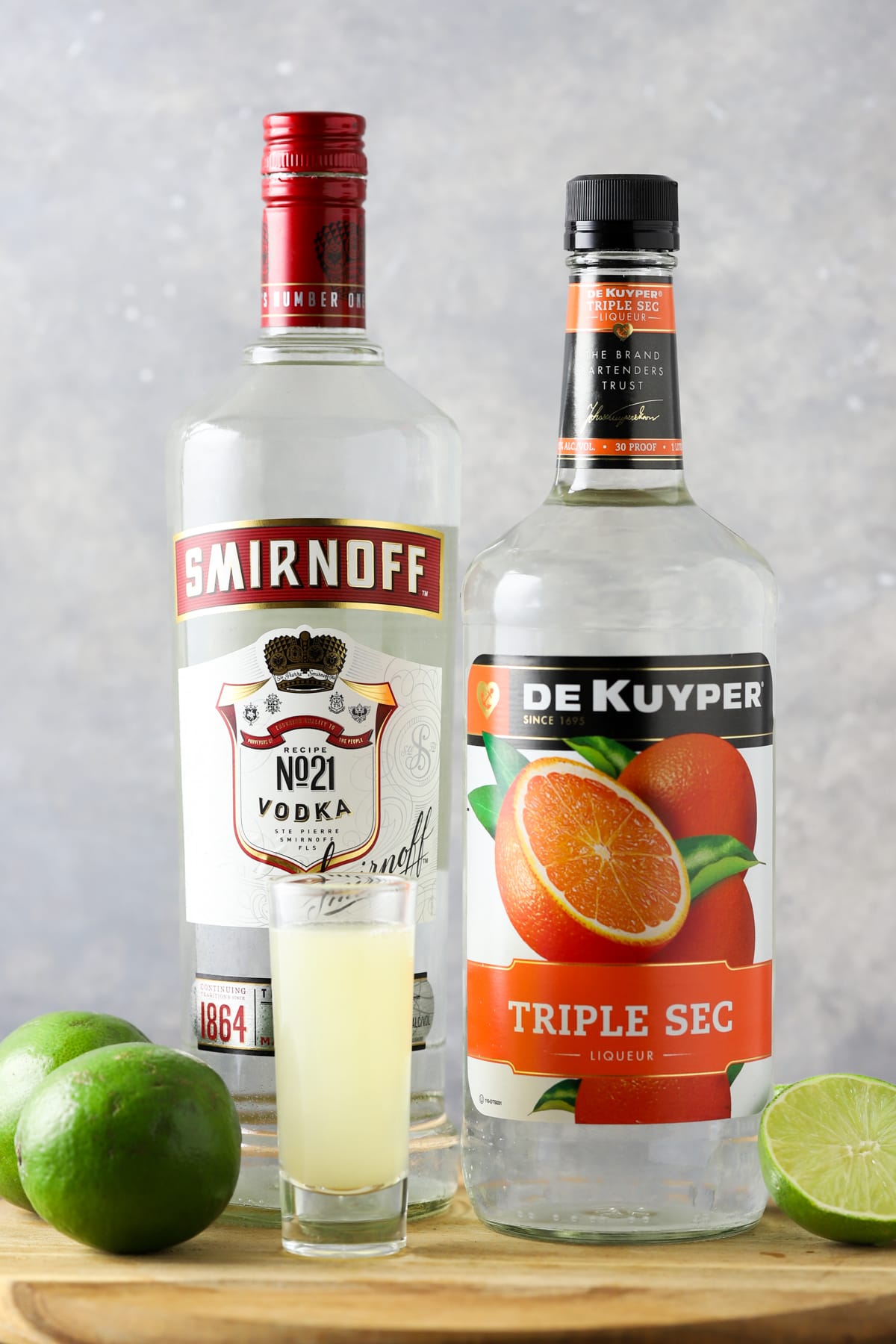 This is a three ingredient cocktail that requires only these ingredients:
Vodka: The key ingredient, vodka provides a robust backbone to the Kamikaze, offering a powerful punch that keeps the cocktail exciting and spirited.
Orange Liqueur: This magical addition introduces a touch of delicate sweetness to the cocktail, balancing the tanginess of the lime juice while infusing a subtle orange zest into the mix. We used triple sec but Cointreau is delicious too. (Read the difference here: Cointreau vs triple sec.)
Lime Juice: The freshly squeezed lime juice lends a refreshing tang to the Kamikaze, cutting through the sweetness and potency of the other ingredients. It contributes to the drink's invigorating sharpness and clean finish.
Instructions
Start by gathering your ingredients. The drink will stay colder if you chill them ahead of time.
Then, fill a cocktail shaker with ice.
Pour the vodka, orange liqueur, and lime juice into the shaker.
Secure the lid and shake vigorously until the mixture is well-chilled.
This will typically take about 15-20 seconds.
Pour the mixture into a cocktail glass, garnish and serve.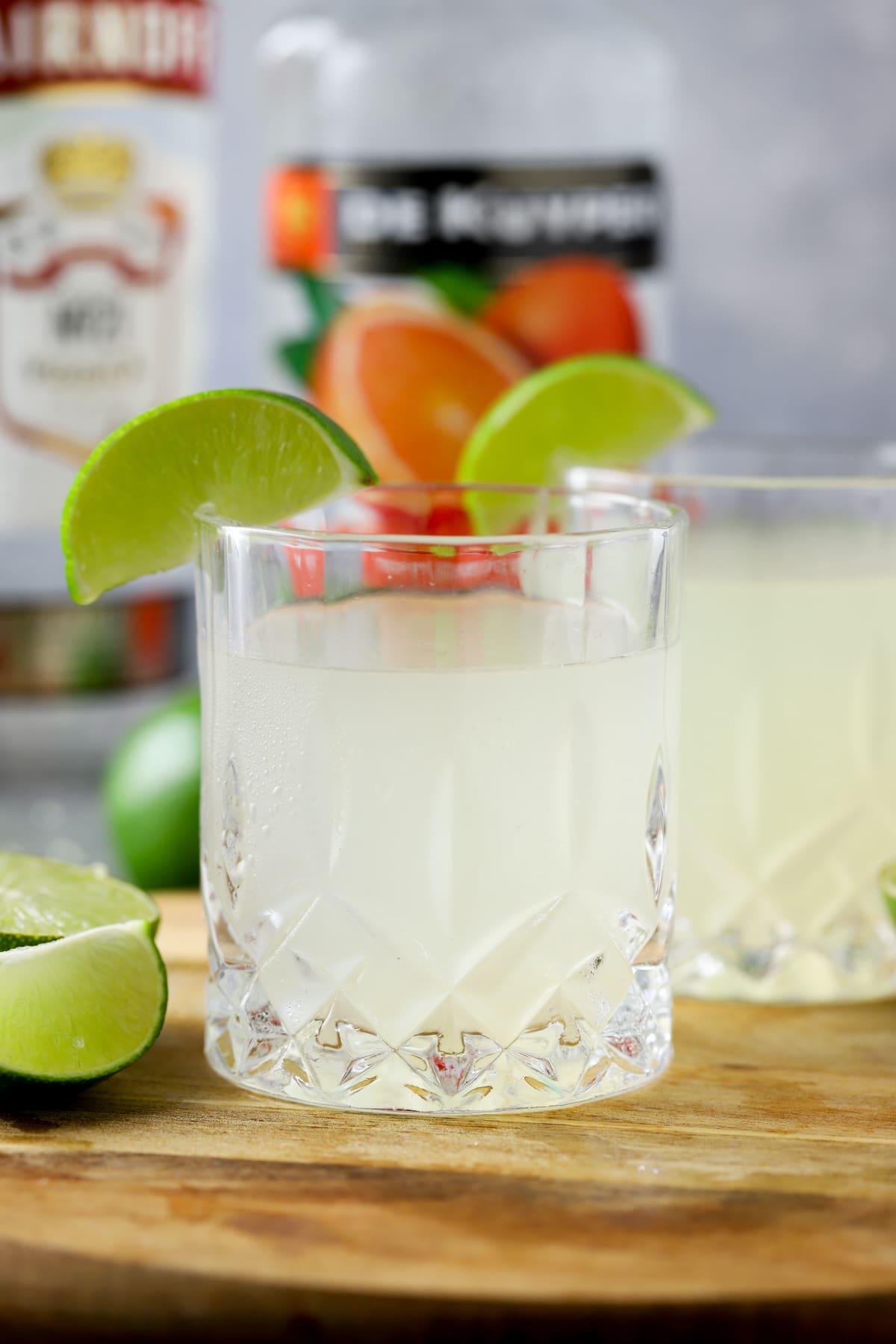 Garnish Ideas
Lime Wheel - A slice of fresh lime enhances the citrus notes already present in the cocktail. Placed on the rim of your glass or floated on top of your drink, it adds an extra burst of sour, zesty flavor every time you take a sip.
Orange Twist - The orange twist not only visually complements the orange liqueur in your Kamikaze, but the aromatic oils released from the twist also subtly enhance the orange essence in the drink, offering a gentle citrus nose each time you lift your glass.
Maraschino Cherry - A maraschino cherry offers a sweet counterpoint to the tart lime and strong vodka. It provides a delightful pop of color, making your Kamikaze cocktail look as good as it tastes. Plus, it's a fun treat at the end of your drink!
Mint Sprig - Fresh mint adds a burst of refreshing aroma that goes exceptionally well with citrus flavors. When used as a garnish, the scent of mint enhances the overall drinking experience, giving it a cool, refreshing finish.
Edible Flowers - A sprinkle of edible flowers can transform your Kamikaze cocktail from a simple drink into a work of art. Apart from the aesthetic appeal, certain flowers can impart a subtle flavor, adding complexity to your drink.
Sugar Rim - Before pouring your cocktail, moisten the rim of your glass with a lime wedge and dip it into granulated sugar. This creates a sweet rim that beautifully contrasts with the tangy and robust flavors of the Kamikaze, offering a balance of flavors with every sip.
Top Tips
Always use fresh lime juice for the best flavor.
Chill your glassware beforehand for an extra-cold cocktail.
Don't skimp on the shaking - it's key to a well-mixed, well-chilled Kamikaze.
Try premium vodka and orange liqueur for a truly exceptional Kamikaze cocktail.
Experiment with garnishes to find your perfect flavor combination.
Substitutions
Lemon Juice - Can be used instead of lime for a different citrus kick.
Triple Sec - If you don't have orange liqueur, Triple Sec is a viable alternative.
Tequila - For a different twist, use tequila instead of vodka.
Variations
Blue Kamikaze - Swap the orange liqueur for blue curacao for a fun, colorful twist.
Raspberry Kamikaze - Use raspberry liqueur instead of orange for a fruity take on the classic.
Cranberry Kamikaze - Add a splash of cranberry juice to create a sweeter, more toned down version.
Recipe
Yield: 1 Serving
Kamikaze Cocktail
Immerse yourself in the art of crafting the iconic Kamikaze cocktail. With its harmonious blend of tangy citrus, subtle sweetness, and spirited vodka, this classic cocktail promises a captivating dance of flavors that will invigorate your palate.
Ingredients
2 ounces vodka
¾ ounce orange liqueur
¾ ounce lime juice
Instructions
Fill cocktail shaker with ice.
Add all ingredients and shake vigorously for 15-20 seconds.
Pour into cocktail glasses, garnish and serve.
Cheers!
What does a Kamikaze cocktail taste like?
A Kamikaze cocktail offers a well-balanced blend of flavors. The vodka provides a strong, clean base, the orange liqueur introduces a hint of sweet citrus, and the freshly squeezed lime juice lends a tangy edge. This cocktail is refreshing, slightly sweet, and a bit tart.
What's in a Kamikaze cocktail?
A traditional Kamikaze cocktail includes three main ingredients: vodka, orange liqueur (like Cointreau or Triple Sec), and freshly squeezed lime juice. These ingredients are typically mixed in equal parts, but can be adjusted to taste. The cocktail is shaken with ice until well-chilled, and then strained into a glass. The drink is often garnished with a lime wheel or wedge.
Can I use bottled lime juice instead of fresh?
While bottled lime juice can be used, fresh lime juice is always recommended for the best taste. Fresh lime juice has a bright, zesty flavor that bottled juice often lacks, and can make a noticeable difference in the quality of your Kamikaze cocktail.