Dive into this enticing Vodka Martini recipe. Unveiling a perfect blend of sharp vodka and delicate vermouth, this cocktail promises an exquisite journey for your taste buds.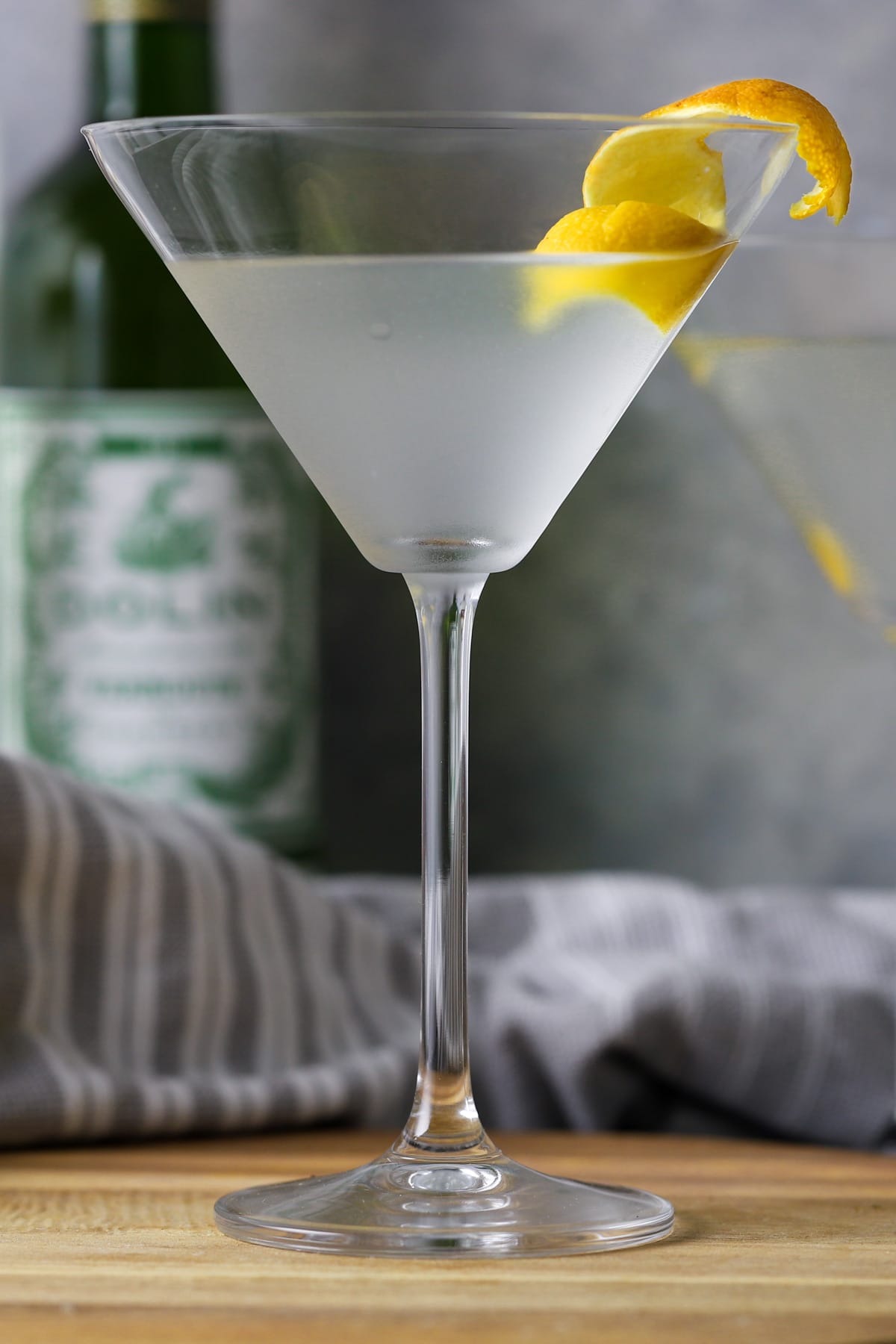 The Vodka Martini is a timeless classic, and a staple in the annals of cocktail lore.
This simple yet sophisticated drink is renowned for its delicate balance of potent vodka and fragrant vermouth, elevated with a hint of orange bitters.
Whether you're hosting an elegant dinner party or enjoying a tranquil sunset on the patio, this cocktail never fails to deliver a refreshing experience. It shares similarities with its cousin, the Gin Martini, while offering a distinct flavor profile that's undeniably its own.
Known for its connection to the suave James Bond, the Vodka Martini carries an air of elegance and intrigue that's simply irresistible.
Why You'll Love This Drink
The crisp taste of vodka married with the subtleness of dry vermouth
The hint of citrus from the orange bitters that gives a refreshing note
The versatility of garnish options that allows you to customize your cocktail
The elegance and sophistication it brings to any occasion
Ingredients
Vodka: The star of the show, vodka provides a strong, crisp base for this cocktail. We used Smirnoff vodka, but you can use your favorite type of vodka.
Dry Vermouth: This adds an aromatic, slightly bitter element that balances out the potency of the vodka.
Instructions
Start by gathering all your ingredients and ensuring your cocktail glass is well-chilled.
Add the vodka and dry vermouth into your martini glass.
Mix well, garnish and serve.
If your ingredients are not chilled then you can chill the vodka and vermouth quickly by adding them to a mixing glass full of ice.
Stir vigorously for 20-30 seconds until everything is well chilled and mixed.
The stirring process gently combines the flavors without making the drink cloudy, unlike shaking.
Next, strain the mixture into your chilled cocktail glass, ensuring no ice pieces make their way into the final cocktail.
Finally, garnish with your choice of a lemon twist, olive, or both.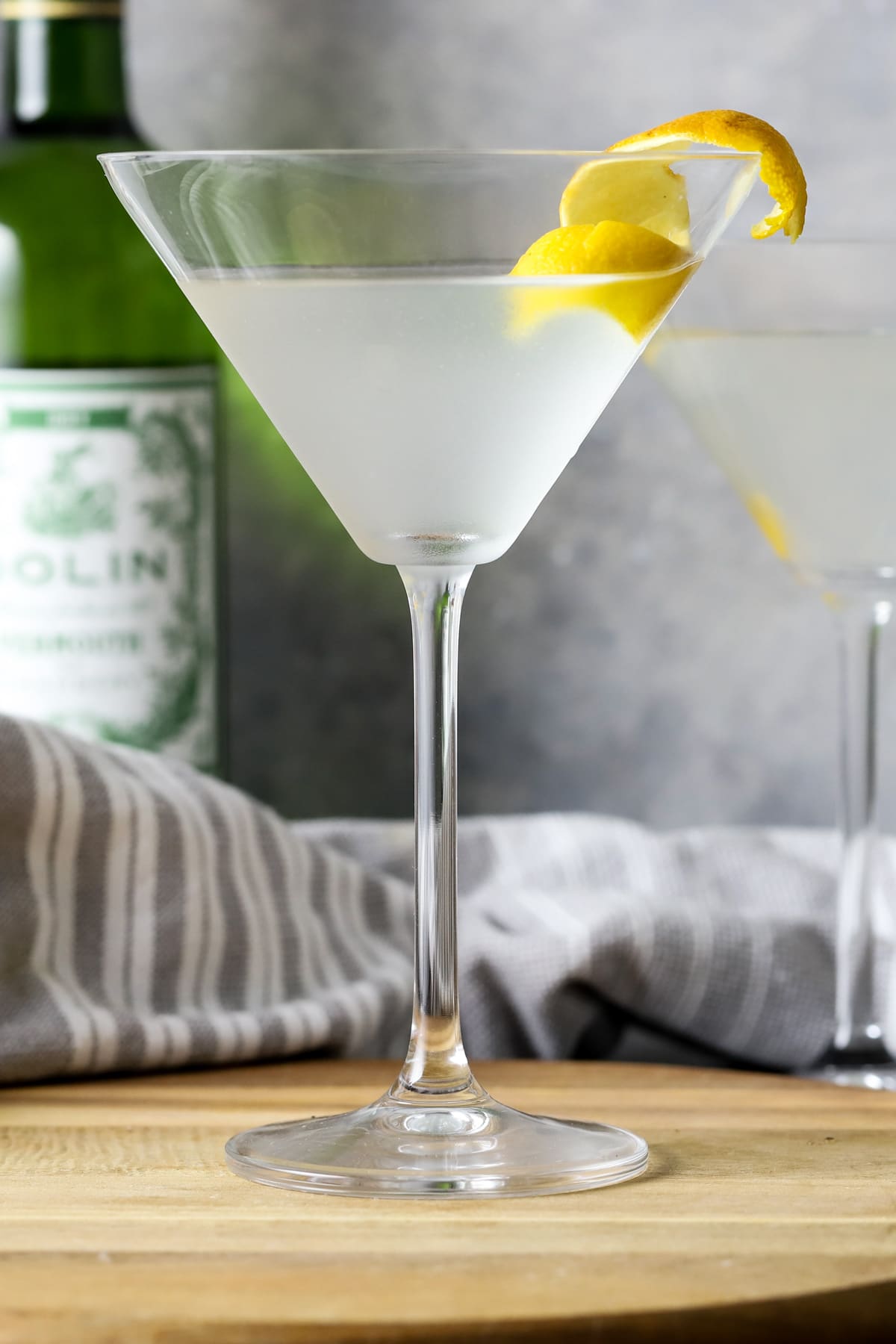 Garnish Ideas
Lemon twist: Adds a bright citrus note and an attractive visual element.
Olive: Offers a salty contrast that pairs well with the vodka and vermouth.
Cocktail Onion: Transforms your drink into a Gibson, a close relative of the Martini.
Cherry: Gives a sweet touch and a pop of color.
Cucumber Ribbon: Lends a refreshing, crisp element to the cocktail.
Edible Flower: An elegant choice for special occasions.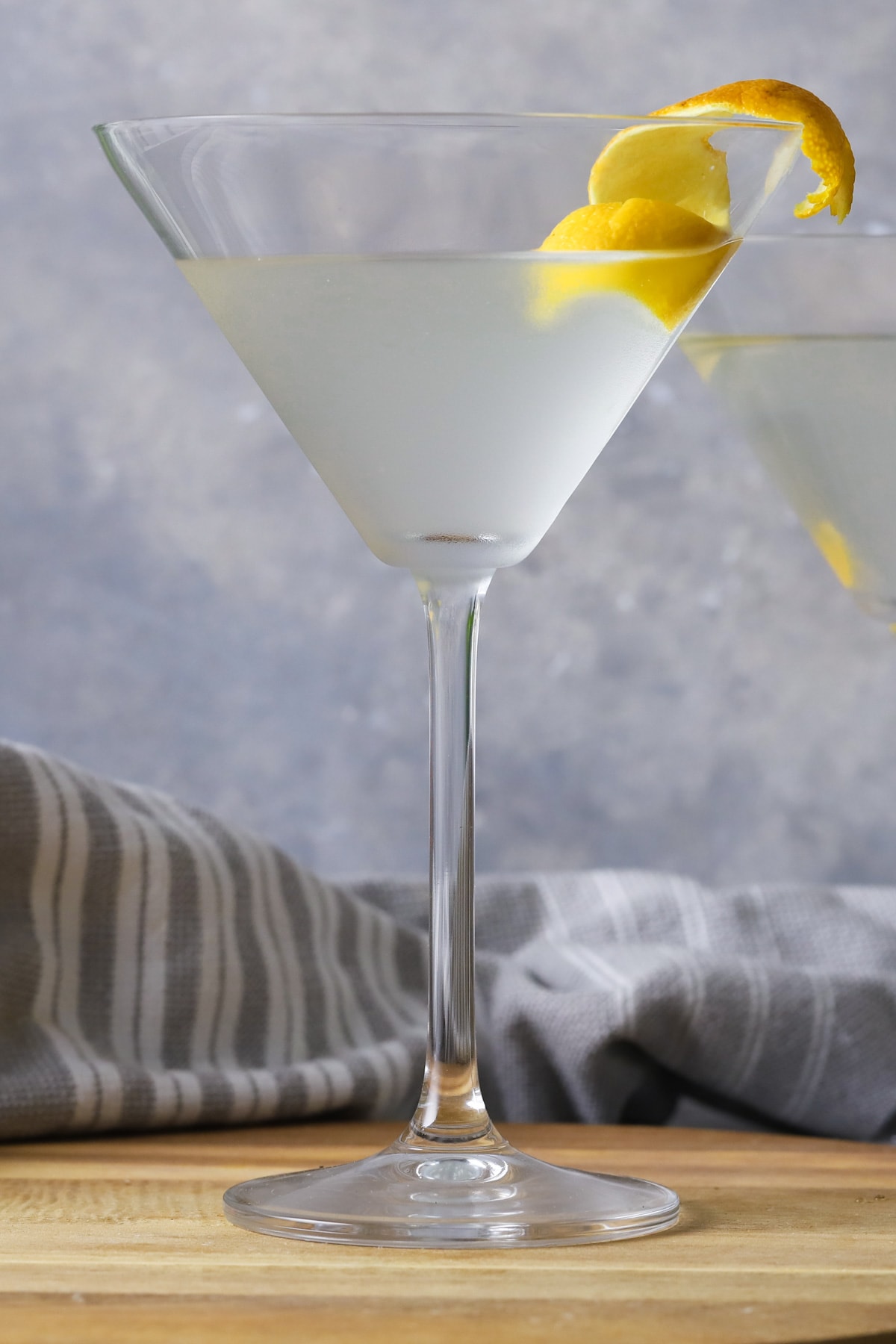 Top Tips
Always chill your glass in advance to ensure your drink stays colder longer.
Use high-quality ingredients, they significantly affect the taste.
Stir, don't shake, to avoid a cloudy cocktail.
Taste as you mix to find the right balance of ingredients for your palate.
Strain your cocktail properly to prevent ice shards diluting the flavor.
Substitutions
Gin: A classic choice for a more botanical flavor profile.
Lillet Blanc: Can replace dry vermouth for a smoother, slightly sweeter note.
Variations
Dirty Martini: Add a splash of olive brine for a salty twist.
Espresso Martini: Combine vodka, coffee liqueur, and espresso for a caffeinated version.
French Martini: Add pineapple juice and Chambord raspberry liqueur for a fruity spin.
Recipe
Yield: 1 Serving
Vodka Martini
Savor the elegance of our Vodka Martini, a timeless classic blending crisp vodka and aromatic dry vermouth perfect for any sophisticated occasion.
Ingredients
2 ½ ounces vodka
½ dry vermouth
Instructions
Add chilled vodka and dry vermouth to a martini glass.
Stir, garnish and serve.
Cheers!
Notes
If your liquours are not chilled, you can add them to a mixing glass filled with ice and stir before pouring into your martini glass.
When to Make These:
For a themed cocktail party
As an elegant pre-dinner aperitif
As a refreshing after-dinner drink
When hosting a sophisticated soiree
During a relaxing solo evening at home
When you want to impress with your mixology skills
Remember, the beauty of a Vodka Martini lies in its simplicity. While it might seem like an easy concoction, achieving the perfect balance requires practice and attention to detail.
But don't be afraid to experiment and make it your own, after all, mixology is part science and part art. Happy mixing!