Unleash your inner mixologist and dive into the effervescent world of the Vodka Tonic, a timeless cocktail that's refreshingly simple yet undeniably sophisticated. With its crisp vodka base and sparkling tonic water finish, this bubbly concoction is the ultimate thirst-quencher for those sultry summer days and lively soirées.
Prepare to embark on a fizzy adventure with the classic Vodka Tonic, a drink that proves you don't need a myriad of ingredients to create a tantalizing tipple.
This minimalist marvel is all about showcasing the subtle interplay between high-quality vodka and tantalizing tonic water, resulting in a symphony of flavors that will leave you craving more.
Jump to:
Ingredients
Using only two ingredients, this recipe couldn't be any easier.
Vodka: The star of the show, providing a smooth, clean foundation for the effervescent escapade ahead. You can use your favorite type of vodka.
Tonic Water: The bubbly sidekick that adds a touch of quinine-induced bitterness and elevates the vodka to dizzying new heights. It's a classic vodka mixer.
* A note on tonic water vs. club soda: Tonic water is a carbonated beverage containing quinine, giving it a distinct bitter-sweet taste, while club soda is a neutral-tasting carbonated water with added minerals.
Their unique flavor profiles make tonic water suitable for enhancing botanical cocktails like gin and tonics, whereas club soda is ideal for emphasizing base spirits or other mixers in drinks like mojitos or whiskey highballs.
See recipe card for quantities.
Instructions
Begin by selecting a suitable glass for your cocktail – Collins or Highball glass works well for this purpose.
Fill the glass with ice cubes, ensuring it is adequately chilled and ready to hold your refreshing drink.
Next, pour an ample amount of vodka over the ice. This lays the foundation for the sparkling and invigorating combination that characterizes the vodka tonic.
Now it's time to add the tonic water to the mixture. Carefully pour the tonic water into the glass, filling it to the desired level.
The effervescent bubbles will infuse your drink with fizz and flavor, creating the perfect balance between the smooth vodka and the slightly bitter tonic.
Using a long spoon or a stirrer, gently mix the vodka and tonic together, being careful not to over-stir as this can cause the drink to lose its carbonation.
The goal is to create a harmonious blend of flavors in the glass without compromising the drink's effervescence.
For an extra touch of zestiness, consider adding a squeeze of lime juice (optional).
This bright citrus note will enhance the overall taste and aroma of your cocktail, providing a delightful contrast to the bitterness of the tonic water.
Lastly, garnish your creation with a lime slice or lemon wedge (optional) to add a pop of color and an additional layer of flavor.
With the garnish in place, your vodka tonic is now ready to be enjoyed.
Sip and savor the refreshing taste of this classic cocktail, perfect for any occasion or simply as a treat to unwind after a long day.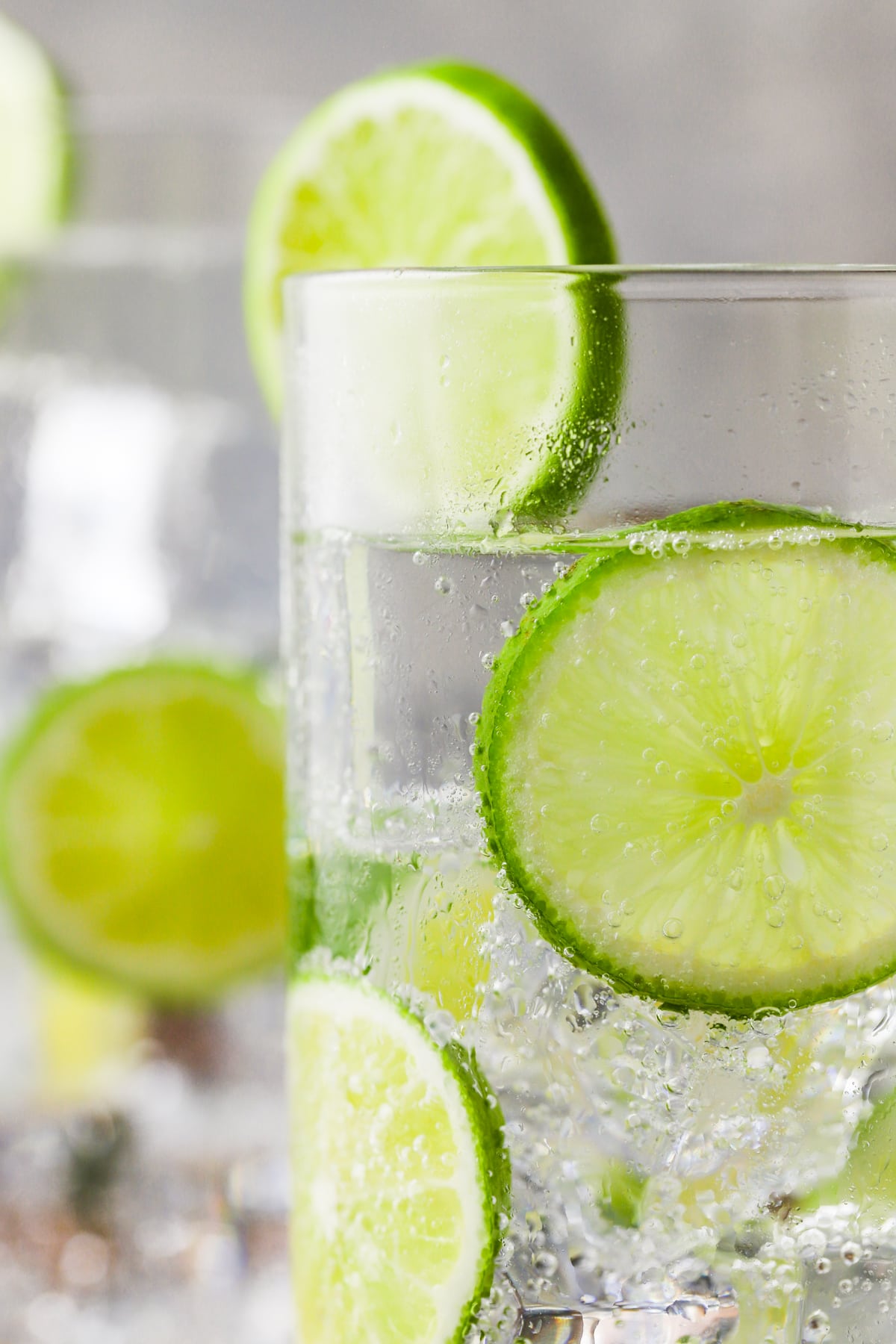 Garnish Ideas
Need some fun garnish ideas for your vodka tonic?
Lime Wedges or Slices: A zesty and vibrant touch that adds a pop of color and an extra layer of citrusy goodness to your Vodka Tonic.
Cucumber slices: Thinly sliced cucumber adds a refreshing and crisp element to your vodka tonic, complementing the drink's overall lightness.
Grapefruit or lemon twist: Swap out the lime for a twist of grapefruit or lemon peel, adding a different citrus note and a touch of elegance to your cocktail.
Fresh herbs: A sprig of fresh mint, basil, or rosemary can add an aromatic touch and a subtle depth of flavor to your vodka tonic.
Edible flowers: Enhance the visual appeal of your cocktail by floating a few edible flowers, such as nasturtiums or pansies, on the surface of your drink. This adds a touch of whimsy and sophistication.
Mixed berries: A few fresh raspberries, blackberries, or blueberries can introduce a hint of fruity sweetness that pairs well with the bitterness of tonic water.
Citrus wheel: Create a vibrant garnish by slicing a thin wheel of orange, lemon or lime and placing it on the rim of your glass.
Feel free to experiment with these garnish ideas or even combine a few to create a truly personalized and visually stunning vodka tonic.
Top Tips
Choose a high-quality vodka that will make your taste buds sing.
Treat your drink to the freshest ingredients for a flavor explosion like no other.
Don't be afraid to play with the vodka-to-tonic ratio to suit your tastes.
Experiment with different tonic waters to find your perfect match.
Remember, moderation is key when stirring – too much twirling can lead to a flat fiesta! Which is also why we don't use a cocktail shaker for this recipe.
Recipe
Yield: 1 Drink
Vodka Tonic
The vodka tonic recipe is a classic and refreshing cocktail that combines smooth vodka with slightly bitter and fizzy tonic water. Garnished with a lime wedge or other creative options, this effervescent drink is perfect for any occasion or simply to unwind after a long day.
Ingredients
1 ½ ounces vodka
4-6 ounces tonic water
Lime or lemon wedge (for garnish)
Instructions
Fill a glass with ice.
Add 1 ½ oz of vodka over the ice.
Pour 4-6 oz of tonic water over the vodka.
Give the drink a gentle stir with a bar spoon.
Squeeze a wedge of lime over the top of the drink (optional.)
Garnish with the lime wedge on the rim of the glass (optional.)
Serve and enjoy your refreshing vodka tonic!
Notes
Mix this cocktail gently, otherwise, you'll lose the bubbles which make this drink so refreshing.
Cheers to bubbly sophistication in a glass!
What type of vodka should I use for a vodka tonic?
Choose a good-quality vodka that suits your taste preferences. Premium brands often provide a smoother and more refined flavor, but mid-range options can also work well in a vodka tonic.
Can I use flavored vodka in my vodka tonic?
Absolutely! Flavored vodkas, such as citrus, berry, or cucumber, can add an interesting twist to your cocktail. Just ensure that the chosen flavor complements the other ingredients in your drink.
What is the ideal tonic water-to-vodka ratio?
The ideal ratio depends on personal taste, but a common guideline is to use 1 part vodka to 2-3 parts tonic water. Adjust the proportions to suit your preferred level of bitterness and strength.
How can I make my vodka tonic less bitter?
To reduce bitterness, try using a tonic water with a lower quinine content or opt for a flavored tonic water that has a slightly sweeter profile. Additionally, adding a splash of fruit juice or a fruity garnish can help balance the bitterness.