This watermelon mojito combines two of our favorite summer drink flavors, watermelon and mint! It's a quick and easy recipe to make that looks as amazing as it tastes.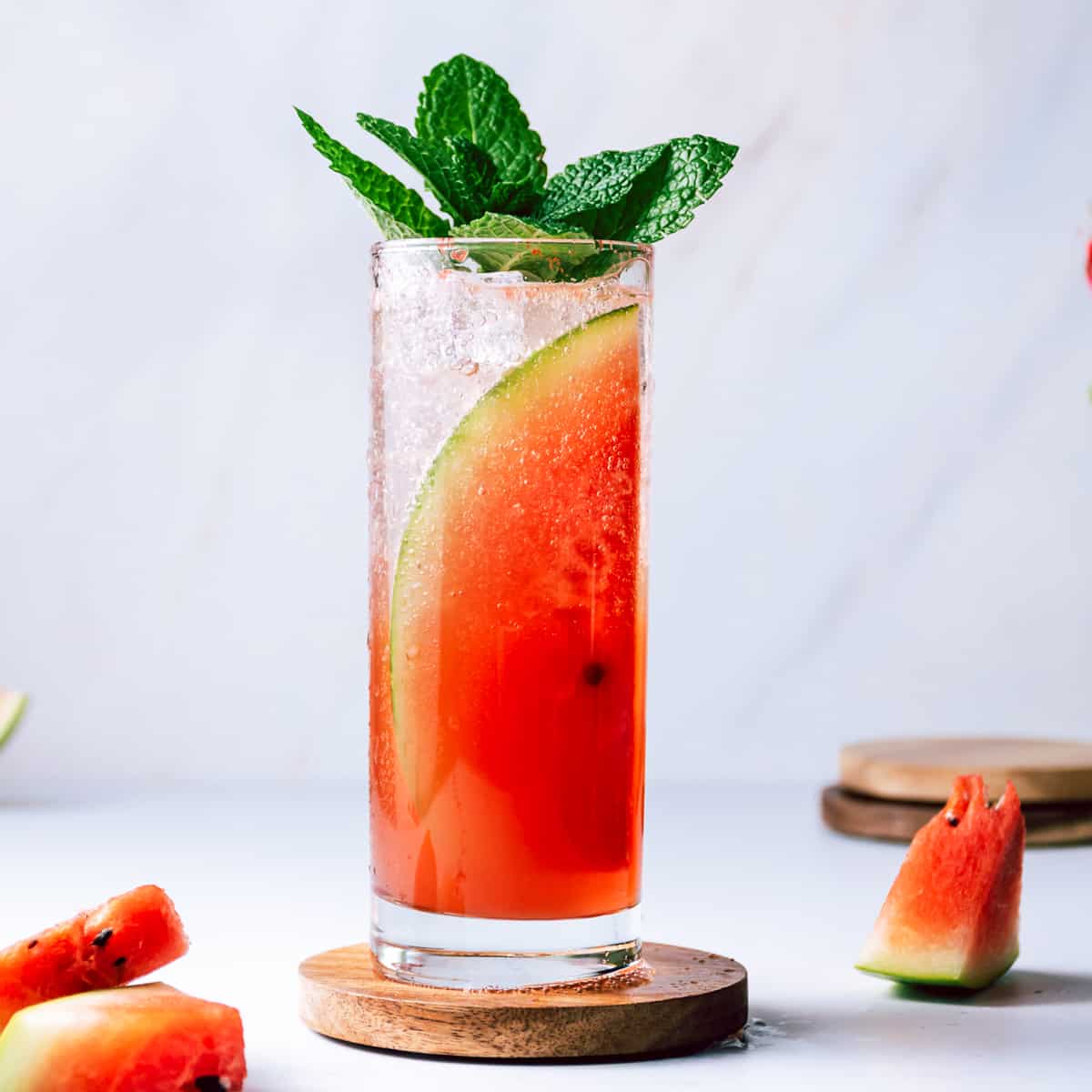 Looking for a drink that's as refreshing as it is delicious? Look no further than the watermelon mojito!
This cocktail combines the sweet juiciness of fresh watermelon with the minty goodness of a classic mojito, creating a flavor explosion that will leave your taste buds begging for more.
Plus, with its gorgeous pink hue and fun garnishes, the watermelon mojito is as Instagram-worthy as it is tasty.
This is one of our favorite summer cocktail recipes.
So grab your muddler and let's get shaking!
Jump to:
Ingredients
Mint: This herb is like a breath of fresh air for your taste buds, adding a cool and invigorating touch to the cocktail.
Watermelon: The juicy star of the show, watermelon brings its sweet and refreshing flavor to the party. It's basically summer in a glass! If you don't want to use fresh watermelon you could substitute it for watermelon juice.
White rum: A boozy addition that adds some kick to this fruity concoction. It's like a little vacation in every sip.
Lime juice: Adding some zesty tang to the mix, lime juice is the perfect counterbalance to the sweetness of the watermelon. It's like a tiny sour superhero coming to save the day!
Agave nectar or simple syrup: These sweeteners are like Cupid's arrow, bringing an extra layer of love and sweetness to your drink.
Club soda or tonic water: The bubbly finishing touch that makes everything better. It's like adding sparkles to your drink - who doesn't want that?
Instructions
To make your watermelon mint mojito, start by adding the watermelon into your cocktail shaker and muddle well, about 20 seconds. You want a watermelon puree texture.
Add in the fresh mint sprigs and bruise the leaves with your muddler to release the mint flavor.
Add in the fresh lime juice, light rum and agave nectar or simple syrup to your cocktail shaker.
Shake vigorously for another 20 seconds.
In a tall glass add your ice. Strain the watermelon cocktail with a fine mesh strainer into your glass.
*If you plan on garnishing with a watermelon wedge, add that to your glass before adding your ice.
Finish off with the club soda or tonic water.
Garnish and serve.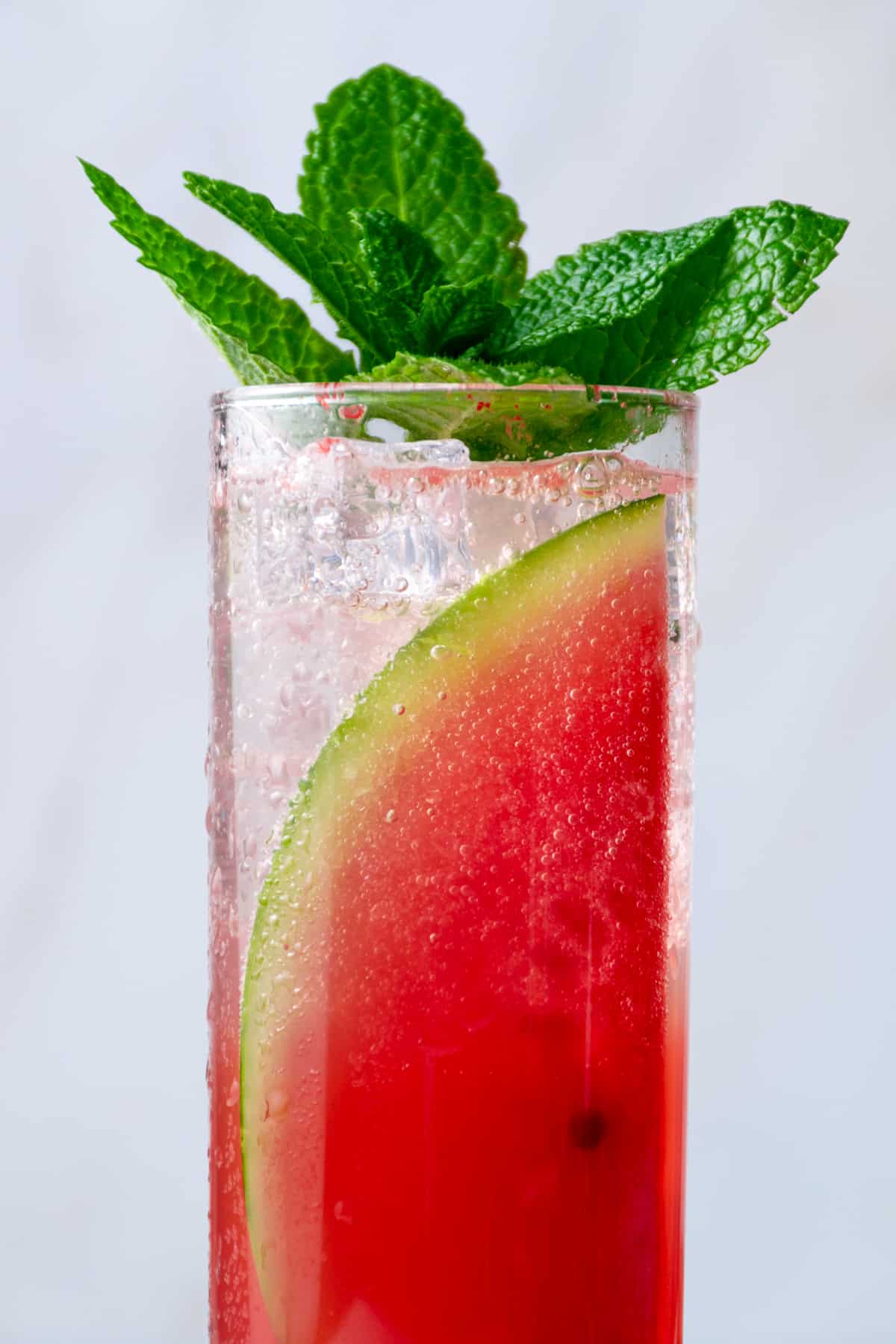 Garnish Ideas
The watermelon mojito is a favorite drink of mine just because it can be super fun to garnish and make look gorgeous. For our drink we used a watermelon wedge and fresh mint leaves.
Here are a few other great ideas to garnish your mojito with.
Fresh Watermelon Wedges: It's like adding a little extra summer to your drink! Plus, it's a great way to show off that beautiful fruit.
Lime Wheels: A classic garnish for any mojito, lime wheels add a pop of color and an extra zing of citrusy goodness.
Mint Sprigs: Not only do these sprigs look pretty, but they also add an extra burst of minty freshness to each sip. Double win!
Jalapeño Slices: For those who like their drinks with a little kick, jalapeño slices are the perfect addition. Just be warned - this garnish is not for the faint of heart!
Coconut Flakes: Take your taste buds on a tropical vacation with some coconut flakes as a garnish. It's like sipping your drink on a beach somewhere far away.
Cucumber Slices: Refreshing and crisp, cucumber slices add an unexpected twist to the traditional watermelon mojito. It's like adding a healthy dose of hydration to your cocktail.
Edible Flowers: If you want to get fancy and impress your guests, edible flowers are the way to go. They're beautiful, delicate, and add an extra layer of sophistication to any drink. Plus, they make for great Instagram photos!
Recipe
Yield: 1 Drink
Watermelon Mojito
This watermelon mojito is like a summer breeze in a glass - sweet, refreshing, and oh-so-invigorating! With juicy chunks of watermelon, zesty lime juice, and just the right amount of white rum to keep things interesting, it's the perfect drink for sipping on a hot day. And let's not forget about the mint - it's like a little oasis of coolness in every sip!
Ingredients
⅓ cup chopped watermelon
Handful of Mint leaves (about 6)
½ ounce Lime Juice
2 ½ ounces White Rum
1 spoonful Agave Nectar or Simple Syrup (to taste)
Ice
4 ounces of club soda or tonic water
Instructions
In a cocktail shaker add watermelon muddle well, about 20 seconds.
Add in the mint and bruise leaves with your muddler.
Add in the lime juice, white rum and agave nectar or simple syrup to cocktail shaker.
Shake vigorously for another 20 seconds.
In a tall glass add your ice. Strain watermelon cocktail into your glass.
Finish off with the club soda or tonic water.
Garnish and serve.
Notes
You can add more or less of the agave nectar or simple syrup depending on how sweet you like your drink.
We'll hope you'll be enjoying lots of watermelon mojitos this summer with this easy and delicious recipe.