The Spellbinding Witches Brew drink is a spooky cocktail that combines the melon-infused allure of Midori Melon Liqueur with the zesty tang of lemon and lime juices, resulting in a bewitching and refreshing potion that enchants the palate. With its vibrant flavors and optional whimsical garnishes, this Halloween cocktail is sure to cast a spell of delight on any occasion.
Looking to stir up some spooky delights this Halloween season? Indulge in the fun world of Halloween cocktails, where drinks are concocted with a touch of mischief and enigmatic flair, making them the ultimate source of fun and mystery.
Embrace the spirit with this spellbinding Witches Brew Cocktail recipe.
This captivating drink brings a fun twist to the classic Midori Sour. Our Witches Brew drink takes the beloved melon-infused concoction and kicks it up a notch with the addition of a shot of vodka.
The bright green color makes it perfect for a witch drink.
And when you taste it, you'll love how the sweet Midori Melon Liqueur mixes with the tangy lemon and lime juices, and the vodka gives it a little extra kick.
It's like a magical potion that captures the spirit of Halloween and makes your taste buds go wild. Get ready for an amazing adventure with every sip!
And if you enjoy this Halloween drink, you'll want to check out our black martini too. They're perfect for a Halloween party or a Hocus Pocus event.
This post may contain affiliate links. That means if you click on a link and buy something, we may earn a small commission at no cost to you. We only recommend products we love and think you would enjoy too. You can read the full disclosure here.
Jump to:
Why You'll Love This Drink
Enchanting Flavors: The blend of sweet Midori Melon Liqueur with tangy lemon and lime juices creates a captivating flavor combination that will delight your taste buds.
Halloween Vibes: Embrace the spirit of Halloween with this bewitching cocktail, perfect for spooky celebrations and costume parties.
Refreshing and Invigorating: Experience a refreshing and vibrant taste sensation as the melon, citrus, and vodka come together in this delightful concoction.
Easy to Make and Customize: Whether you're a beginner or a cocktail enthusiast, this drink is simple to prepare, and you can adjust the sweetness to suit your preference with optional simple syrup.
Ingredients
Vodka: A neutral spirit that lends its subtle powers to elevate the overall flavor profile of our concoction.
Midori Melon Liqueur: A vivid green elixir, bursting with the essence of ripe melons. Its captivating sweetness weaves a tantalizing spell throughout the drink.
Lemon Juice: The tangy nectar of freshly squeezed lemons adds a zesty and refreshing twist to our bewitching brew.
Lime Juice: The zingy essence of limes brings a vibrant citrus note to the mix, perfectly complementing the other ingredients.
Simple Syrup (optional): For those who desire an extra touch of sweetness, a dash of simple syrup can be added to enhance the melon's charm.
Maraschino Cherries (optional for garnish): These delightful crimson cherries, with their sweet allure, can be used to garnish our cocktail, adding a touch of whimsy and visual enchantment.
See recipe card for quantities.
*If you only have lemon juice or lime juice you can double it and forgo the other one. It'll still come out great.
Tools and Glassware
To craft the spellbinding Witches Brew drink, you'll need a few essential tools and glassware to ensure the best experience. Here's what you'll need:
Cocktail Shaker: A must-have tool for mixing and chilling the ingredients to perfection. It helps blend the flavors and create a refreshing texture. This one is gorgeous.
Jigger: This handy measuring tool ensures accuracy in pouring the right amounts of vodka, Midori Melon Liqueur, lemon juice, and lime juice. It helps maintain the balance of flavors.
Ice: Prepare a sufficient amount of ice cubes to fill your cocktail shaker. They play a crucial role in chilling the ingredients and creating a refreshing, cold beverage.
Cocktail Glasses: Serve your Witches Brew Cocktail in stylish cocktail glasses to enhance the drinking experience. Choose glasses that hold an appropriate volume for the cocktail and allow for garnishes and decorations. I used these coup glasses, but these would be great in whiskey glasses as well.
Optional: Edible Glitter and Cocktail Picks: If you want to add an extra touch of magic and whimsy to your presentation, have some edible glitter on hand for rimming the glasses. Cocktail picks can also be useful for garnishing with melon balls, cherries, or other creative additions.
Instructions
First, gather your supplies and fill a cocktail shaker with ice, preparing it as the cauldron for our magical mixture.
Next, add the measured amounts of vodka, Midori Melon Liqueur, lemon juice, lime juice, and, if desired, a touch of simple syrup. These mystical ingredients shall combine to create a symphony of flavors.
With the ingredients in place, channel your inner sorcerer and shake the mixture vigorously for 15-20 seconds. This ritual ensures that the flavors merge harmoniously, creating a spellbinding blend.
If you plan on rimming your cocktail, now is the time. Squeeze lime juice onto a small plate and dip the rim of your glass in it, making sure to coat the entire rim.
Then grab a separate small plate and add your rimming ingredient, we used edible glitter sprinkles.
Then make sure to dip the edges into the glitter to rim the entire glass.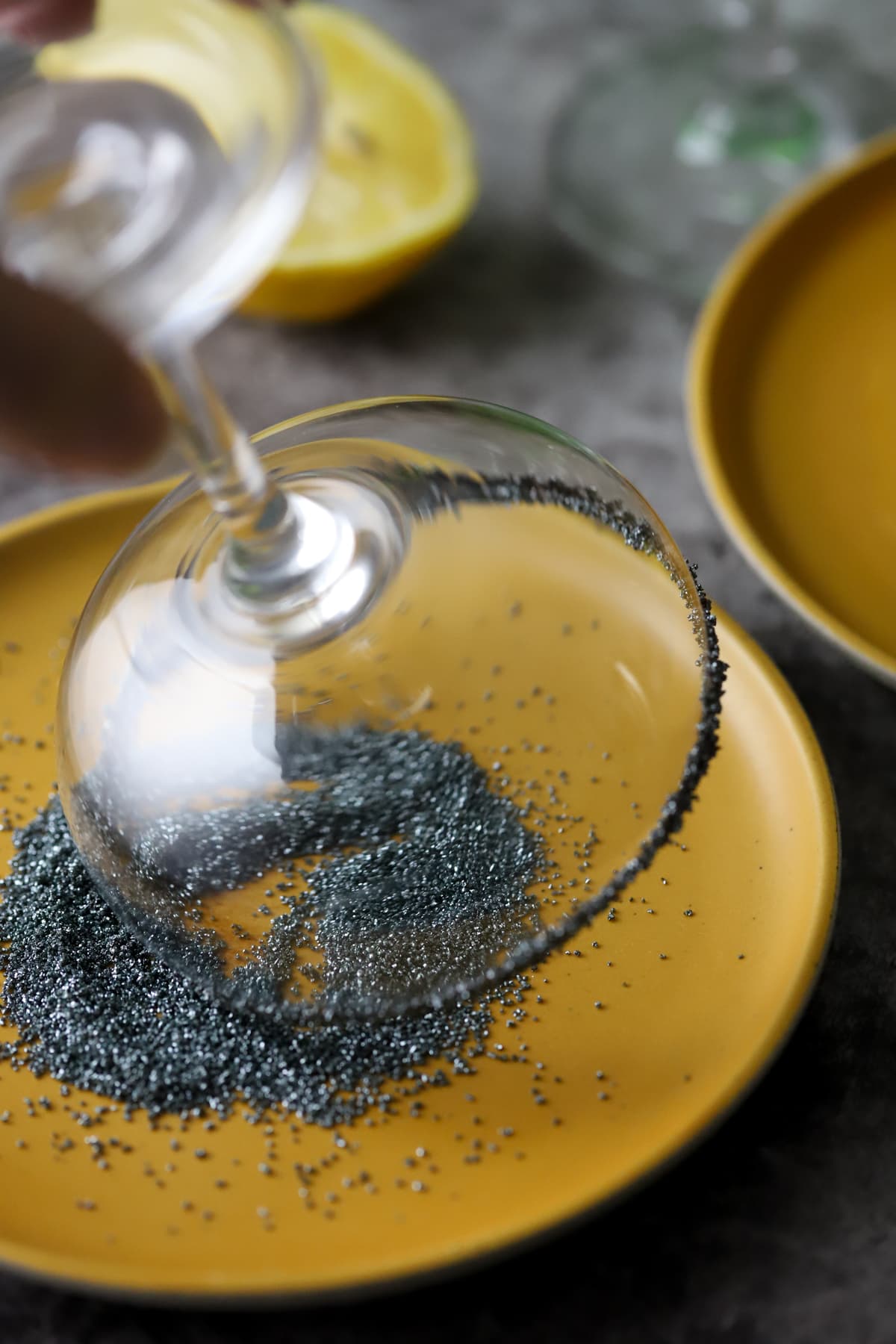 Carefully pour the captivating concoction into the awaiting glasses, distributing its mystical essence evenly among them.
Garnish and serve. Cheers!
Garnish Ideas
Elevate the enchantment with these bewitching garnish ideas:
Melon Balls: Skewer small melon balls on a cocktail pick, allowing them to rest tantalizingly across the rim of the glass. This playful garnish enhances the melon theme and adds a touch of visual delight.
Lime Wheels: Place a thin, zesty slice of lime on the rim of the glass, inviting your guests to savor the refreshing citrus essence with each sip.
Edible Flowers: Float delicate and edible flowers atop the surface of the cocktail, transforming it into a captivating garden of flavors. The ethereal beauty of these blossoms adds a whimsical touch to the visual spectacle.
Halloween Drink Picks: Add a fun twist by adding some fun Halloween picks like these fun skull picks.
Top Tips
Unleash your inner cocktail wizard with these pro tips:
Use freshly squeezed lemon and lime juice for a burst of vibrant citrus flavors.
Ensure your cocktail shaker is generously filled with ice to create a chilling effect that enhances the overall experience.
Experiment with the optional simple syrup to find the perfect balance of sweetness that suits your taste preferences.
Shake the potion vigorously to summon the magic within. This creates a frothy texture that accentuates the flavors and adds a touch of intrigue to the presentation.
Pre-chill your cocktail glasses to keep the bewitching brew refreshingly cool throughout the spellbinding experience.
Embrace your creative spirit when garnishing the cocktail, and explore different options to infuse your drink with a touch of personal flair.
Substitutions and Variations
Unleash your imagination and explore these alternate paths of enchantment:
Swap vodka for gin, embracing a herbaceous twist that takes your taste buds on a new journey.
Replace Midori Melon Liqueur with other fruit liqueurs, such as peach or raspberry, to unlock a plethora of mesmerizing flavor combinations.
Experiment with different citrus juices like grapefruit or orange, adding diverse dimensions to your mystical brew.
Recipe
Yield: 1 Drink
Witches Brew Cocktail
The Witches Brew Cocktail is a delicious and exciting drink that is perfect for Halloween or any festive occasion. It combines the sweet taste of Midori Melon Liqueur with tangy lemon and lime juices, creating a refreshing and flavorful experience. Whether you're a beginner or a cocktail enthusiast, this easy-to-make drink is sure to enchant your taste buds and bring a touch of magic to your celebrations!
Ingredients
1 ½ oz Vodka
1 ½ oz Midori Melon Liqueur
1 oz Lemon Juice
1 oz Lime Juice
1 teaspoon of simple syrup (optional)
Maraschino cherries (optional for garnish)
Edible glitter (optional for rimming)
Instructions
Fill cocktail shaker with ice.
Add in vodka, midori, lime and lemon juice and simple syrup if using.
Rim glasses (optional.)
Pour witches brew into glasses, garnish and serve.
Cheers!
Notes
You can add more simple syrup or less depending on desired sweetness. You can also add more or less vodka depending on how strong you like your drink.