Trying to figure out the different types of tequila? We've got a quick and easy guide to help you understand the differences between each type of tequila.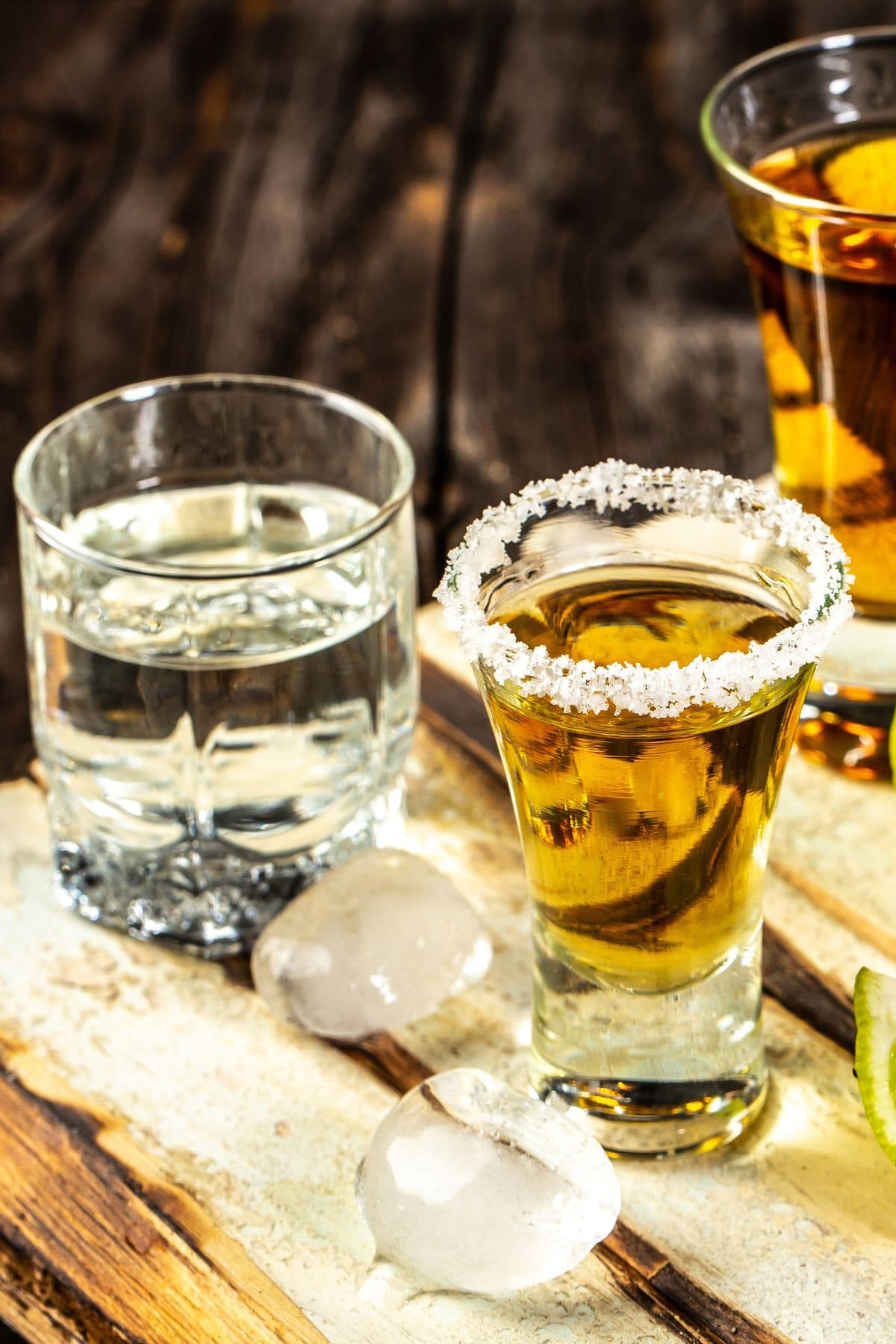 Tequila, a spirit that conjures up images of lively fiestas and zesty margaritas, has a rich history that is as vibrant as its flavors.
While many know it as Mexico's premier drink, few understand the intricacies that differentiate one type from another.
This guide will take you through the captivating world of tequila, showcasing its varieties and flavors.
And if you're wondering what tequila is or how tequila is made, you'll find answers interwoven in our journey.
The Basics of Tequila Production
Derived from the heart or 'piña' of the Blue weber Agave plant, tequila undergoes a meticulous process from harvesting to distillation.
Central to tequila's identity is its geographical limitation. Only spirits produced in specific states of Mexico, mainly Jalisco, can proudly bear the name tequila.
What Makes Tequilas Differ From Each Other
The big difference between the types of tequila boils down to aging. Tequilas are aged in wooden barrels, usually oak barrels for a certain amount of time.
The time spent in these barrels alters the flavors and essence of each tequila, creating different types of tequila.
Types of Tequila
There are 5 main types of tequila. Blanco tequilas, Joven tequilas, Reposado tequilas, Añejo tequilas and extra Añejo tequilas.
Blanco Tequila (Silver Tequila or White Tequila)
Aged: 0 months. Bottled right after distillation all thought some can be aged up to two months.
Blanco tequilas shines through with its crystal-clear appearance, offering a glimpse into the genuine spirit of the agave plant. It's an unaged tequila.
Due to its direct bottling post-distillation, it embodies the most unadulterated form of agave flavors.
Ideal for those seeking the raw essence of the plant, it serves as a go-to for mixologists, especially in crafting iconic drinks such as Margaritas.
Popular Brands:
Don Julio Blanco: Known for its hints of citrus and fresh agave.
Patrón Silver: A smooth tequila with a slightly fruity character.
Joven Tequila (Gold Tequila or Young Tequila)
Aged: Varies, as it's a mixture of blanco tequila and respado tequilas.
Joven tequila is an intriguing blend, combining the youthful zest of Blanco and the rich depth of aged tequilas.
Its characteristic golden shade is often the result of additives, granting it a sweeter profile.
With its balanced taste, it's a staple in many mixed drinks and serves as a great introductory tequila for new enthusiasts.
Popular Brands:
Jose Cuervo Especial Gold: One of the best-selling tequilas worldwide.
Sauza Gold: Known for its sweet notes and light finish.
Reposado Tequila (Rested Tequila)
Aged: 2-12 months in oak barrels.
Maturing in oak barrels between 2 months to a year, Reposado tequilas meld the foundational agave flavor with the warm, woody notes from its cask.
Common profiles include subtle hints of caramel, vanilla, or honey. With its refined taste, Reposado is versatile, fitting both sipping occasions and nuanced cocktail recipes.
Popular Brands:
Herradura Reposado: Offers a combination of cooked agave, oak, and dried fruits.
Cazadores Reposado: Smooth with hints of spiced wood and citrus.
Añejo Tequila (Aged Tequila)
Aged: 1-3 years in oak barrels.
Añejo tequila, a testament to time and craftsmanship, resides in oak barrels for a period ranging from 1 to 3 years.
This aging process imparts a complex flavor palette dominated by oak, caramel, vanilla, and sometimes even chocolate or dried fruits.
With its layered character, it's best savored neat, akin to how one might enjoy a fine whiskey or cognac.
Popular Brands:
Don Julio Añejo: Renowned for its rich, full-bodied taste with notes of chocolate and dried fruit.
El Tesoro Añejo: Offers a balance of agave and oak with hints of butterscotch and citrus.
Extra Añejo Tequila (Ultra-aged Tequila)
Aged: Over 3 years in oak barrels.
For those with a discerning palate, Extra Añejo tequila stands at the pinnacle of aging mastery as an extra aged tequila.
With over three years of maturation, it showcases a luxurious flavor profile, often drawing comparisons to vintage wines or rare cognacs.
Its richness is a culmination of the agave's character, time, and the intricate dance with oak.
Popular Brands:
Patrón Extra Añejo: Aged for more than three years, it exudes notes of banana, honey, and vanilla.
Avión Reserva 44: With 44 months of aging, it offers a deep richness with hints of vanilla, ripe black fruits, and toffee.
These brands are just the tip of the iceberg when it comes to the vast world of tequila. For those eager to explore, each sip offers a new story.
| Type of Tequila | Aging Duration | Description |
| --- | --- | --- |
| Blanco | 0 months (Unaged) | Clear spirit bottled directly post-distillation. |
| Joven | 0 months (Blended with aged tequilas) | Golden shade often from additives, a blend of Blanco and aged tequilas. |
| Reposado | 2 months to 1 year | Matured in oak barrels, balancing agave with woody undertones. |
| Añejo | 1 to 3 years | Aged in oak barrels, complex flavors resembling fine whiskey or cognac. |
| Extra Añejo | Over 3 years | The epitome of tequila aging, boasting luxurious, deep flavors. |
The Importance of the NOM (Norma Oficial Mexicana)
Authenticity is a cornerstone of tequila. To safeguard its legacy, each bottle carries a NOM number, signifying compliance with Mexican standards.
This number is your passport to genuine tequila, ensuring its quality and origin. The CRT (Consejo Regulador del Tequila) plays a pivotal role in this, and for those interested in decoding NOM.
Mezcal vs. Tequila
A common misconception is equating mezcal with tequila. While all tequilas are mezcals, the opposite isn't true.
All tequilas are mezcals, while only certain mezcals are considered tequila.
The difference between mezcal and tequila lies in the type of agave used and the production methods.
Additionally, while tequila hails from specific regions of Mexico, mezcal has a broader geographical canvas.
Tequila, with its myriad flavors and types, is a journey of discovery. Far from the stereotypes, it's a spirit that tells the story of a rich Mexican heritage. So, next time you raise a glass, take a moment to savor its legacy.
FAQs
What is the primary ingredient in tequila?
The primary ingredient in tequila is the blue agave plant, specifically the core or "piña" of the plant.
How is Blanco tequila different from Joven tequila?
Blanco tequila is unaged and bottled immediately after distillation, preserving the pure agave flavor. Joven tequila is a blend of Blanco with aged tequilas and may have additives, giving it a characteristic golden shade.
Why does Añejo tequila resemble the flavor of whiskey or cognac?
Añejo tequila is aged in oak barrels for 1 to 3 years, allowing the spirit to absorb flavors from the wood, similar to how whiskey and cognac are aged. This imparts complex notes like caramel, vanilla, and sometimes even chocolate or dried fruits.
Is there a tequila that's aged longer than Añejo?
Yes, Extra Añejo tequila is aged for over three years, often drawing comparisons to vintage wines or rare cognacs due to its luxurious flavor profile.
Can all tequilas be used for making cocktails?
While all tequilas can technically be used for cocktails, Blanco and Joven are popular choices for mixed drinks due to their adaptable flavor profiles. Reposado and Añejo are often sipped neat but can also be used in cocktails where a deeper, wood-infused flavor is desired.
What is the significance of the term "100% Agave" on tequila bottles?
"100% Agave" indicates that the tequila is made entirely from the blue agave plant without the addition of other sugars. These tequilas often offer a more authentic taste and quality experience.
Which type of tequila is best for shooting?
Blanco or Joven tequilas are commonly preferred for shots. They have a clean, sharp agave flavor that is often enjoyed in a quick, one-sip format. For those who like a touch of sweetness to their shots, Joven with its golden hue and potential additives is a popular choice.
Which type of tequila is the smoothest?
The smoothness of tequila often increases with its aging process. Añejo and Extra Añejo tequilas are generally considered the smoothest due to their extended aging in oak barrels. This aging imparts a mellow character to the spirit, with softened agave notes harmoniously blended with flavors from the wood, such as caramel, vanilla, and sometimes even chocolate.