Curious about tequila? What is Tequila exactly? We've got you covered.
Tequila: just the word might bring back memories of beach vacations, or perhaps that one party you'd rather forget.
Yet, this Mexican spirit is so much more than a party drink. A product of culture, history, and nature, tequila stands tall as Mexico's most celebrated alcoholic beverage.
History of Tequila
The history of tequila is rich and spans centuries, intertwining with the narrative of Mexico itself.
Before the Spanish arrived, indigenous populations were already fermenting the agave plant to produce pulque, a milky, tangy drink.
The Spanish, with their distillation techniques, ushered in the birth of what we now recognize as tequila.
What is Tequila Made From?
Tequila is made from the blue agave plant. Imagine a plant that looks a bit like an oversized pineapple crossed with a cactus, and you've got the blue agave.
It's from the core of this plant, known as the "piña", that tequila is born.
Interestingly, while there are over 200 types of agave plants, only the blue agave yields our beloved tequila.
Production Process
The journey of tequila is a passionate dance of tradition and technique. Here is a quick overview on how tequila is made.
Harvesting: It begins with the jimadores, skilled laborers who handpick the blue agave plants, trimming off the leaves to reveal the piña.
Cooking: These piñas are then roasted, which converts their starches into fermentable sugars.
Fermentation: With the help of yeast, these sugars are transformed into alcohol.
Distillation: The fermented liquid is distilled, usually twice, refining the spirit to its final form.
Aging: While not all tequilas are aged, those that are, rest in oak barrels absorbing flavors and colors from the wood.
Types of Tequila
Think of tequila types as the evolving stages of a fine actor. The different types of tequila have a lot to do with the aging process.
Blanco Tequila: Fresh-faced and straight from the distillation process, this is tequila in its purest form.
Reposado Tequila: Like an actor who's spent a few months honing a role, reposado has rested in oak barrels for up to a year.
Añejo Tequila: With the grace of a seasoned performer, añejo has been aged for between one and three years, offering a smoother taste.
Extra Añejo Tequila: The legends of the stage, these are aged for more than three years, delivering a depth of flavor that's unparalleled.
Joven Tequila: Think of this as the remix; it's often a blend of blanco with older tequilas.
The Importance of Denomination of Origin
Understanding tequila is incomplete without diving into its geographical roots.
Like the French protection of their Champagne or the Scots with their Scotch, Mexicans fiercely protect tequila's integrity through a designation known as the "Denomination of Origin."
This designation ensures that any spirit labeled 'tequila' adheres to strict production guidelines and originates from specific regions within Mexico.
Protected Regions:
Jalisco: The epicenter of tequila production, Jalisco is home to the town of Tequila itself. The region's rich volcanic soil provides the ideal conditions for blue agave cultivation. From the sprawling fields to the artisanal distilleries, Jalisco embodies the spirit of tequila.
Nayarit: Bordering Jalisco to the north, Nayarit boasts a coastal stretch where blue agave thrives. Though smaller in production capacity, its contributions to tequila are notable.
Guanajuato: Located to the east of Jalisco, Guanajuato's hilly terrains and valleys are conducive to blue agave growth. The region's unique climate imparts distinct characteristics to its tequila.
Michoacán: With its diverse topography, from coastal plains to mountain ranges, Michoacán offers varied terroirs that influence the agave's growth and, subsequently, the taste profile of its tequila.
Tamaulipas: Located to the far northeast and often less recognized in the tequila realm, Tamaulipas has started to make its mark with its unique tequila varieties, enriched by the region's distinct climate.
Why Region Matters: The importance of these regions extends beyond mere geographical boundaries.
Each region's specific climate, soil composition, altitude, and even cultural practices play a role in shaping the flavor and character of the tequila produced.
For instance, tequilas from the highlands (Los Altos) of Jalisco tend to be sweeter and more fruity, while those from the lowlands present earthier and more herbaceous notes.
Preserving Tradition and Authenticity: The Denomination of Origin not only safeguards the quality and authenticity of tequila but also preserves centuries-old traditions and techniques.
This rigorous regulation ensures that when you pour a glass of tequila, you're not just tasting a spirit; you're experiencing a piece of Mexico's heritage.
Tequila vs. Mezcal
A common confusion! All tequilas are mezcals, but not vice versa. So what's the difference between tequila and Mezcal?
Primarily the type of agave used and the production process.
While tequila uses only blue agave, mezcal can be made from many types of agave.
If Tequila is a smooth jazz tune, mezcal is the edgy rock song with smoky undertones.
Proper Ways to Enjoy Tequila
My dear friend once quipped, "Tequila shouldn't be downed; it should be revered."
Tequila is an art form, not just another spirit on the shelf. Many might remember their college days, downing shots followed by a cringe-worthy face.
But, like a fine wine or a delicate symphony, tequila deserves to be appreciated.
Sipping Tequila: Forego the salt and lime ritual. Instead, select a high-quality tequila, preferably añejo or reposado, and sip it slowly, allowing your palate to explore its nuanced flavors.
Tequila Chasers: If you do prefer chasing your tequila shot, the traditional Mexican way is with "sangrita", a spicy, citrusy juice.
Outside of Mexico, the best chasers for tequila include citrus-flavored sodas, fresh fruit juices, or even a simple slice of orange or grapefruit sprinkled with a touch of salt and chili powder.
Tequila Mixers: When it comes to blending tequila into cocktails, the possibilities are endless. The classics include Margarita and Paloma, where tequila mingles with citrus and other flavors.
Common tequila mixers include lime juice, grapefruit soda, agave nectar, and even tropical fruit juices for a refreshing twist.
Mixing tequila with soda water and a splash of lime can also give a light and refreshing drink for those warm summer evenings.
So, the next time you have a gathering or simply a quiet evening by yourself, remember that tequila is versatile.
Whether you're sipping, chasing, or mixing, it's a spirit that always brings warmth and character to the table.
Popular Tequila Cocktails
Tequila's versatility shines through in the vast array of cocktails it anchors.
While Margaritas might steal the limelight, there's a whole world of tequila-based cocktails waiting to dance on your palate. Here are some of the most popular ones:
Mexican Mule: A fiery twist on the classic Moscow Mule. This cocktail combines tequila with ginger beer, lime juice, and a dash of bitters. The result is a spicy, tangy delight. Garnish with a slice of lime and enjoy its refreshing zing.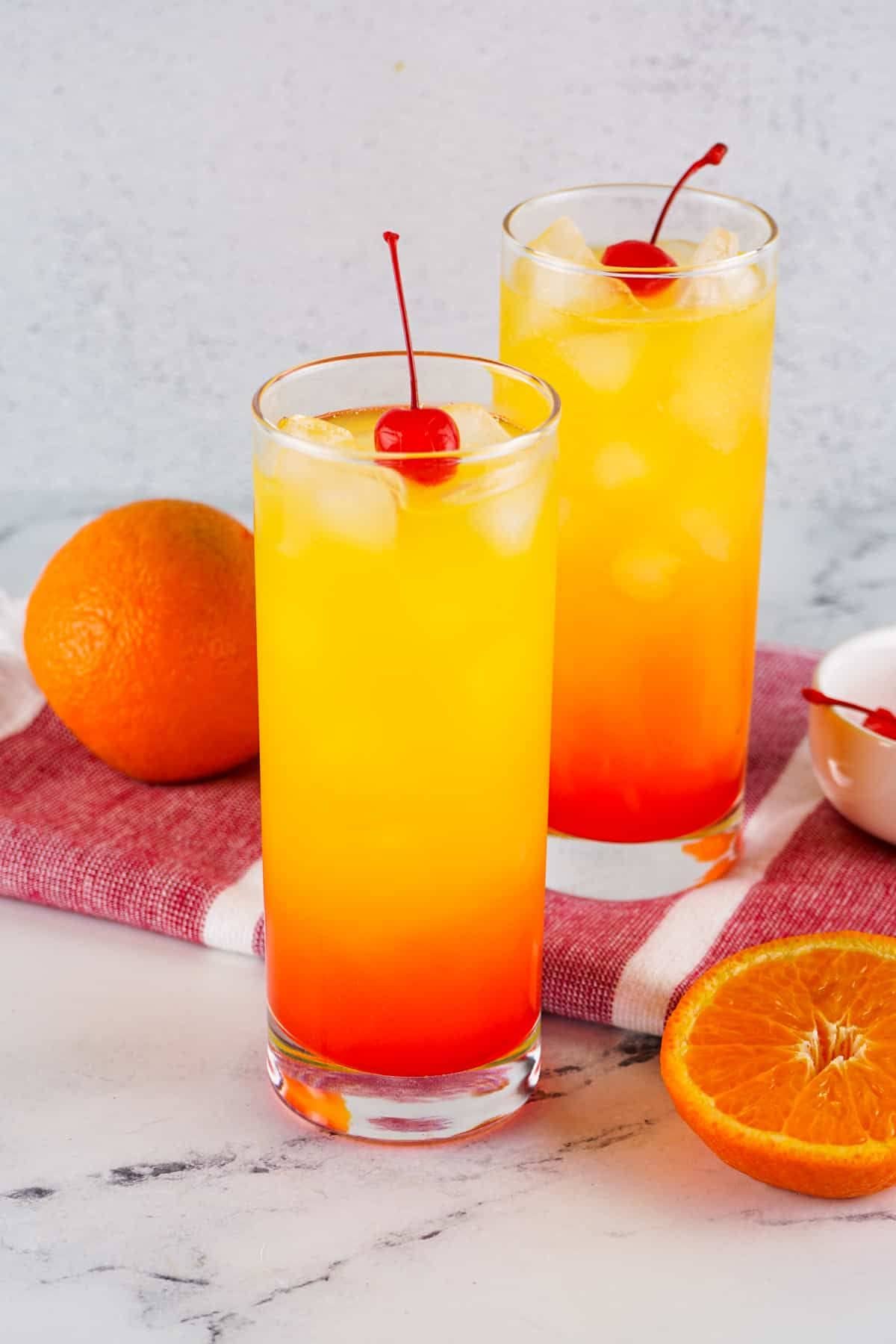 Tequila Sunrise: A visual and flavorful treat! Layered with orange juice and grenadine syrup, this cocktail showcases the gradient colors of a sunrise.
Its sweet, citrusy profile, courtesy of the tequila and orange juice base, gets a hint of tartness and vibrant color from the grenadine.
Tequila and Orange Juice: A simple yet refreshing combo. The smoothness of tequila coupled with the sweetness of orange juice makes for a delightful drink. For an extra twist, add a splash of grenadine or a pinch of salt.
Tequila Fizz: Think of this as a spirited soda. Combine tequila with lemon juice, sugar syrup, and soda water. The result is a bubbly, citrusy drink that's perfect for any occasion.
Bloody Maria: Swap out the vodka in your traditional Bloody Mary for tequila, and voila! You have the Bloody Maria. Tequila adds a different depth to the tomato juice, making it a spicy, savory treat ideal for brunch or a pick-me-up after a long night.
Tequila Old Fashioned: A sophisticated twist on a classic. Muddle agave nectar with bitters, add ice, tequila, and garnish with an orange twist. The result is a smooth, slightly sweet cocktail that's perfect for sipping on a cool evening.
These are just a few examples of the magic that happens when tequila meets other ingredients. Whether you like your drinks sweet, spicy, or somewhere in between, there's a tequila cocktail out there waiting for you.
Sustainability and Modern Challenges
Today, the tequila industry grapples with sustainability concerns, especially as global demand grows.
Over-harvesting threatens the blue agave's existence, but many producers are now championing sustainable methods, ensuring tequila's future.
From the sun-soaked fields of Mexico to glasses around the world, tequila's journey is one of tradition, taste, and tenacity. Next time you raise a glass, take a moment to savor its history and complexity.