Elevate your classic cocktail game with this delectable Frozen Dirty Shirley Slushie recipe, offering a perfect blend of refreshing flavors and a touch of whimsy.
Get ready to indulge in a delightful Frozen Dirty Shirley that's perfect for any occasion!
With just a few simple ingredients and a couple of minutes, you'll have a refreshing drink in hand that's sure to impress.
Whether it's a summer party or a cozy night in, this delightful concoction is the ultimate crowd-pleaser.
This recipe is just like our dirty Shirley drink, but turned into a pink slushie cocktail.
Jump to:
Ingredients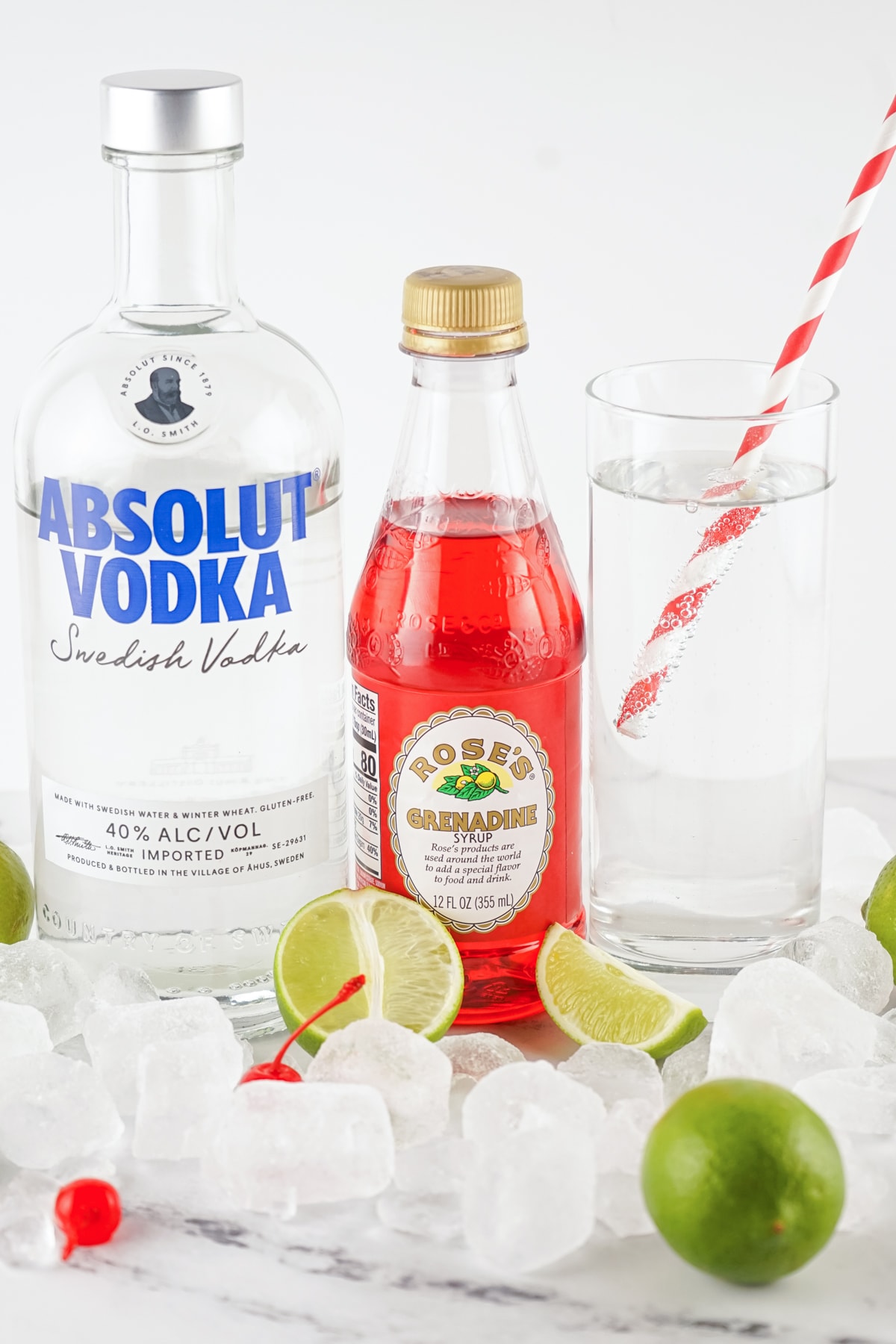 Ice: The foundation of our frozen treat, providing a chilly and satisfying texture and is what turns a regular drink into a slushie cocktail.
Lemon-lime soda: Offers a bubbly and zesty base to complement the other flavors.
Vodka: Gives the drink a smooth kick without overpowering the fruity elements.
Grenadine: Adds a touch of sweetness and a beautiful hue to the mix.
Lemon wedges (optional): Brighten up the drink and add a pop of citrus.
Maraschino cherries (optional): A classic garnish that adds charm and a hint of sweetness.
Instructions
Start by combining ice, lemon-lime soda, vodka, and grenadine in a powerful blender.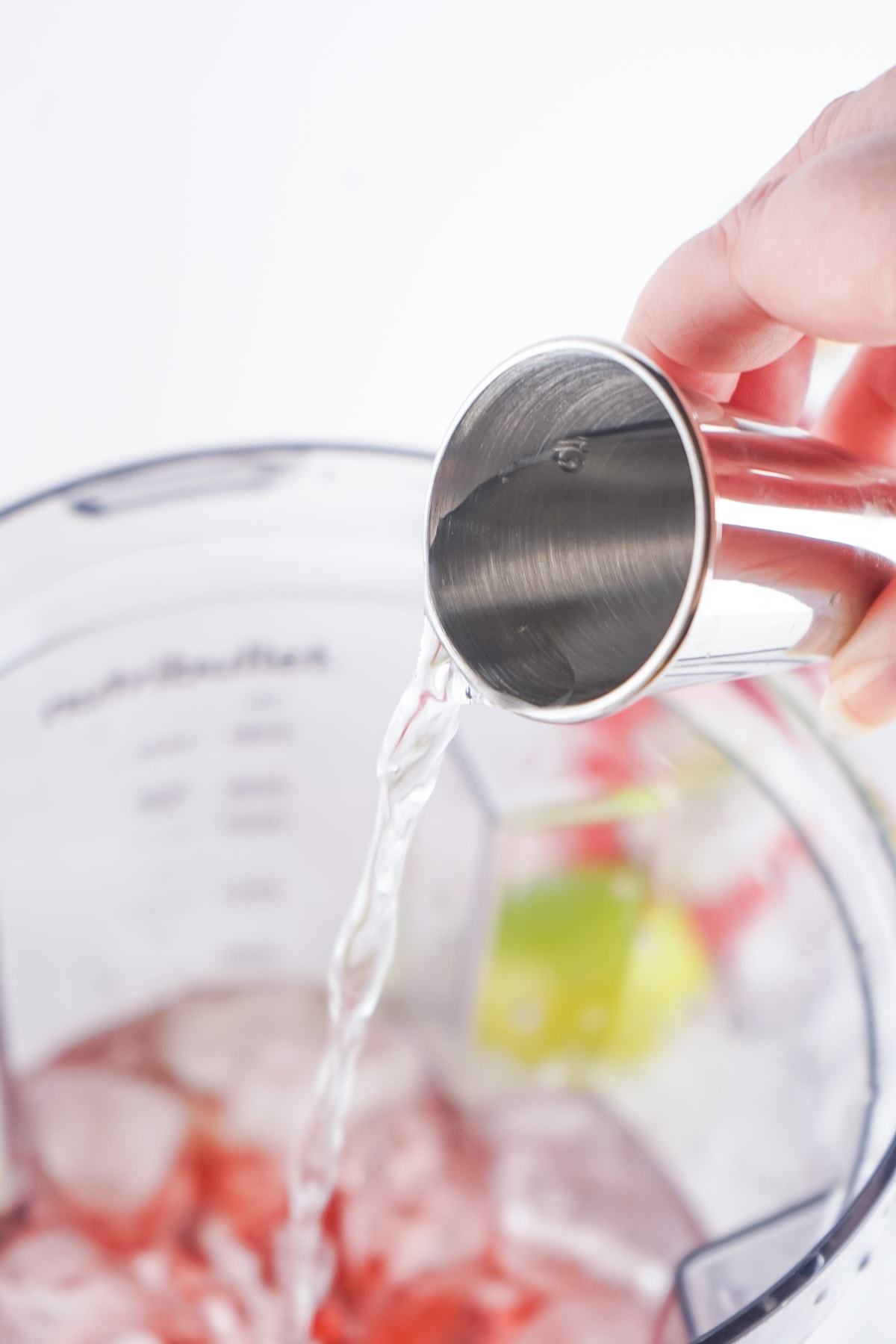 Then, blend the mixture until it reaches a smooth consistency.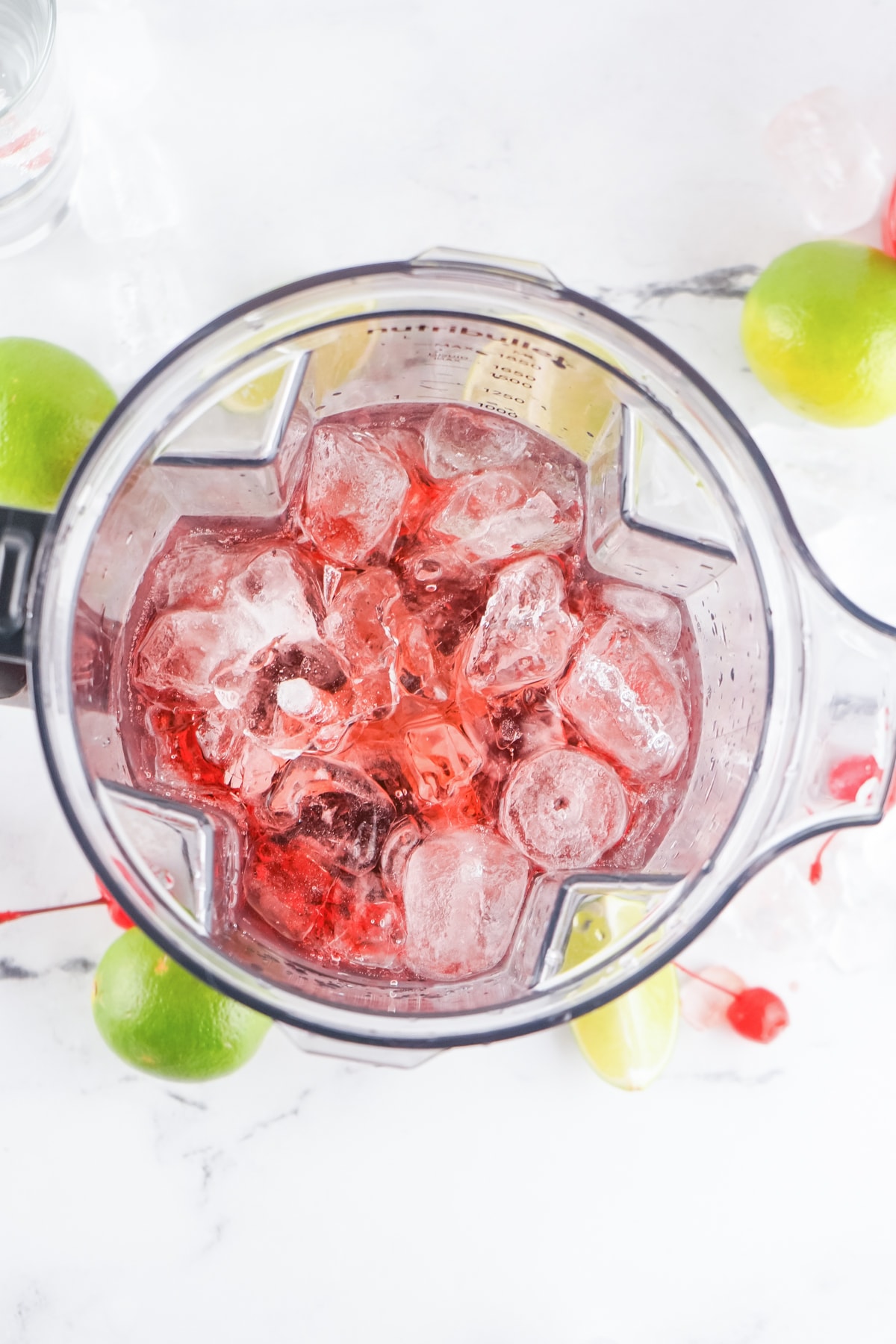 Next, pour your frosty creation into highball glasses or your preferred choice of glassware.
Finally, top off your masterpiece with a lemon wedge and cherry, if desired, and revel in your delicious accomplishment!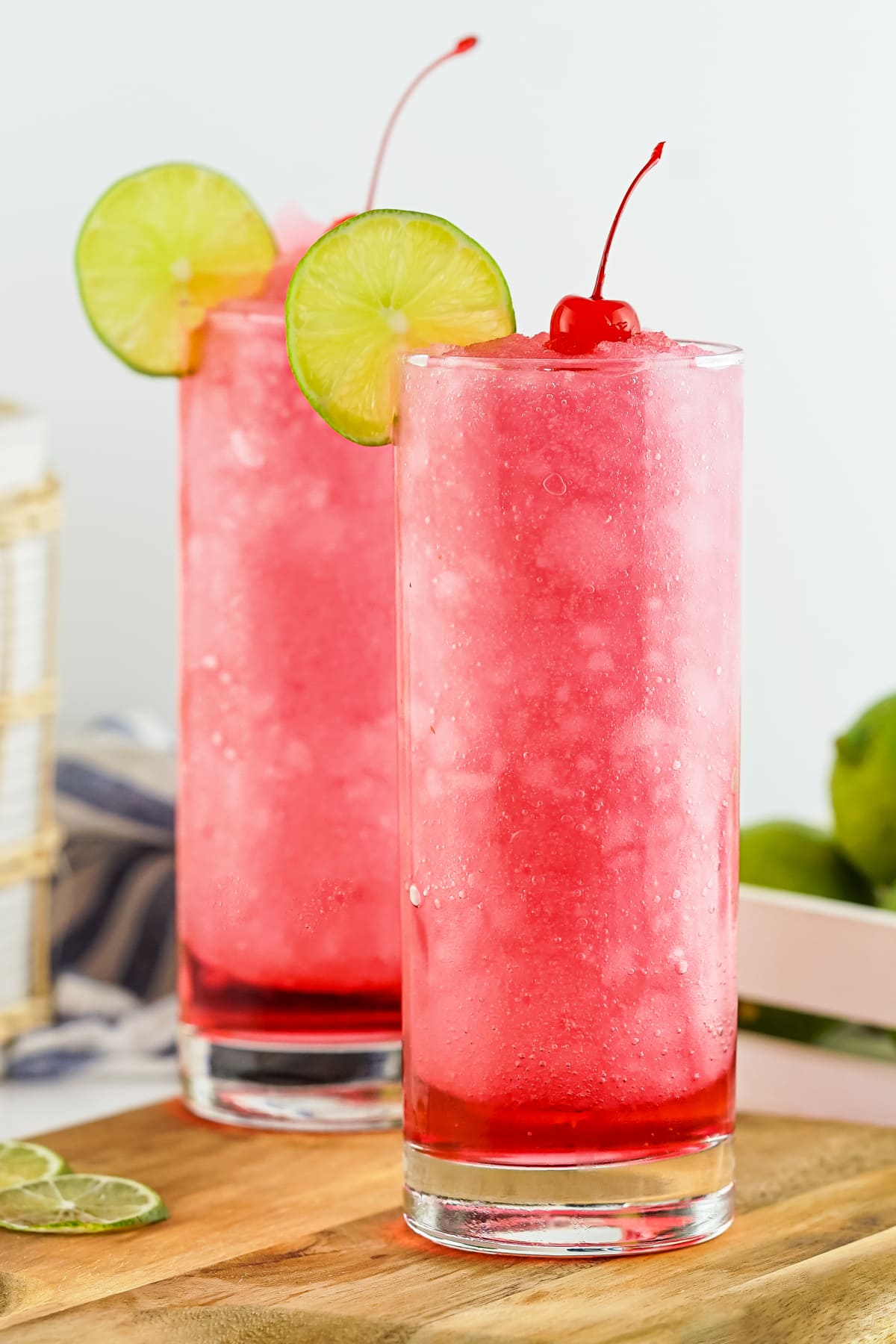 Garnish Ideas
Lemon wedges: Add a burst of citrus and a vibrant touch to your presentation.
Maraschino cherries: A playful and sweet addition that complements the drink's flavors.
Maraschino Cherry Skewer: Skewer 3-4 maraschino cherries on a cocktail pick and rest it on the rim of the glass.
Citrus Twist: Create a twist of lemon or lime peel and drape it over the rim of the glass for a pop of color and a hint of citrus aroma.
Sugared Rim: Dip the rim of the glass in a mixture of lemon juice and then into a plate of colored sugar (red or pink would work well) to create a sweet, textured rim.
Fresh Berries: Add a few fresh raspberries or strawberries to the top of the slushie for a burst of flavor and visual appeal.
Edible Flowers: Float a small, edible flower (such as a pansy or nasturtium) on top of the slushie for an elegant touch.
Candy Garnish: Place a red or pink candy (such as a gummy bear or sour cherry candy) on a cocktail pick and rest it on the rim of the glass.
Mini Cocktail Umbrella: Add a fun, tropical touch with a mini cocktail umbrella placed directly in the slushie.
Remember to be creative and have fun with your garnishes, making your Dirty Shirley Slushie Cocktail both visually appealing and delicious!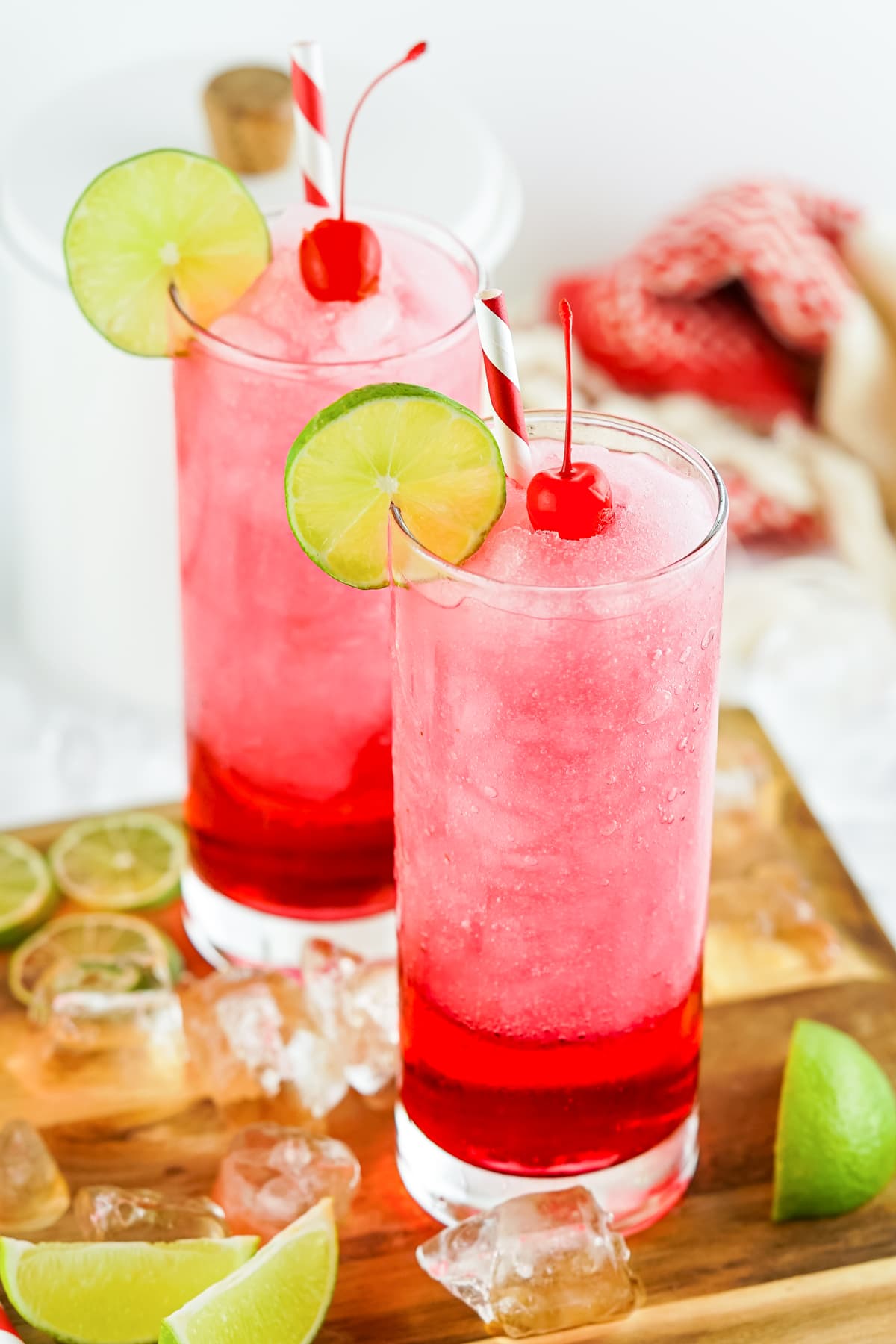 Top Tips
Serve your Frozen Dirty Shirley with a straw or spoon for optimal enjoyment.
Experiment with different brands of grenadine to find your preferred shade and flavor intensity.
Add 2 tablespoons of granulated sugar for extra sweetness and to assist with blending, if needed.
Stick to name-brand lemon-lime soda for the best taste experience.
Substitutions
Although not recommended, you may swap out vodka for a different clear spirit, such as gin or tequila, for a unique twist on the classic recipe.
Variations
Fruity Frozen Dirty Shirley: Add your favorite fruit syrup or fresh fruit puree for a personalized flavor boost.
Spiked Citrus Twist: Incorporate a splash of orange liqueur for an extra layer of zesty goodness.
Recipe
Yield: 2-3
Frozen Dirty Shirley Slushie
Delight in this refreshing Frozen Dirty Shirley recipe, featuring lemon-lime soda, vodka, and grenadine. A perfect cocktail for any occasion that's easy to customize and enjoy!
Ingredients
5 Cups Ice
1 ¼ Cups Lemon Lime Soda
½ Cup Vodka
¼ Cup Grenadine
Lemon Wedges (optional garnish)
Maraschino Cherries, with stems (optional garnish)
Instructions
Combine all ingredients, except the garnishes, in a powerful blender.
Blend until smooth.
Pour into highball glasses, or the preferred glasses of your choice.
Top with a lime wedge and cherry, if desired, and enjoy!
Notes
Refrain from adding extra liquid unless you're also increasing the amount of ice. However, if you like a thinner consistency, feel free to adjust as desired. It's all about personal preference.
These would make an adorable barbie cocktail and is definitely on our list for favorite pink cocktails.