Indulge in the refreshing simplicity of a Gin and Coke, a classic cocktail with a twist. This easy-to-make drink combines the botanical notes of gin with the sweet, familiar taste of cola for a satisfying sip.
Discover the Gin and Coke, a delightful variation of the traditional Jack and Coke. Perfect for casual get-togethers, impromptu celebrations, or just a relaxing evening at home, this cocktail is akin to the popular Rum and Coke but offers a unique gin twist.
Though not as famous as its counterparts, the Gin and Coke has carved its niche among easy-to-mix drinks. Ideal for laid-back occasions, it's a go-to for those who appreciate the juniper essence of gin without the complexity of more elaborate cocktails.
Why You'll Love This Drink
Simple and quick to prepare.
Requires minimal ingredients.
Offers a balance of sweet and botanical flavors.
Perfect for all seasons - refreshing in summer, comforting in winter.
Easily customizable to suit individual tastes.
Ingredients
Gin: The key player in this cocktail. Gins vary widely in flavor; some are more juniper-heavy, offering a piney, slightly spicy taste, while others might be more floral or citrusy. A London dry gin is a safe, versatile choice, but feel free to experiment with different types. The gin's profile will significantly influence the cocktail's overall flavor.
Cola: The sweet, caramel notes of cola balance the botanicals in gin. Classic Coca-Cola is a popular choice, but any cola will work. For a twist, try a craft cola with unique spice or citrus notes.
Optional: Lime or Lemon Slice: This isn't just a garnish; a squeeze of lime or lemon can add a bright, acidic contrast to the sweetness of the cola and the complexity of the gin.
Glassware and Equipment
Highball glass: The traditional choice for serving.
Spoon: For stirring.
Alternative: Any tall glass can work if a highball glass isn't available.
Instructions
Fill your glass with ice cubes. Don't skimp on the ice; it keeps the drink cold and properly diluted.
Measure and pour the gin. If you don't have a jigger or measuring tool, remember that a standard shot is about 1.5 ounces.
Add the cola. Pour it gently to maintain its fizz. The ratio is usually 1 part gin to 2-3 parts cola, but adjust to your taste.
Gently stir the drink. Do this just enough to mix the ingredients without losing the cola's carbonation.
Garnish, if desired. This adds both flavor and visual appeal.
Taste and adjust. If it's too strong, add more cola; if too sweet, a bit more gin.
Garnish Ideas
Lime Wheel: Adds a hint of citrus and a pop of color.
Lemon Twist: The oils from the lemon peel add a fresh aroma and a hint of bitterness.
Cucumber Slice: Gives a cool, refreshing edge, perfect for summer drinks.
Rosemary Sprig: Its woody, herbal scent complements gin's botanicals.
Cherry: Adds a touch of fruity sweetness and makes the drink visually appealing.
Mint Leaves: Their freshness contrasts the sweetness of cola and the sharpness of gin.
Orange Peel: A subtle, zesty addition that pairs well with the caramel notes of cola.
Top Tips
Use high-quality gin. The better the gin, the better the drink.
Chill your cola beforehand. This keeps your drink colder and more refreshing.
Experiment with gin-to-cola ratios. There's no one-size-fits-all; find what works for you.
Consider the ice. Use large, slow-melting ice cubes to prevent over-dilution.
Taste as you go. Adjust the ingredients to find your perfect balance.
Don't over-stir. You want to keep as much of the cola's fizz as possible.
Be creative with garnishes. They can completely change the drink's character.
Substitutions
Diet Cola: For a lower-calorie option.
Flavored Gin: To add an extra layer of taste.
Sparkling Water: For a less sweet, more refreshing version.
Variations
Gin and Tonic: For a dryer, more bitter alternative.
Gin and Ginger Ale: For a spicier twist.
Gin Fizz: Incorporate soda water and lemon for a tangy variation.
Gin and Juice: Swap cola with your favorite juice for a fruity mix.
Recipe
Yield: 1 Drink
Gin and Coke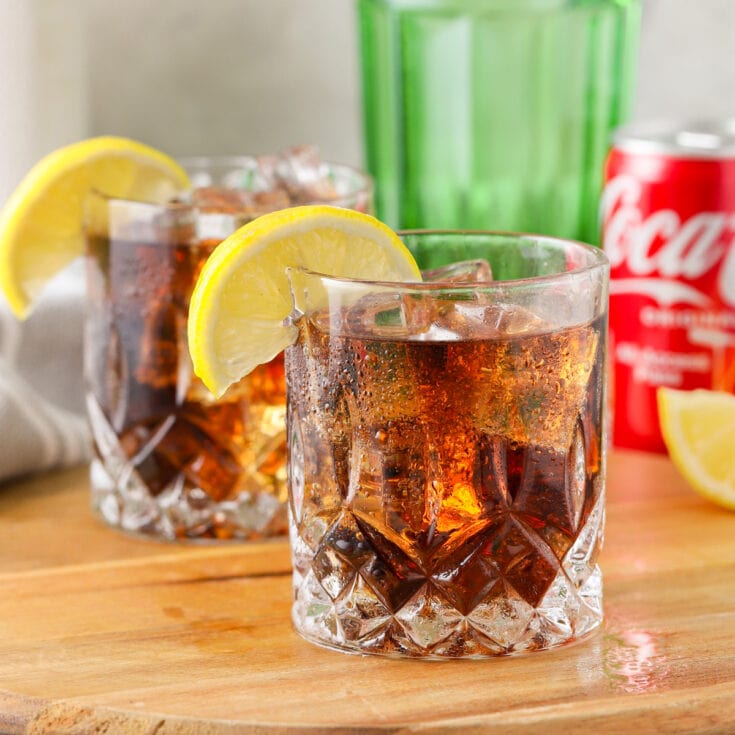 A Gin and Coke is the perfect blend of sophistication and comfort, offering a symphony of flavors in each sip.
Ingredients
2 ounces gin
4-6 ounces cola (Coca-Cola or any other brand)
Ice cubes
Optional: Slice of lime or lemon for garnish)
Instructions
Fill a highball glass with ice cubes.
Pour the gin over the ice.
Top with cola. The typical ratio is 1 part gin to 2 or 3 parts cola, but you can adjust according to your taste preference.
Gently stir to mix.
Garnish with a slice of lime or lemon if desired.
Serve immediately. Cheers!
Notes
For the best flavor experience, use a high-quality gin that complements the sweet richness of the cola. The choice of gin can transform your Gin and Coke from a simple mixed drink to a sophisticated cocktail.
When to Make These
Casual gatherings.
As a quick after-work refreshment.
During movie nights.
As a relaxed weekend treat.