The Jack and Coke is an iconic fusion of smooth, charcoal-mellowed whiskey and crisp, effervescent cola, delivering a symphony of flavors with every sip. This cocktail captures the essence of simplicity, offering a robust, yet refreshing experience, evoking nostalgia while effortlessly maintaining its timeless allure.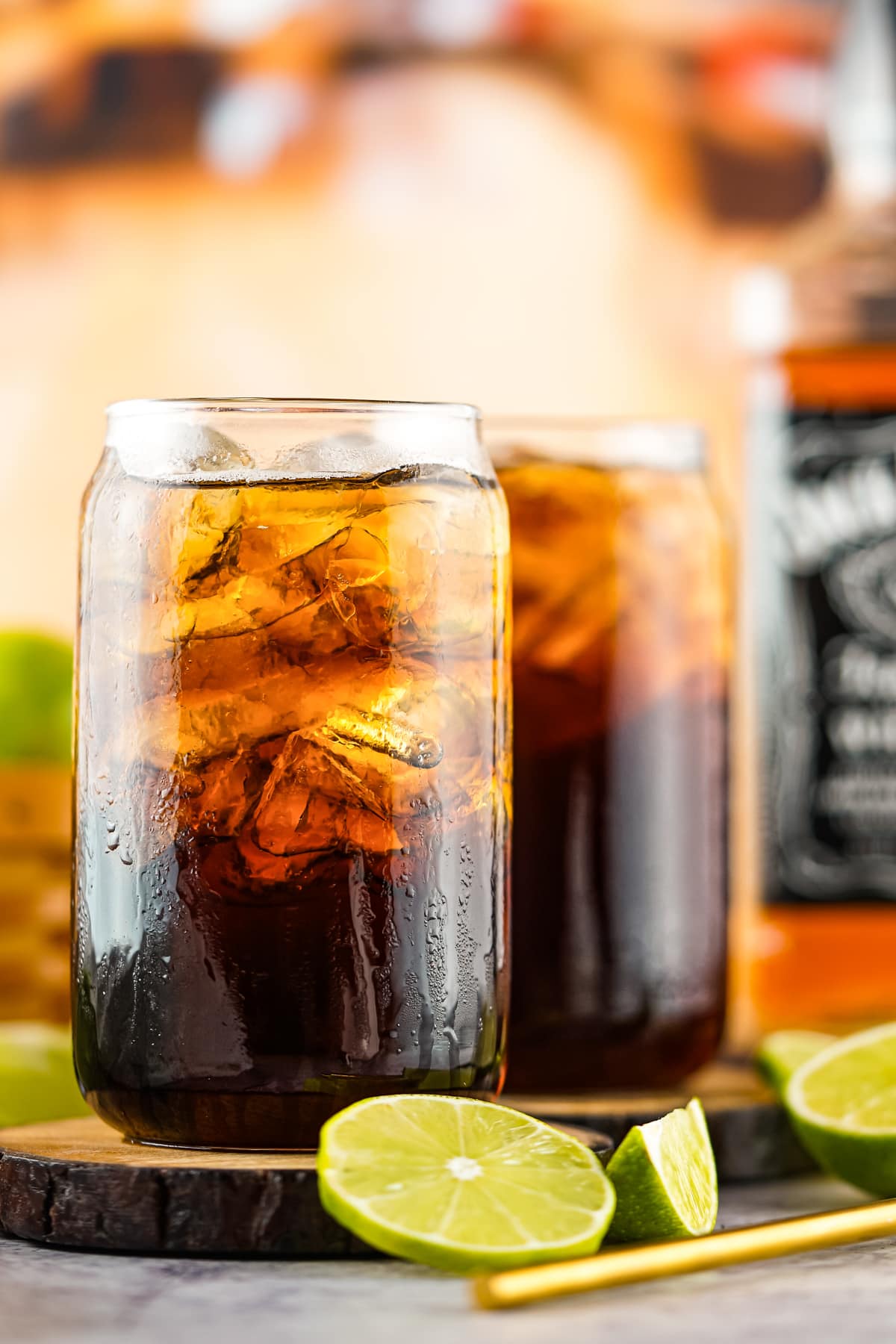 "Is there anything more satisfying than the clink of ice in a glass, followed by the comforting glug of Jack Daniel's and the effervescent hiss of Coca-Cola?"
We're stepping into the realm of the Jack and Coke today, exploring its origins, crafting it to perfection, and perhaps adding a dash of creativity.
Fasten your bartending aprons and join us on this spirited journey.
The Jack and Coke, a simple mix of Tennessee whiskey and cola, stands tall among the pantheon of classic cocktails.
It owes its birth to a post-World War II era where American soldiers mixed their cola rations with Jack.
Its effortless sophistication and refreshing tang have won hearts worldwide, making it a staple at every bar and gathering.
So if you are looking for a delicious whiskey cocktail, give this one a try.
And if you are loving some Jack Daniels, be sure to check out our Tennessee Mule, made from the Tennessee whiskey.
This post may contain affiliate links. That means if you click on a link and buy something, we may earn a small commission at no cost to you. We only recommend products we love and think you would enjoy too. You can read the full disclosure here.
Jump to:
Ingredients
Jack Daniel's Whiskey: This world-renowned Tennessee whiskey is the heart and soul of our cocktail.
Its distinctive character arises from a proprietary mellowing process, which involves filtering the whiskey drop by drop through charcoal derived from sugar maple.
The result is a beautifully balanced spirit, offering a smooth, slightly sweet flavor profile with subtle notes of caramel and vanilla.
Coca-Cola: As the complement to Jack Daniel's, Coca-Cola contributes a refreshing, fizzy sweetness to the mix.
Coca-Cola's rich, caramel sweetness, and zingy carbonation work in harmony with the whiskey, balancing the alcohol and enhancing the overall flavor of the cocktail.
Ice: Often overlooked but never undervalued, ice is a crucial component in the making of Jack and Coke.
It serves to chill the drink, ensuring that each sip is refreshingly cool.
Larger cubes or spheres are recommended to slow down dilution, thus maintaining the integrity of the cocktail's flavors.
Why You'll Love This Recipe
The allure of the Jack and Coke lies in its delightful simplicity, its familiar comfort, and its versatile nature.
This classic cocktail manages to straddle the line between robust and refreshing, offering a taste experience that is both comforting and invigorating.
Here's why the Jack and Coke recipe should be your next go-to cocktail:
Uncomplicated Elegance: With just two main ingredients, the Jack and Coke is incredibly easy to make, yet offers a surprisingly sophisticated taste experience.
Versatility: The recipe can be easily adjusted to suit personal preferences. You can play around with the whiskey to cola ratio, try different types of garnishes, or even explore different whiskey brands.
Wide Appeal: The familiar flavors of Jack Daniel's and Coca-Cola make this cocktail a crowd-pleaser, suitable for any occasion, from casual get-togethers to formal gatherings.
Historical Significance: There's a certain charm in sipping a drink that's been around for decades and has held its own in the world of cocktails. Drinking a Jack and Coke is a nod to tradition, and an affirmation of the timeless appeal of simple, well-crafted flavors.
Customizable: The base recipe is just a starting point. You're encouraged to make it your own, whether by adjusting the amount of ice, adding a splash of lime, or choosing a special garnish.
Perfect Balance: The sweetness of the cola perfectly complements the smooth, warming whiskey, resulting in a balanced cocktail that's both satisfying and refreshing.
What is Jack Daniels?
Since 1866, Jack Daniel's tennessee whiskey has graced Lynchburg, Tennessee with its legendary distillery. Jasper Newton 'Jack' Daniel founded it with an ethos of making every drop count.
The painstaking charcoal-mellowing process and cave spring water used in Jack Daniels bring forth a unique, smooth taste.
Did you know, however, that this iconic whiskey is sold in over 170 countries, yet remains crafted in just one place?
Tools and Glassware
Making a Jack and Coke require very little tools! All you need is your cocktail glass and something to stir it with.
An old-fashioned or a highball glass often works best, their size and shape retaining the effervescence and enhancing the flavors.
We used a fun variation of a highball glass called a beer can glass.
Instructions
Let's dive into the creation. Fill your chosen glass with ice.
Measure out 2 oz of Jack Daniels with your jigger and pour over the ice.
Top up the glass with Coca-Cola, leaving some room for stirring. Use your bar spoon to gently stir the mixture, bringing together the whiskey and cola.
And voila! Your Jack and Coke is ready. Remember, always clean up after your mixology magic!
Garnish Ideas
1. Lime or Lemon Wedge: A fresh lime or lemon wedge can add a refreshing citrusy kick to the cocktail. The tartness provides a great counterbalance to the sweetness of the cola and the warmth of the whiskey.
2. Maraschino Cherry: This sweet, vibrant garnish introduces a slight fruity note to the Jack and Coke. Plus, it adds a classic cocktail aesthetic to your glass.
3. Orange Peel: Adding a twist of orange peel not only introduces a bright, citrusy note, but the oils from the peel also lend a subtle bitterness that can enhance the complexity of the drink.
4. Mint Sprig: For a refreshing twist, consider a sprig of mint. The herb's cool flavor can complement the sweetness of the drink, and it adds a pop of color.
5. Cinnamon Stick: Perfect for a seasonal spin, a cinnamon stick introduces a touch of warm spice to the drink. It's particularly suitable for pairing with a Jack and Coke made with Coca-Cola's cinnamon variant.
6. Grated Nutmeg: A dusting of grated nutmeg can introduce a warm, nutty flavor, subtly enhancing the sweetness of the cola and creating a more layered flavor profile. It's an unexpected garnish that can pleasantly surprise your palate.
Remember, while garnishes can enhance the visual appeal and subtly tweak the flavor of your drink, the best garnish is the one that most appeals to your personal taste preferences. Cheers to finding your perfect Jack and Coke combination!
Top Tips
1. Ice Matters: The type and amount of ice can dramatically affect your cocktail. Large ice cubes or spheres are ideal for a Jack and Coke as they melt more slowly, preventing rapid dilution of your drink. Fill your glass with enough ice to keep your cocktail refreshingly cold without watering it down.
2. The Right Ratio: The standard ratio for a Jack and Coke is 1 part Jack Daniel's to 2 parts Coca-Cola. However, feel free to adjust this to suit your taste. If you prefer a stronger drink, increase the amount of Jack, or for a lighter, sweeter beverage, add more cola.
3. Quality Counts: Even though this is a mixed drink, the quality of your ingredients matters. Always use a good quality whiskey (Jack Daniel's is the traditional choice for this drink), and opt for standard Coca-Cola over diet or zero versions for an authentic taste.
4. Gentle Stirring: Once you've added the whiskey and cola to your glass, give it a gentle stir. This helps to integrate the flavors without losing the carbonation from the cola. Remember, you want to keep that refreshing fizz!
5. Experiment with Garnishes: While not a traditional component of Jack and Coke, garnishes can add an interesting twist. Consider adding a lime wedge for a splash of citrus, or a cherry or a cinnamon stick for a dash of sweet or spicy flair.
6. Serve Immediately: A Jack and Coke is best enjoyed immediately after it's made to maintain the carbonation of the cola and the chill from the ice. So once you've made your drink, don't let it sit around - take a moment to enjoy it!
7. Respect the Craft: As with all cocktails, the making of a Jack and Coke is an art. Take your time, measure your ingredients carefully, and savor the process as much as the final product. This isn't just about mixing a drink - it's about honoring a timeless tradition.
8. Make It Your Own: Perhaps the most important tip of all - feel free to make the Jack and Coke your own. The beauty of this classic cocktail is its simplicity and flexibility. Whether you like your drink strong or light, garnished or plain, with a twist of lime or just as it is, the best Jack and Coke is the one that you most enjoy!
Substitutes and Variations
The simplicity of the Jack and Coke lends itself to an array of adaptations:
1. Flavored Cokes: Consider Cherry coke or Vanilla coke to add a twist. Each imparts a unique flavor profile, complementing the whiskey in distinct ways.
2. Diet Coke: A lower calorie and less sweet version, Diet Coke can be an alternative for those watching their sugar or calorie intake.
3. Other Whiskeys: Experiment with rye whiskey for a spicier note or bourbon for added sweetness, bearing in mind this changes the traditional Jack and Coke flavor.
4. Citrus Kick: A splash of lime or lemon juice, or a citrus wedge garnish, can provide a tangy balance to the cola's sweetness.
Remember, each change should enhance the drink, contributing to a well-rounded flavor profile. Enjoy experimenting!
Recipe
Yield: 1 Serving
Jack and Coke
The Jack and Coke is an iconic fusion of smooth, charcoal-mellowed whiskey and crisp, effervescent cola, delivering a symphony of flavors with every sip. This cocktail captures the essence of simplicity, offering a robust, yet refreshing experience, evoking nostalgia while effortlessly maintaining its timeless allure.
Ingredients
5 Ounces Coca-Cola
2 Ounces Jack Daniels Whiskey
Ice (optional)
Lime Slices (optional)
Instructions
Fill your glass with ice.
Pour in Jack Daniels, then coke.
Garnish if desired.
Cheers!
I hope you enjoy this classic! Cheers and as always, drink responsibly!