These Grinch Mimosas draws inspiration from one of our favorite Christmas characters, the Grinch. This drink is perfect for the holidays with its festive colors and joyful presentation. It's a great spin on a classic favorite.
This Grinch Mimosa is a playful and tasty addition to any Christmas morning. With its simple yet delightful combination of flavors and striking green color, it's reminiscent of the classic holiday character.
This grinch cocktail recipe is great for holiday brunches, Christmas parties, or as a fun treat for adults while the kids open presents.
Its simplicity and resemblance to the traditional mimosa make it a festive twist on a classic favorite.
If you like these, we have other fun holiday mimosa recipes like our Christmas mimosa and our apple cider mimosas.
You'll also be interested in our other Grinch drink recipes like our Grinch jello shots.
Why You'll Love This Drink
Effortless to Prepare: With just a few ingredients, this cocktail is a breeze to make.
Festive and Fun: Its vibrant green color and optional cherry garnish are perfect for holiday celebrations.
Versatile: Great for a cozy Christmas morning or a lively holiday party.
Delightful Flavor: A unique blend of sweet and citrusy notes, making every sip a treat.
Glassware and Equipment
Champagne Glass: Ideal for serving and showcasing the cocktail's color.
Jigger: For precise measurement of ingredients.
Grinch Toppers (optional): Adds a playful, thematic touch.
Alternative: Any clear flute or wine glass can be used if a champagne glass is not available.
Ingredients
Orange Juice: Choose fresh-squeezed orange juice for a more authentic and refreshing flavor. If you're buying from a store, opt for a high-quality brand that doesn't contain added sugars or preservatives. The natural sweetness and tang of the orange juice are key to balancing the flavors of the mimosa.
Champagne: The quality of champagne can greatly affect the taste of your mimosa. Look for a dry or semi-dry champagne, as the slight bitterness complements the sweetness of the other ingredients. Don't feel the need to splurge on an expensive bottle; a mid-range champagne will work wonderfully.
Blue Curacao: This liqueur adds not only the signature green color but also a subtle orange flavor. Select a brand that's known for its natural flavoring to avoid a synthetic taste. Remember, a little goes a long way, so use it sparingly.
Maraschino Cherries (optional): These cherries add a festive touch. Choose ones that are plump and bright in color. If you're looking for a more natural option, seek out brands that use natural dyes and sugars.
Instructions
Mixing the Drink: Start by pouring the Blue Curacao into the champagne glass. This creates the base for the green color.
Next, carefully add the orange juice to avoid too much mixing, which can dull the vibrant color.
Lastly, top it with champagne. Pour slowly and close to the surface of the drink to preserve the bubbles.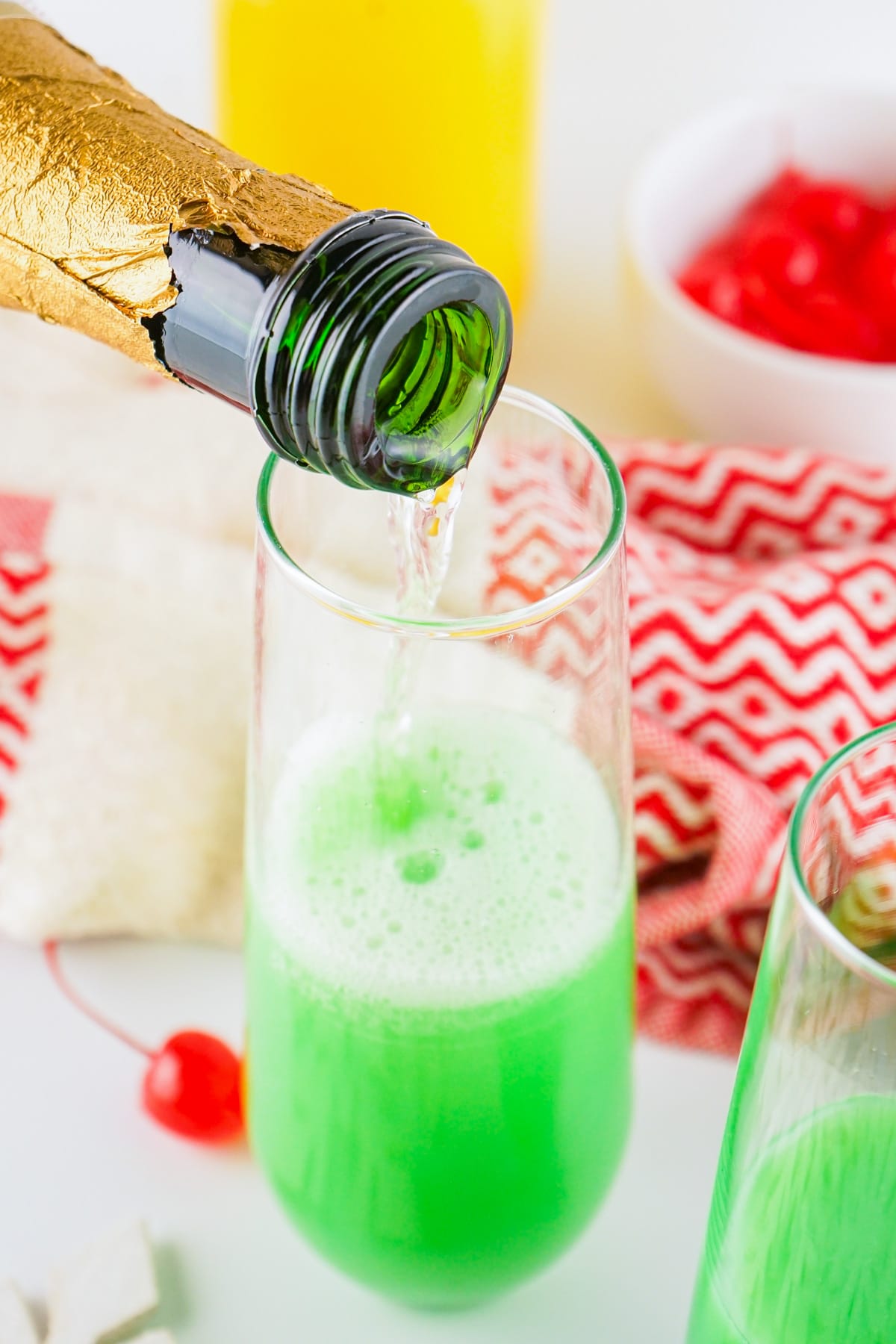 If the colors haven't fully blended, gently stir with a long spoon. Be careful not to stir too vigorously as this can cause the champagne to lose its fizz.
Garnish and serve your drink immediately.
Garnish Ideas
Sugar Rim: Wet the rim of the glass lightly with a lime wedge, then dip it into granulated sugar. This adds an elegant look and a sweet edge to each sip.
Candy Cane Stirrer: Place a small candy cane in the glass as a stirrer. It infuses a subtle mint flavor and enhances the holiday theme.
Lime Wheel: Slice a lime thinly and place it on the rim of the glass. This adds a fresh, zesty flavor and a pop of color.
Edible Glitter: Sprinkle a pinch of edible glitter over the top of the drink for a sparkling effect. Choose a color that complements the green hue of the drink.
Green Apple Slices: Thinly slice a green apple and add a slice to the rim or inside the glass. It complements the citrus notes and adds a fresh element.
Grinch Toppers: You can find some grinch toppers online. We used a glittery heart pick and lined it with maraschino cherries.
Top Tips
Serve Immediately: To enjoy the full effervescence of the champagne, serve the mimosa right after preparation.
Temperature Matters: Serve the ingredients chilled to enhance the refreshing quality of the drink.
Glassware: Using a tall, slim champagne flute helps maintain the carbonation and presents the drink elegantly.
Gentle Mixing: Stir the drink gently to preserve the champagne's bubbles and the distinct layering of colors.
Quality Counts: Using high-quality ingredients will significantly improve the taste and overall experience of the drink.
Substitutions
Non-Alcoholic Version: Use sparkling apple cider instead of champagne for a family-friendly drink.
Different Citrus Juice: Try grapefruit or lime juice for a twist.
Variations
Berry Grinch Mimosa: Add a splash of raspberry or strawberry syrup.
Tropical Grinch Mimosa: Mix in some coconut water for a tropical flair.
Spicy Grinch Mimosa: A dash of ginger beer adds a spicy kick.
Recipe
Yield: 1 Mimosa
Grinch Mimosa
This Grinch Mimosa is a playful twist on the classic, combining the crisp bubbles of champagne with the sweet citrus burst of orange juice, all brought together by the unique tropical hint of Blue Curacao. Plus the vibrant green color screams Grinch.
Ingredients
4 Ounce Orange Juice
3 ½ Ounces Champagne
½ Ounce Blue Curacao
2 Maraschino Cherries (optional)
Instructions
In a chilled champagne glass measure out and pour the blue curacao and orange juice.
Give a slight stir, if needed.
Remove stems from cherries and slip two onto the Grinch topper, having the cherries touching the bottom of the top of the topper.
Put a slanted notch on the side of the top cherry and have it rest on the edge of the glass. Enjoy!
Notes
I do not suggest making these in advance as the champagne will go flat and nobody likes a flat bubbly drink. Best served immediately.
When to Make These
Christmas Morning: A festive start to the day.
Holiday Brunch: Adds a fun element to the meal.
Themed Parties: Perfect for Grinch-themed events.
New Year's Toast: A colorful alternative to traditional champagne.