This Christmas Mimosa recipe, a variation of the classic Mimosa, has become a holiday staple in many households. Traditionally enjoyed during festive gatherings, its simplicity and elegance make it a favorite for Christmas Day brunches and New Year's celebrations and up the holiday spirit.
Christmas Mimosas, often known as Poinsettia Cocktails or Cranberry Mimosas, are a vibrant and bubbly addition to any holiday celebration.
These drinks are packed with festive colors and swap out orange juice for cranberry juice.
These Christmas cocktails are perfect for Christmas mornings, holiday brunches, or as a cheerful welcome drink, these mimosas are as delightful to look at as they are to sip.
If you are craving other fun mimosa drinks we also have our tiffany blue mimosa or our apple cider mimosa, both make for awesome holiday mimosas, along with our green grinch mimosa.
Or our frozen mimosas for a fun twist on the traditional mimosa. We also have delicious mango mimosas.
Jump to:
Why You'll Love This Drink
Simple and Quick: With just a couple of ingredients, it's a breeze to make.
Festive Flair: The bright red color brings a festive touch to any holiday table.
Customizable: Easily adaptable to suit different tastes and preferences.
Refreshing: The perfect balance of tart and sweet for a celebratory toast.
Glassware and Equipment
Champagne Flute: Classic and elegant, perfect for showcasing the drink's beauty.
Jigger (Optional): For precise measurement of ingredients.
Alternatives: Any clear glass to appreciate the drink's color.
Ingredients
Champagne: The star of the show, adding a luxurious and bubbly texture. Look for a dry or brut champagne to balance the sweetness of the cranberry juice. A good champagne should have fine bubbles and a crisp, clean taste.
Cranberry Juice: Provides a tart and fruity contrast, enhancing the overall flavor. Opt for 100% cranberry juice for a more natural and tart flavor. This adds a depth of flavor and avoids excess sweetness. If you want a sweeter drink then go ahead and use cranberry cocktail juice.
Fresh Cranberries: A few cranberries can be added to the drink for a pop of color, or threaded onto a cocktail skewer for a festive garnish.
Fresh Rosemary Sprig: Infuses a subtle, aromatic touch and makes a fantastic garnish for these mimosas.
Instructions
Prepare Your Glass: Begin by chilling your champagne flutes. This helps keep the drink cold and enhances the overall tasting experience. A cold glass ensures that the champagne maintains its bubbles and crispness longer.
Measure the Cranberry Juice: Pour 2 ounces of cranberry juice into the flute. Measuring the juice precisely helps maintain the perfect balance between tartness and sweetness. The cranberry juice not only adds a festive color but also a tangy flavor that complements the champagne.
Add the Champagne: Gently add 4 ounces of champagne to the glass, pouring it slowly over the back of a spoon or directly into the glass to minimize fizz loss. The slow pour helps preserve the champagne's effervescence, which is key to the drink's appeal.
Gently Stir: If needed, gently stir the mixture to combine the flavors. Be cautious not to stir vigorously as this can cause the champagne to become flat.
Garnish and Serve: Finally, add a few fresh cranberries and a rosemary sprig for garnish. The cranberries add a visually appealing element and a hint of tartness, while the rosemary sprig infuses a subtle herbal aroma. Serving the drink immediately ensures that guests can enjoy the full bubbliness of the drink and the fresh flavors of your Christmas Mimosa.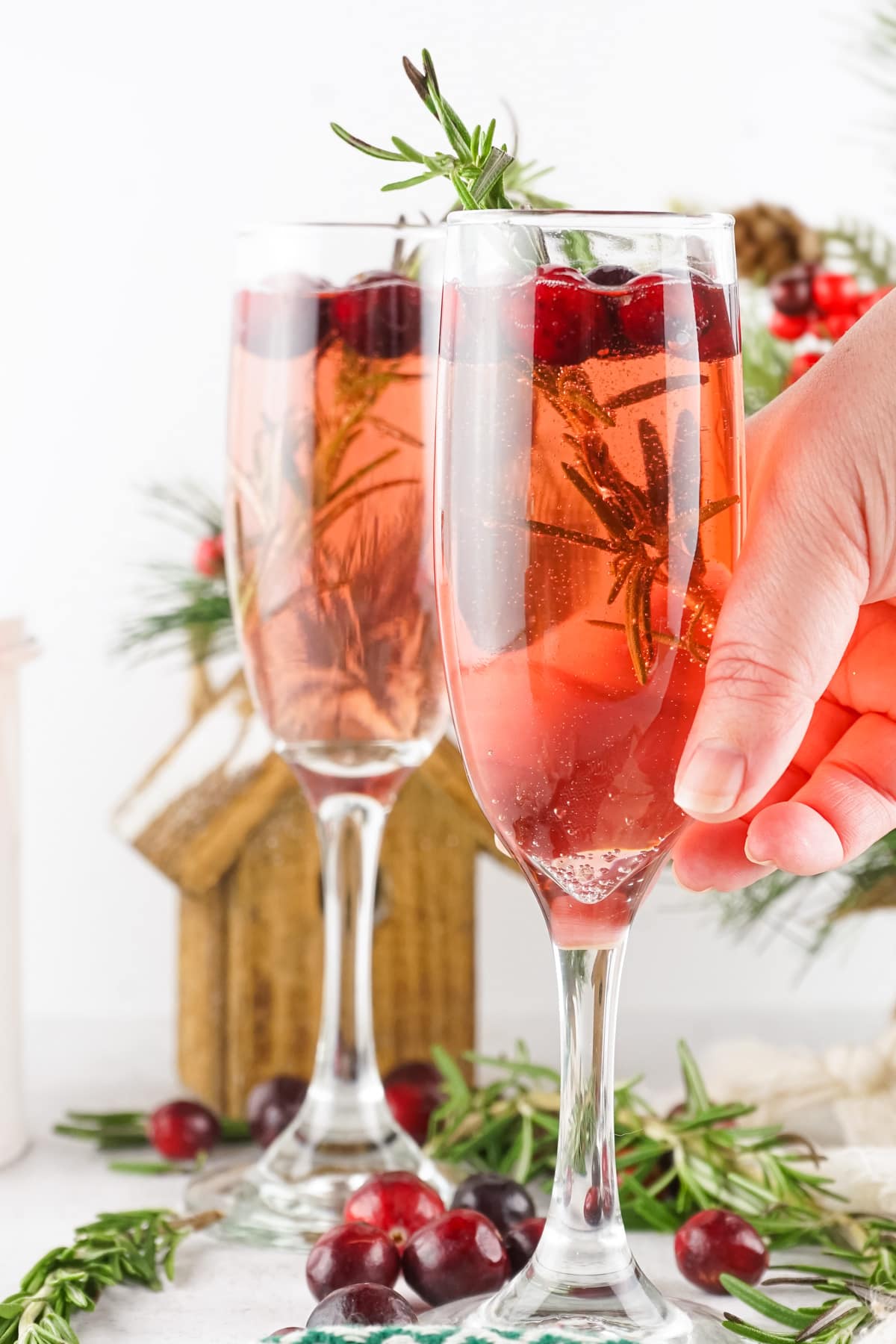 Enjoying this elegant and festive drink is a delightful way to add sparkle to any holiday gathering, making it a memorable experience for you and your guests.
Ways to Garnish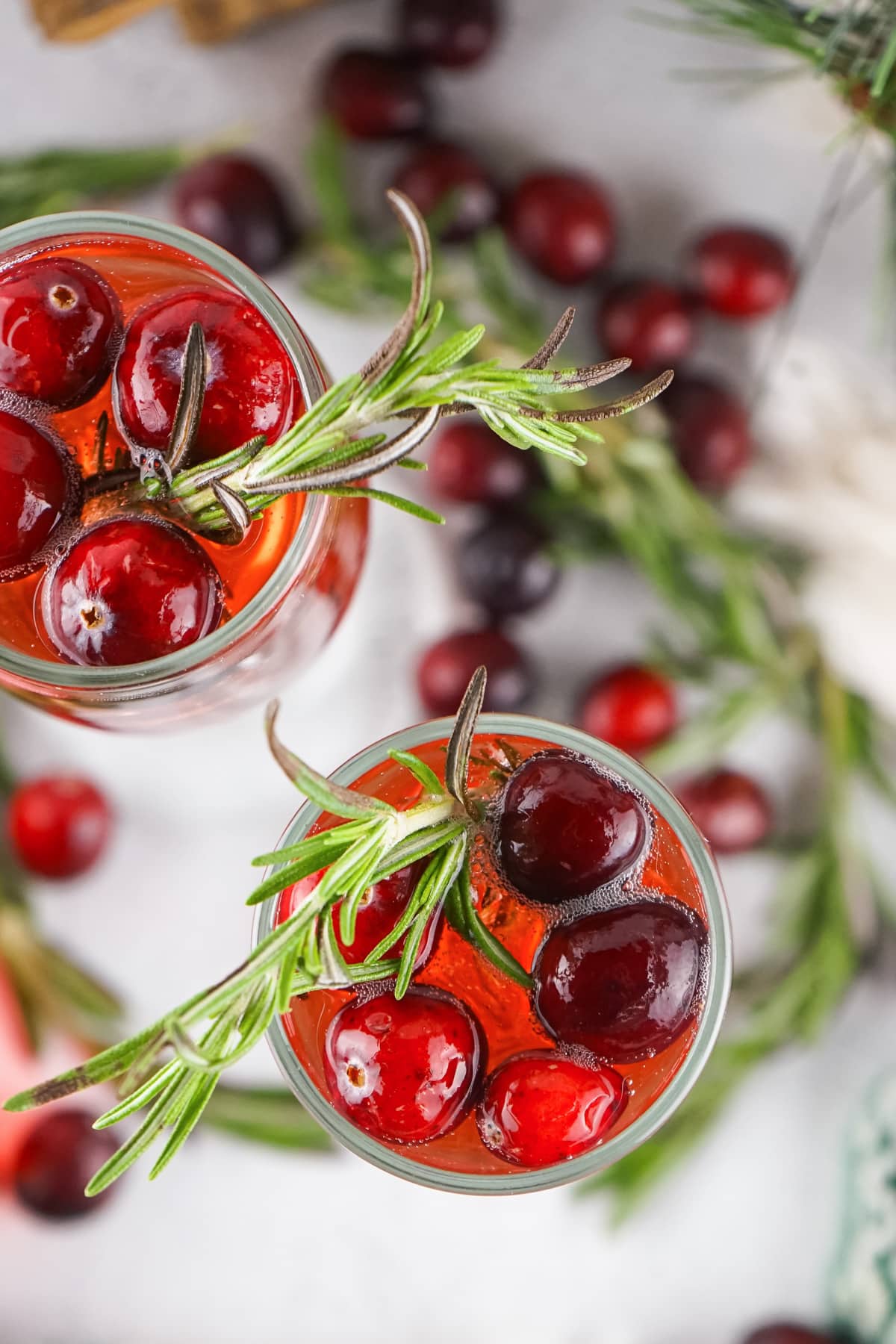 Cranberry Skewer: Thread a few fresh cranberries onto a small skewer or cocktail pick and lay it across the rim of the glass.
Orange Twist: Carefully peel a thin strip of orange zest and twist it over the glass to release the essential oils, then drop it into the drink. The orange twist adds a subtle citrus aroma and a hint of sweetness.
Cinnamon Stick: Place a cinnamon stick in the glass for a warm, spicy aroma. This garnish introduces a hint of winter spice, making the drink feel even more festive and cozy.
Mint Sprig: A fresh mint sprig can be added for a refreshing contrast instead of the fres rosemary sprigs. The mint offers a cool, crisp aroma and a green pop of color, which beautifully complements the red hues of the cranberry.
Sugar Rim: Rim the glass with sugar for an added sparkle and sweet touch. Gently dip the rim of the flute in water or run a lemon wedge around it, then dip it in granulated sugar.
Lime Wheel: Slice a thin wheel of lime and place it on the rim of the glass or float it in the drink. The lime adds a zesty flair and a fresh, tangy aroma, offering a pleasant contrast to the sweet and tart flavors of the mimosa.
Pomegranate Seeds: Sprinkle a few pomegranate seeds into the glass for a burst of color and a juicy, tart flavor. The seeds look like little jewels in the drink and add a delightful crunch.
Top Tips
Chill Your Ingredients: Ensures a refreshingly cold drink.
Pour Champagne Last: Keeps the bubbles intact.
Avoid Cocktail Shakers: To maintain champagne's bubbles.
Use Quality Ingredients: For the best flavor experience.
Substitutions
Prosecco or Sparkling Wine: If champagne isn't available.
Cranberry Cocktail Juice: For a sweeter alternative.
Non-Alcoholic Sparkling Juice: For a mocktail version.
Variations
Add a Splash of Orange Liqueur: For a citrusy twist.
Mimosa Bar: Offer various juices and garnishes for customization.
Frozen Berries: As an alternative garnish.
Recipe
Yield: 1 Mimosa
Christmas Mimosas
A Christmas Mimosa is like a holiday in a glass, combining the joyful bubbles of champagne with the festive hue of cranberry juice, perfect for toasting to good times and warm memories.
Ingredients
4 Ounces Champagne
2 Ounces 100% Cranberry Juice
Fresh Cranberries (optional garnish)
Fresh Rosemary Sprig (optional garnish)
Instructions
Pour the cranberry juice into champagne glass and top off with the champagne.
Garnish with fresh cranberries and a rosemary sprig, if desired.
Serve and enjoy! Cheers.
Notes
Don't use a cocktail shaker when making these drinks. It'll make your mimosa flat.
When to Make These Drinks
Holiday Brunches: For a festive start to the day.
Christmas Eve Celebrations: As a welcoming drink.
New Year's Toast: A bubbly way to ring in the new year.