Experience the Southern twist on a classic with the Tennessee Mule cocktail. This mule is made with whiskey. A marriage of bourbon and ginger, this refreshing concoction is sure to be your new favorite drink. Perfect for those seeking a more robust take on the traditional Moscow Mule.
The Tennessee Mule, often overshadowed by its famous cousin the Moscow Mule, brings a southern flair by substituting vodka with bourbon, particularly Jack Daniels.
Perfect for BBQs, Southern-themed parties, or simply when you crave a touch of the American South in your glass, this drink pays homage to Tennessee's whiskey traditions while offering a modern twist.
As the classic Moscow Mule recipe takes center stage in the world of cocktails, its versatile nature has paved the way for variations like the London Mule, which boasts a gin base, the fruity and tantalizing Blackberry Mule, and the festive Cranberry Moscow Mule, perfect for holiday gatherings.
Each variant tells its own story, but this Tennessee Whiskey Mule, with its robust bourbon notes, narrates a tale of southern warmth and charm.
If you're a big Jack Daniels fan, make sure to check out how to make the perfect jack and coke.
Jump to:
Why You'll Love This Drink
Deep Complexity: Bourbon offers a richer flavor profile, making this drink stand out.
Refreshing: The effervescence of ginger beer paired with lime provides a refreshing taste.
A Unique Spin: A modern interpretation of a beloved classic.
Ingredients
This whiskey mule recipe calls for only a few basic ingredients:
Jack Daniels: Originating from Lynchburg, Tennessee, this whiskey is renowned for its distinct charcoal mellowing process, resulting in a smooth and oaky flavor. The presence of caramel and vanilla notes in Jack Daniels compliments the spiciness of the ginger beer, making it the ideal bourbon choice for this cocktail.
Lime Juice: This citrus element not only adds a bright, tangy kick but also acts as a balancer. Fresh lime juice imparts a zesty freshness that breaks the sweetness and depth of the other ingredients, enhancing the overall harmony of flavors in the drink.
Ginger Beer: Far from being just a mixer, ginger beer offers a spicy and effervescent dimension. A good ginger beer will have a genuine ginger kick, slightly sweet notes, and a touch of carbonation, which when combined with the lime and bourbon, creates a combination of flavors that's both refreshing and intense.
Ice: Crushed ice works best at keeping the drink cold, but any ice you have on hand will work well.
Lime wedge: Optional, for garnish.
Glassware and Equipment
Moscow Mule Mug or Highball Glass: The copper mug is the traditional choice for most mules that helps keep the drink cold. However you could use a highball glass instead.
Jigger: To measure the bourbon and lime juice.
Ice: Crushed or cubes, to cool and dilute.
Instructions
Start by filling a mule mug with Ice.
Then add the Tennesse Jack Daniels whiskey and freshly squeezed lime juice into your chosen glass.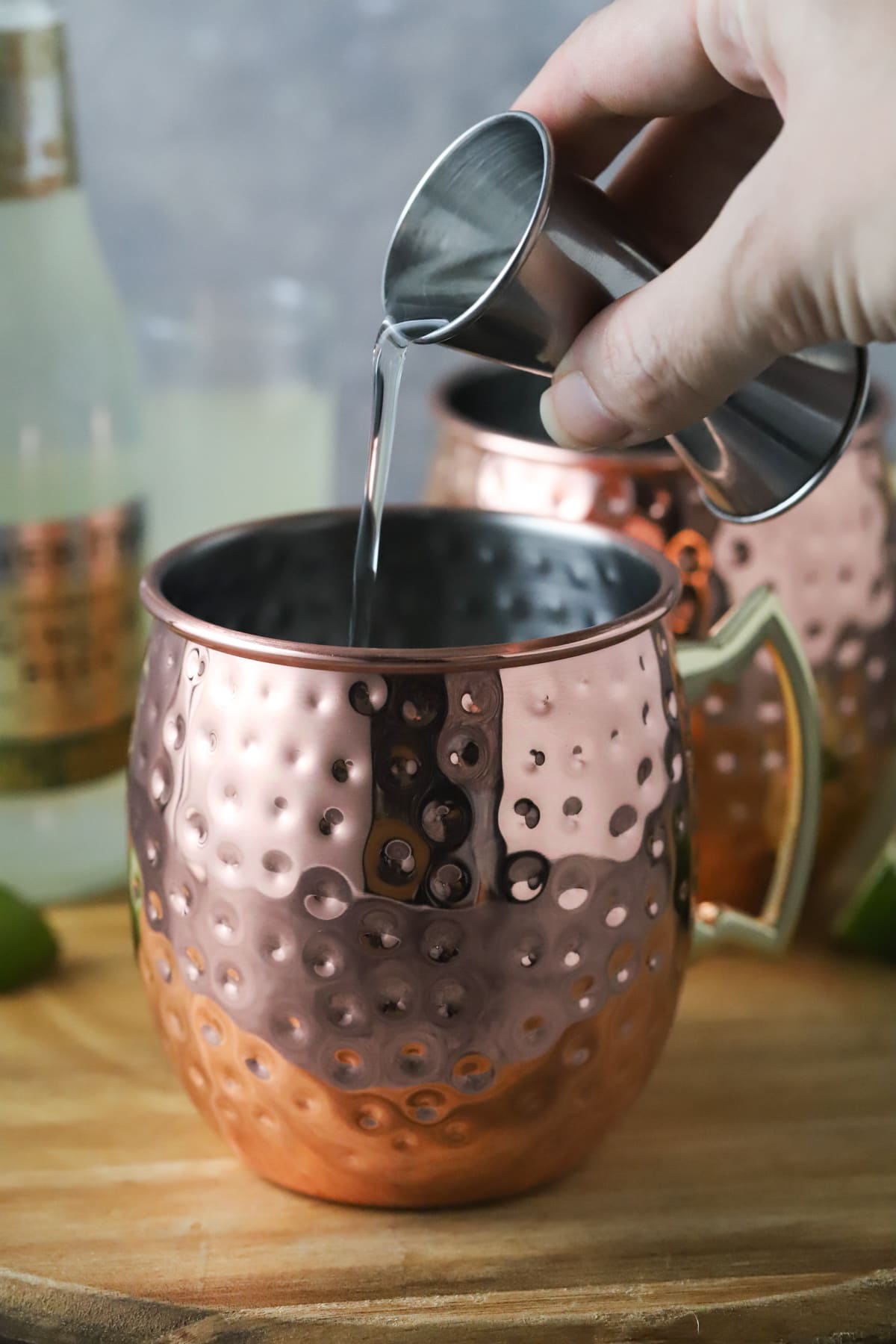 Next, top it off with ginger beer, ensuring you fill to just below the rim.
Give it a gentle stir to combine the ingredients.
Garnish Ideas
Mint Sprig: For a refreshing aroma with every sip.
Lime Wheel: A visual and zesty touch.
Candied Ginger: For a sweet and spicy bite.
Cucumber Slice: Adds a cooling and subtle flavor.
Orange Twist: For a burst of citrus aroma.
Cherry: A sweet contrast to the drink's spiciness.
Fresh Mint: Offers a refreshing crisp taste.
Top Tips
Quality Over Quantity: Always opt for a high-quality bourbon and ginger beer. The better the ingredients, the more remarkable the end result.
Fresh Is Best: When it comes to citrus, always go for freshly squeezed lime juice. Bottled versions can often contain preservatives or sweeteners that alter the cocktail's taste.
Optimal Ice: Instead of regular ice cubes, try using large ice cubes or ice spheres. They melt slower, ensuring the drink remains chilled without getting diluted too quickly.
Stir Gently: Over-stirring can cause excessive dilution and can decrease the carbonation of the ginger beer. A gentle integration of the ingredients is key.
Adjust to Taste: Everyone's palate is different. If you prefer a zestier drink, add a tad more lime. For a spicier kick, choose a ginger beer with a stronger ginger profile.
Chill Your Glassware: Place your Moscow Mule mug or highball glass in the freezer for about 10 minutes before making the drink. A chilled vessel helps maintain the drink's cold temperature longer.
Substitutions
Bourbon: If you don't have Jack Daniels, another quality bourbon or whiskey will work.
Lemon Juice: For a different citrus note, replace lime with lemon.
Ginger Ale: You could substitute the ginger beer with ginger ale, however it will alter the taste of the whiskey mule.
Variations
Kentucky Mule: Replace Jack Daniels with a Kentucky Bourbon.
Spicy Mule: Add a splash of hot sauce or muddled jalapeños for a kick.
Recipe
Yield: 1 Drink
Tennessee Mule
If the Moscow Mule is the refined city dweller, the Tennessee Mule is its rugged, charming Southern cousin.
Ingredients
2 ounces Jack Daniels
½ ounce lime juice (freshly squeezed)
4 ounces Ginger beer
Fresh lime (for garnish)
Instructions
Fill a mule mug with ice.
Add Tennessee whiskey and lime juice.
Fill mug with ginger beer.
Garnish and serve.
Notes
As with all cocktails, the quality of ingredients plays a significant role in the final taste.
When to Make These
Southern Soiree: Whip up a batch of Tennessee Mules for a southern-themed BBQ. Their rich bourbon undertones perfectly complement smoked and grilled dishes, offering guests a refreshing sip amidst the savory delights.
Elegant Finish: Serve the Tennessee Mule as an after-dinner drink. Its balance of tangy, sweet, and spicy flavors provides a delightful palate cleanser, making it a sophisticated choice to conclude a memorable meal.
Sunlit Relaxation: Picture yourself on a balmy day, reclined on your porch with the sun gently warming your skin. This is the perfect setting for a Tennessee Mule, making your summer porch hangouts even more enjoyable.
Tasting Extravaganza: If you're hosting a Moscow Mule tasting party, introduce the Tennessee Mule for a contrasting experience. Its robust bourbon notes will stand out against the vodka-based original, offering attendees a broader appreciation for the mule family of cocktails.
FAQs
What is a Tennessee Mule
A Tennessee mule is a Moscow mule with whiskey instead of vodka, often with Tennessee whiskey specifically.
Can I use any bourbon for this recipe?
While the distinct flavors of Jack Daniels lend a special touch to the Tennessee Mule, any quality bourbon will work wonderfully. The aim is to find a bourbon that complements the ginger beer's spiciness, so feel free to experiment with your favorite brands!
I don't have a copper mug, can I still make this drink?
Absolutely! While the traditional Moscow Mule mug offers a unique experience and keeps the drink cold, a highball glass is a fantastic alternative. Its tall, slender design makes it suitable for the effervescence of the ginger beer.
Why is it called a Tennessee Mule?
The name pays homage to the state of Tennessee, renowned for its whiskey traditions, particularly Jack Daniels. This cocktail encapsulates the essence of Tennessee by emphasizing its most famous spirit.
Can I make a large batch for parties?
Of course! The Tennessee Mule is a crowd-pleaser. To serve at gatherings, simply multiply the recipe based on the number of guests and serve it in a large pitcher or punch bowl. Ensure to have ample ice on hand to keep the drink chilled throughout the event.