Experience a burst of fruity delight with this vibrant Madras cocktail, a blissful blend of vodka, cranberry juice, and a hint of orange. Perfect for those sunny afternoons or a lively cocktail party, this drink hits all the right notes with its sweet-tart charm and zesty twist.
The Madras cocktail is a fantastic drink that's perfect for any celebration, from holiday gatherings to summer barbecues.
Its vibrant colors and refreshing taste make it an ideal choice for those seeking a simple yet satisfying drink that's easy to prepare and enjoy.
The tart cranberry juice pairs nicely with the sweet orange juice making it classic drink for a reason.
This is a popular vodka drink that's similar to vodka cranberry. It's easy to make and always crowd pleaser.
Jump to:
Ingredients
Vodka: The smooth base that brings a subtle kick to this refreshing cocktail
Cranberry Juice: Adds a deliciously tart and fruity flavor, while giving the drink its stunning color
Orange Juice: Brings a touch of sweetness and zest, perfectly balancing the tartness of the cranberry juice
Ice Cubes: To make sure your drink stays nice and chill.
See recipe card for quantities.
Instructions
Start by filling a highball glass with ice, creating a cool and inviting foundation for your cocktail.
Next, pour the vodka of the ice.
Then, add in the cranberry juice and orange juice, letting the ingredients mingle together.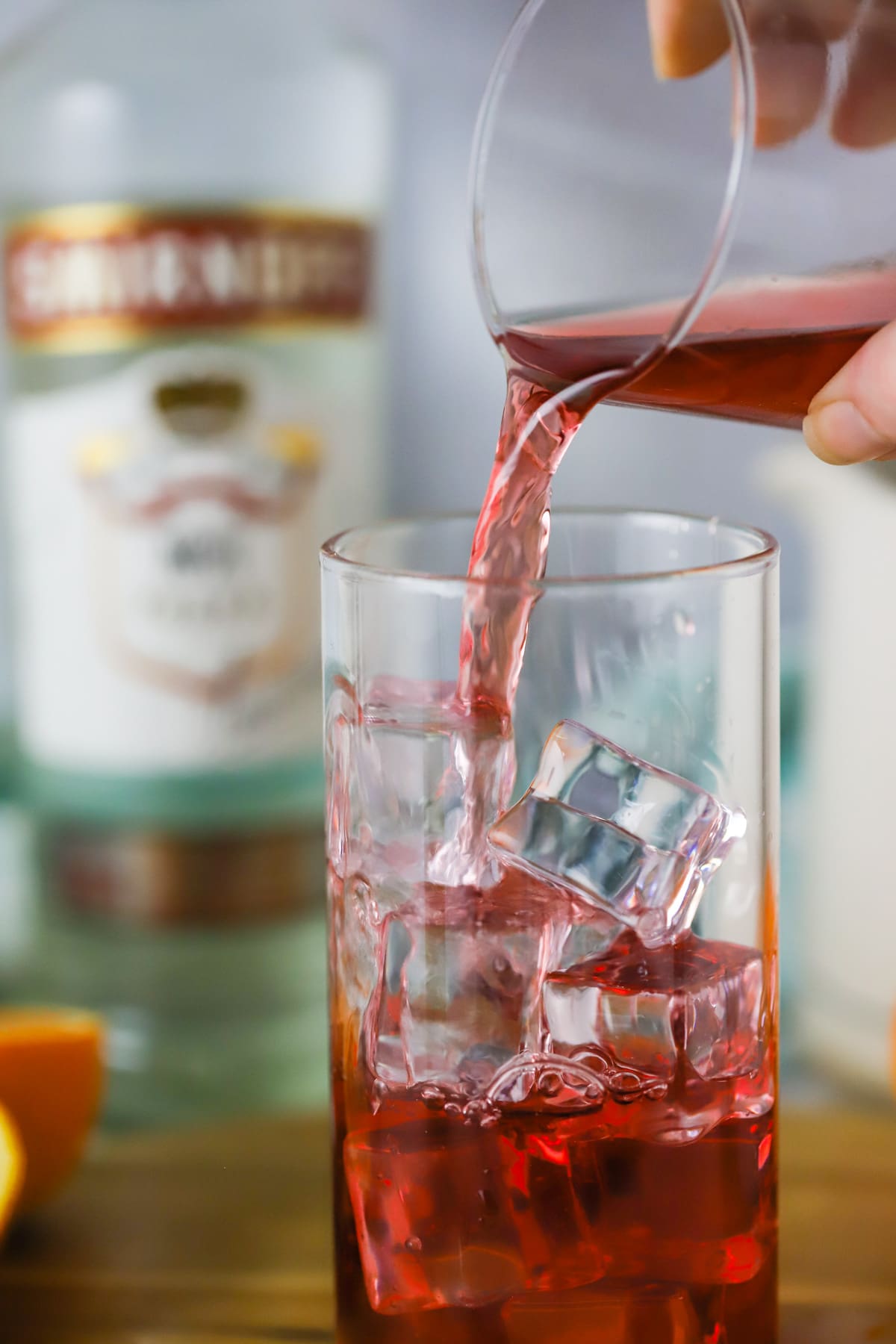 Give the mixture a gentle stir to combine the flavors, creating a harmonious blend.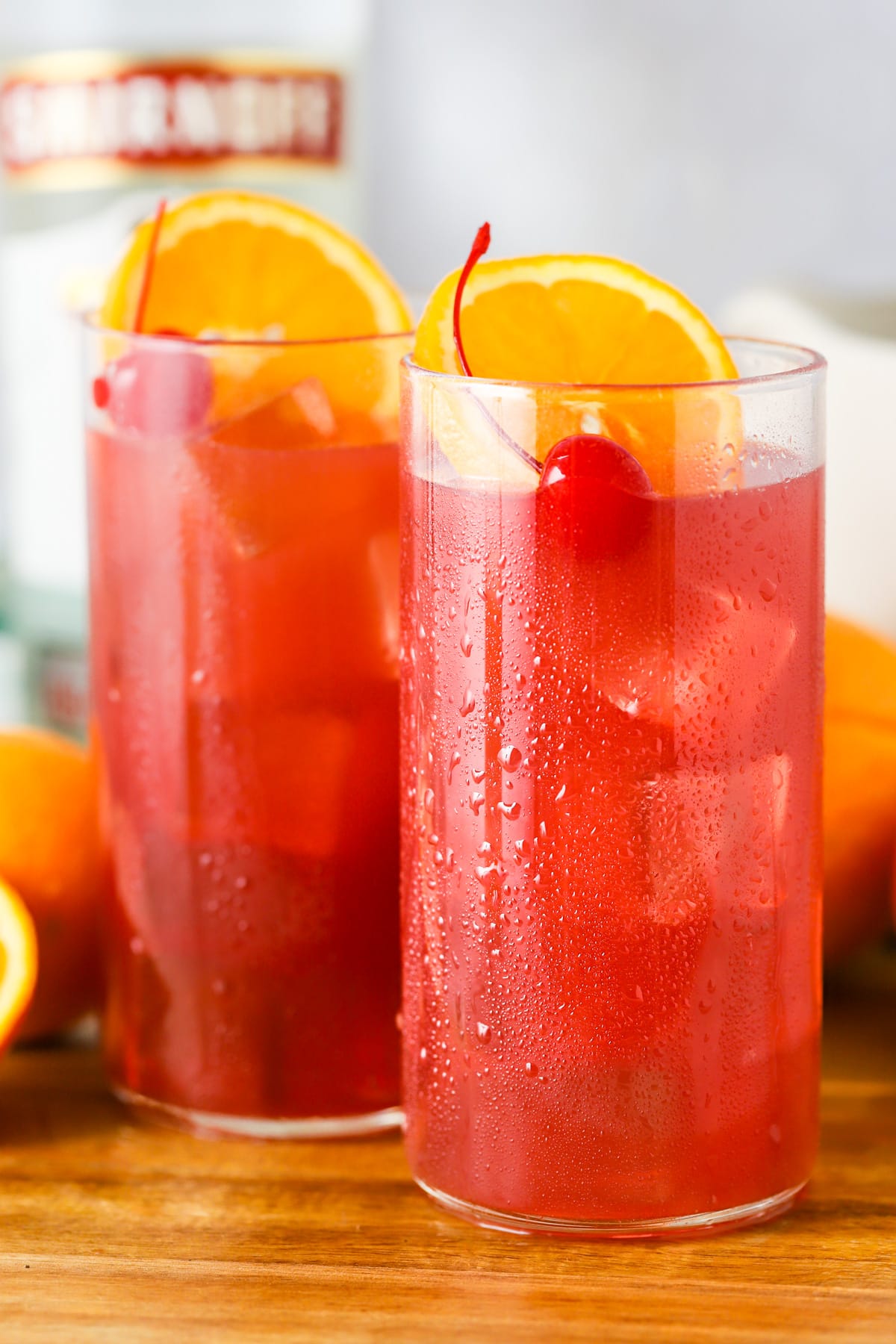 Garnish Ideas
Need some garnish ideas for your cranberry orange juice cocktail?
Lime Wheel: A thin slice of lime provides a fresh, green contrast to the red cocktail, and its tartness cuts through the sweetness, keeping everything balanced.
Fresh Cranberries: Skewer a few on a cocktail pick, it's a visual reminder of the cranberry flavor within and gives a festive vibe.
Orange Wheel: Add a pop of color and a hint of extra zest with a vibrant orange wheel.
Orange Twist: The vibrant color and fragrant oils elevate the madras drink's aesthetic and add an extra layer of citrusy charm.
Substitutions
Swap the vodka for gin or white rum for a different base spirit that complements the fruity flavors.
Replace cranberry juice with pomegranate juice for a slightly sweeter and more exotic taste.
Variations
Sea Breeze: Replace orange juice with grapefruit juice.
Bay Breeze: Replace orange juice with pineapple juice for a tropical spin.
Cape codder: Leave out the orange juice, add a lime wedge and you have a classic vodka cranberry.
Top Tips
Use quality vodka: Investing in a premium vodka will result in a smoother and more enjoyable drinking experience, as high-quality spirits often have fewer impurities and a more refined taste.
Opt for cranberry juice cocktail: Choosing cranberry juice cocktailgives you a sweetened cranberry juice that makes a refreshing drink without being too bitter.
Experiment with different fruit juices: Try substituting or adding other fruit juices, such as grapefruit, pineapple, or even a splash of lemonade, for a unique twist on this classic recipe that can cater to a variety of taste preferences.
Chill your ingredients: Refrigerate your vodka and fruit juices before making the cocktail to ensure a crisp and refreshing drink that stays cold longer.
Adjust sweetness to taste: If you find the cocktail too tart, add a splash of simple syrup or agave nectar to balance the flavors and create a customized sweetness level.
Recipe
Yield: 1 Drink
Madras Cocktail
Delight in the Madras cocktail. A vodka cranberry orange cocktail recipe, perfect for any occasion! With vibrant flavors, garnishing options, top tips, and fun variations, this guide has everything you need for the perfect drink!
Ingredients
1 ½ oz vodka
1 oz orange juice
4 oz cranberry juice
Instructions
Fill a highball glass with Ice.
Pour in vodka, then cranberry and orange juice.
Stir and garnish.
Enjoy!
Notes
For the most delicious cocktail, be sure to chill all ingredients ahead of time so it stays cooler, longer.
The Madras cocktail is a versatile and delightful drink that's perfect for any occasion. By using high-quality ingredients, experimenting with different fruit juices, and personalizing the garnishes, you can create a memorable and refreshing drink that's sure to impress your guests.
So, don't hesitate to give this vibrant and flavorful cocktail a try – mix up a batch, sit back, and savor the delightful symphony of flavors in every sip. Cheers!