These mini beer shots indulge in the distinct combination of the smooth, vanilla-citrus flavor of Licor 43 paired with the rich creaminess of heavy whipping cream. This fun and unique 'beer' shot is almost more of a sweet dessert shot, setting it apart from your regular beer.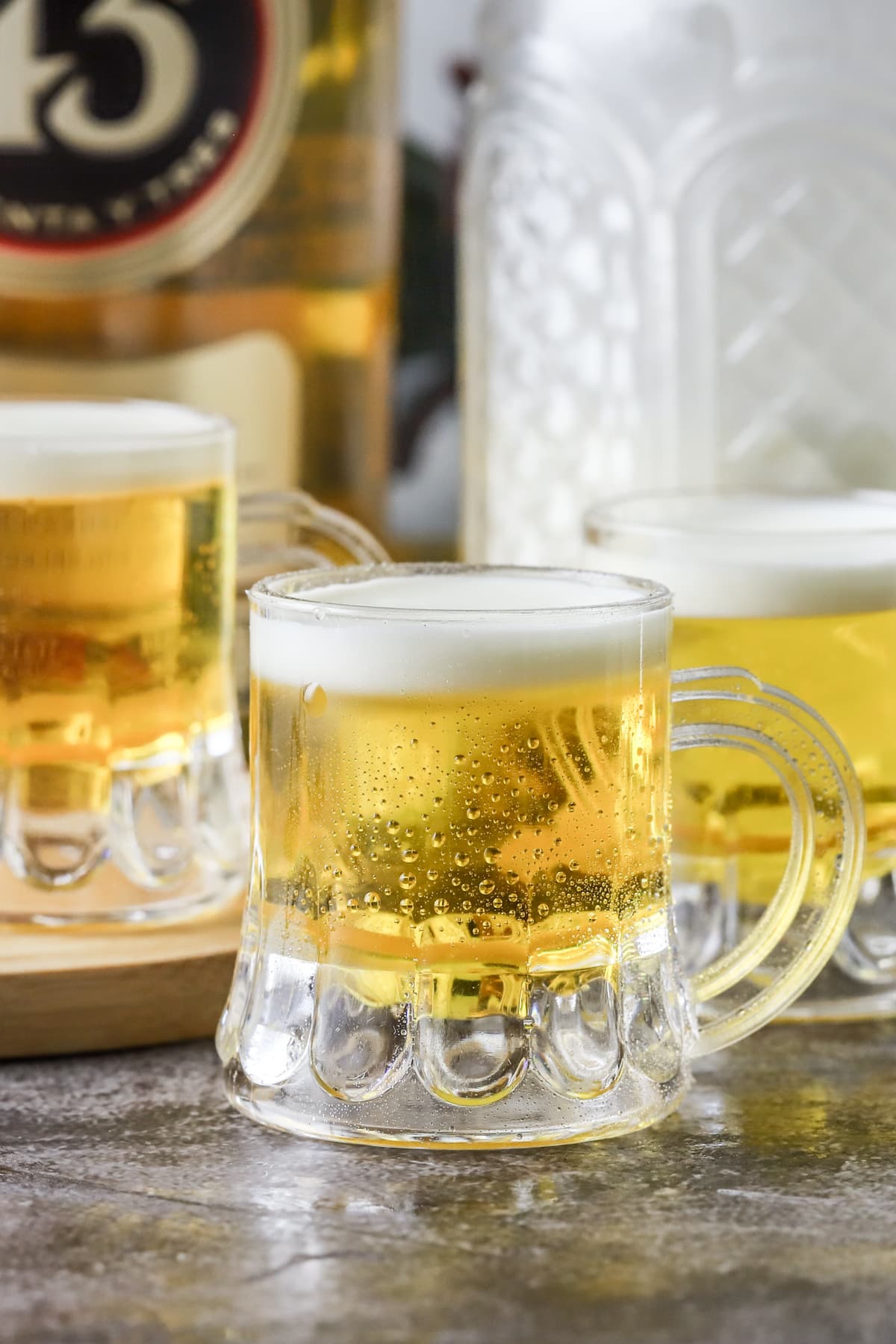 Whether you're a seasoned mixologist or a cocktail newbie, the Mini Beer Shot is a delightful treat to add to your drink-mixing repertoire.
This two-ingredient marvel combines the sweet, complex flavors of Licor 43 with the creamy finish of heavy whipping cream, creating a playful mimicry of a pint of beer in a shot glass.
Licor 43 is one of my favorite liquors as it's smooth and delicious base can transform a drink. And these Licor 43 shots don't disappoint.
These are fun party shots are definitely conversation starters.
This post may contain affiliate links. That means if you click on a link and buy something, we may earn a small commission at no cost to you. We only recommend products we love and think you would enjoy too. You can read the full disclosure here.
Jump to:
Why You'll Love This Drink
Unexpected Twist: The Mini Beer Shots offer an unexpected twist to your typical beverage repertoire. It's not your regular beer or cocktail, adding an element of surprise to your drink selection.
Unique Flavor Blend: The simple yet distinctive blend of Licor 43 and cream will keep your taste buds entertained. The sweet, complex flavors of the liqueur pair perfectly with the rich, creamy finish of the heavy whipping cream.
Playful Presentation: This mini beer shot is sure to be a hit at any gathering due to its playful and eye-catching presentation. It makes for an interesting talking point, and serves as a fun ice-breaker.
Easy to Prepare: With just two ingredients and minimal steps, this drink is easy to whip up, even for beginners. So it's perfect for when you want to impress but don't have a lot of time or a long list of ingredients.
Tools and Glassware
Creating the Mini Beer Shot isn't just about the ingredients. Having the right tools and glassware can enhance your cocktail making experience and presentation:
Mini Beer Mugs: The mini beer mug shot glasses are the perfect vessel for this dessert-like cocktail. Their shape and design enhance the illusion of a tiny beer, making the drink all the more fun and engaging.
Spoon: A spoon is essential for layering the heavy cream on top of the Licor 43. The back of the spoon helps to diffuse the cream, allowing it to sit on top of the liqueur instead of mixing in.
Remember, the tools you use can significantly influence the final outcome of your drink, making the process smoother and the result more appealing.
Ingredients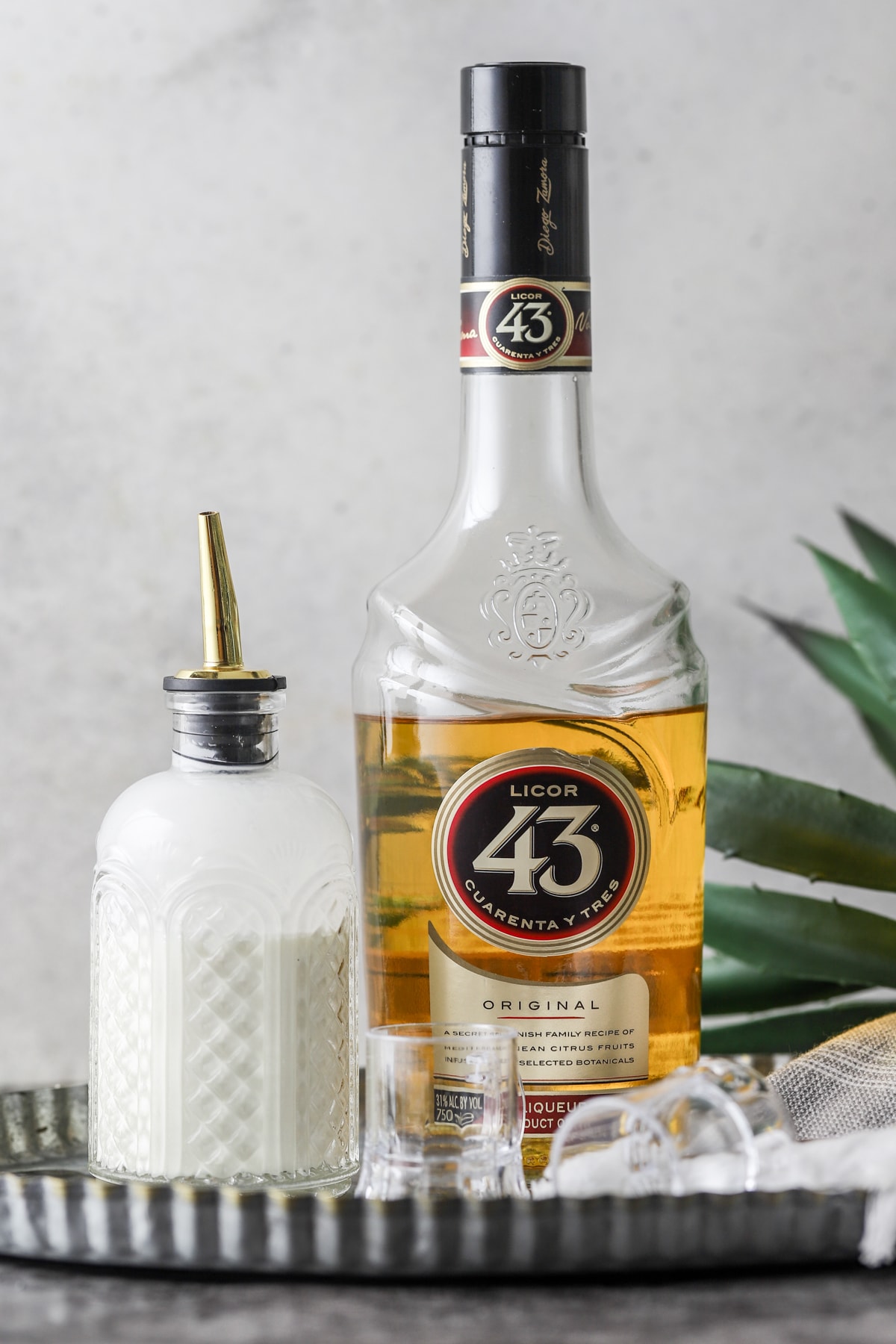 Licor 43: A Spanish liqueur with a dominant flavor of vanilla and noticeable undertones of citrus and other fruits. It is the secret to the unique taste of the Mini Beer Shot.
Heavy Whipping Cream: This dairy product lends a rich, creamy finish to our drink. It creates the 'foam head', a delightful contrast to the sweet liqueur beneath.
See recipe card for quantities.
Instructions
Start by chilling your Licor 43 in the refrigerator. This step ensures the shot is served refreshingly cold, heightening the drink's overall experience.
The cold temperature helps tone down the alcohol's heat, allowing the other flavors to shine through.
If you can't chill ahead of time, I suggest filling a cocktail shaker with ice and shaking your Licor 43 for 20-30 seconds to chill it.
Then fill your shot glass ⅔ of the way full of the chilled liquor.
Leaving some space at the top is crucial, as you'll need room to add your creamy 'foam head.' This portioning also ensures the ideal balance of sweet, citrusy liqueur and rich cream.
The next step involves adding a layer of heavy cream on top to act as the 'foam head'. The key here is to pour the cream slowly over the back of a spoon.
Doing so will spread the cream evenly over the liqueur, creating a clear, attractive division between the two ingredients.
This layered effect not only enhances the drink's aesthetics but also allows the flavors to unfold one at a time as you sip.
Finally, once you've successfully layered your mini beer shot, it's time to serve and enjoy.
Ideally, you should serve these shots immediately to maintain the temperature and layered presentation.
Toast to good times and savor the delectable blend of Licor 43 and heavy cream.
Remember, drink making is as much about the process as the end result.
So have fun, and don't stress if your first few attempts aren't perfect - with practice, you'll get there!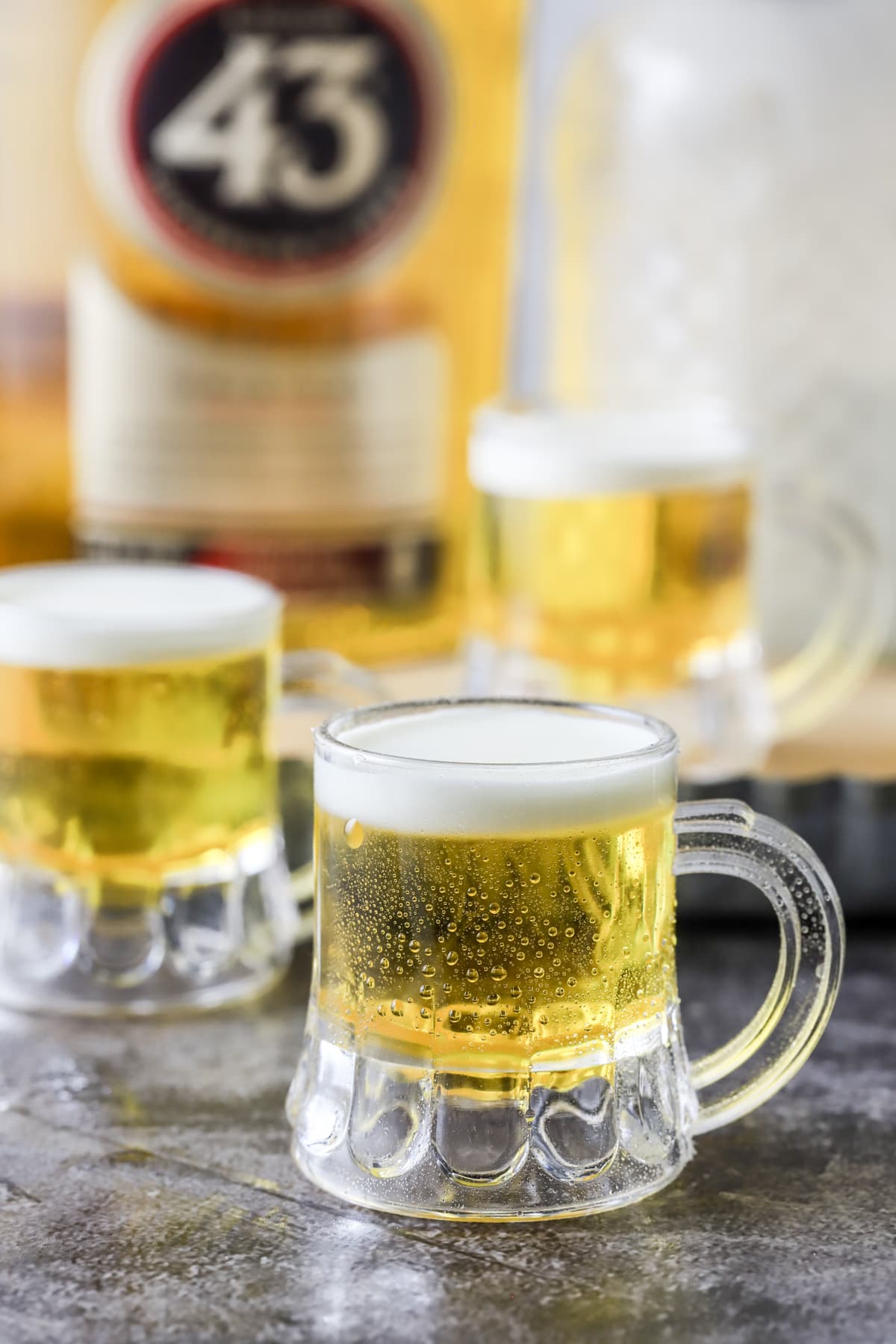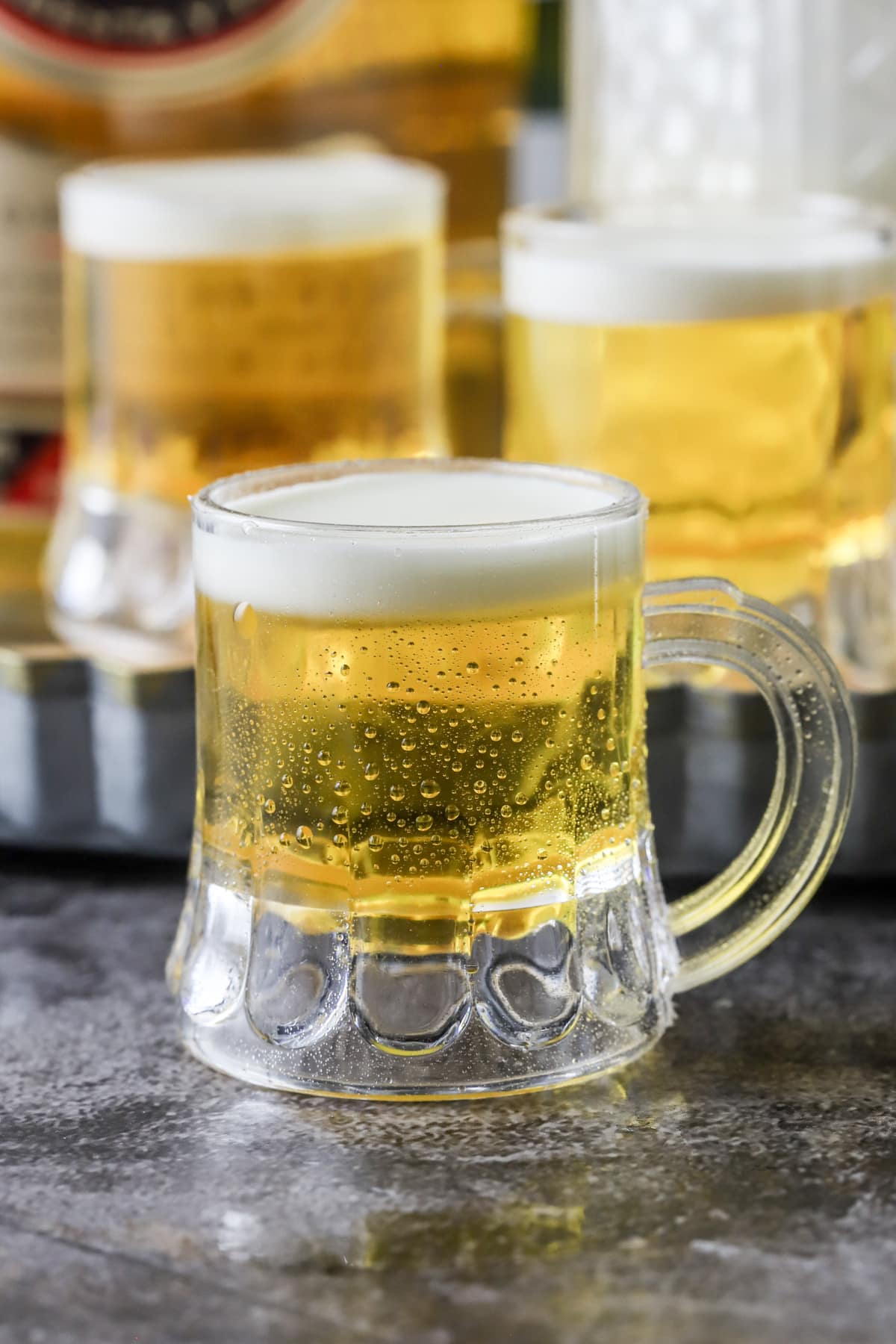 Garnish Ideas
Honestly, this is a shot that needs no garnish. The thought of these miniature beer shots are enough of an impression.
If you feel like you really want it to stand out here are a few ideas that could work.
Grated Nutmeg: A touch of grated nutmeg adds an appealing warm, nutty note, making it a perfect winter holiday garnish.
A Thin Slice of Orange: The citrus note complements the liqueur's citrus undertones, and adds a pop of color.
A Sprinkle of Cinnamon: Cinnamon can accentuate the vanilla flavors of the Licor 43, creating a delightful aroma.
Top Tips
Always chill your Licor 43 before making this drink for the best experience.
Pour the cream slowly to create a perfect layer on top.
The quality of your ingredients matters. Use a good quality heavy cream for the best texture and flavor.
Remember to serve immediately for the best taste and visual presentation.
Practice makes perfect. Don't worry if the layering isn't perfect the first time.
Substitutions and Variations
If you want to experiment with this recipe or need to make substitutions, here are a few ideas:
Bailey's Irish Cream: This can replace the heavy cream for an extra kick and a flavor twist.
Vanilla-flavored Vodka: If Licor 43 isn't readily available, you can use vanilla-flavored vodka. However, remember this will significantly alter the taste.
A Dash of Coffee: Adding a small amount of chilled espresso to the mix can give a delicious coffee undertone, turning the drink into a sort of Mini Beer Irish Coffee shot.
Recipe
Yield: 1 shot
Mini Beer Shots
The Mini Beer Shot, contrary to its name, is a playful blend of vanilla-citrus Licor 43 and rich cream. This sweet, dessert-like cocktail cleverly mimics a beer in presentation, offering a fun twist to your usual drink lineup.
Ingredients
1 ½ ounce Licor 43
Heavy cream for topping
Instructions
Pour licor 43 into shot glasses ⅔ the way full.
Top off with heavy cream.
Serve your mini beer shots.
Cheers!