Dive into the refreshing layers of the Vodka Sunrise cocktail, a tantalizing blend of vodka, orange juice, and grenadine. A drink that captures the essence of a sunrise, it's the perfect beverage to elevate any occasion.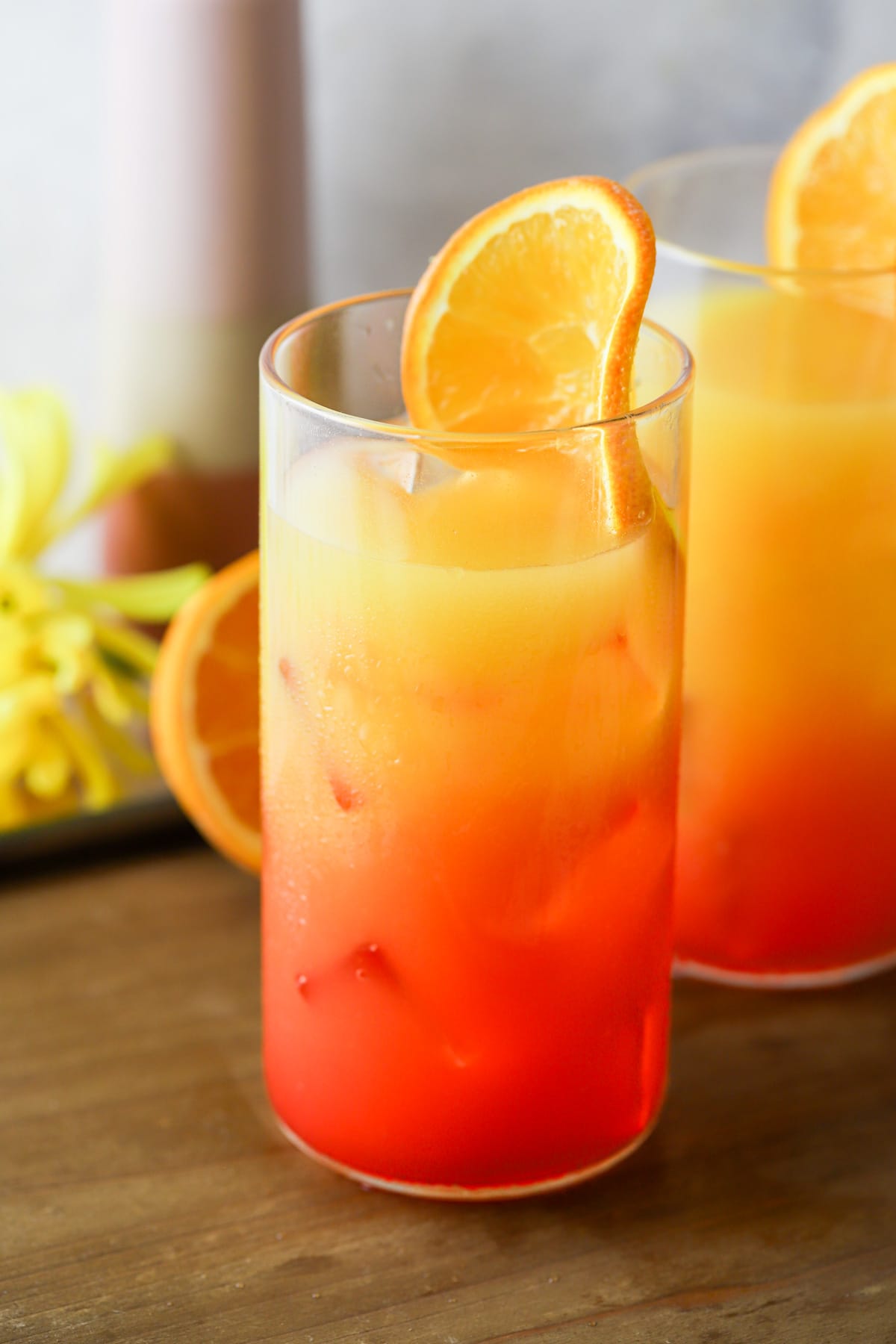 The Vodka Sunrise drink is a visually stunning cocktail that's reminiscent of a breathtaking sunrise.
Its gradient of colors mirrors the early morning skies, setting it apart from most other cocktails.
Perfect for brunches, poolside get-togethers, and evening relaxation, this drink takes inspiration from the classic Tequila Sunrise but swaps tequila for vodka.
The Vodka Sunrise's history may not be as long-winding as some classics, but it's every bit as celebrated among cocktail enthusiasts.
If you are interested in more orange juice cocktails, be sure to check out the classic screwdriver cocktail and the fuzzy navel.
Jump to:
Why You'll Love This Drink
Aesthetic appeal with its sunrise gradient effect.
Refreshing and vibrant taste that caters to a variety of palates.
Simple ingredients, easy to source and combine.
Perfect for any occasion, from quiet evenings to lively parties.
Ingredients
Vodka: The primary spirit, bringing in a clean and neutral kick.
Orange Juice: Adds a citrusy and fresh flavor, blending perfectly with vodka.
Grenadine Syrup: Gives the drink its signature gradient effect and adds a touch of sweetness.
Ice: To serve
Instructions
Start by gathering all your ingredients. Then, fill a highball glass with ice cubes, ensuring it's nearly full.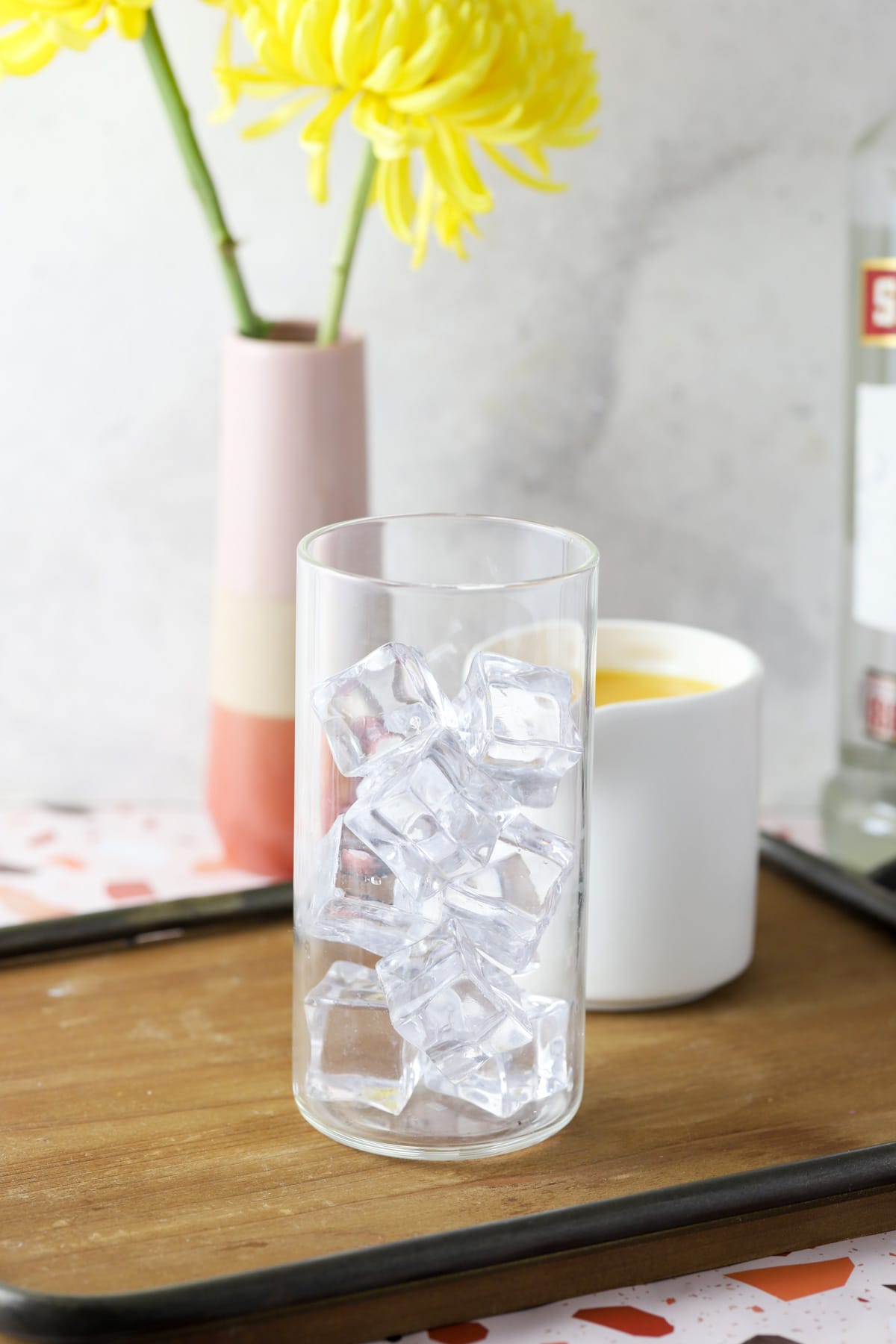 Next, pour in the vodka followed by the orange juice.
Gently stir the mixture to ensure the flavors meld.
Slowly pour the grenadine syrup into the center of the drink, allowing it to naturally sink to the bottom.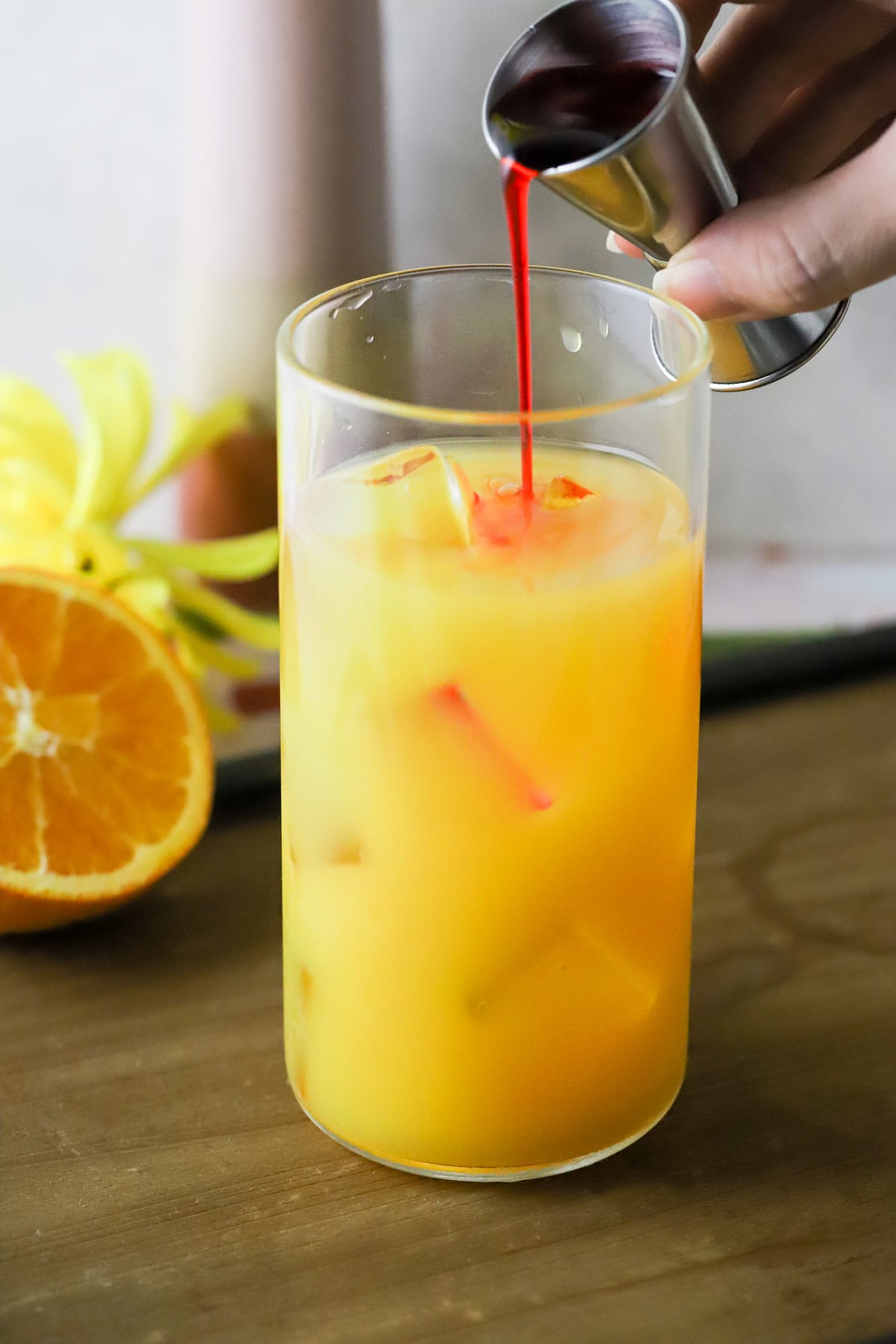 Garnish with an orange slice and serve immediately.
While the gradient effect looks lovely, I do suggest giving the drink a stir while drinking, otherwise the bottom might become too sweet.
Garnish Ideas
Orange Slice: A classic choice that complements the orange juice.
Cherry: Adds a touch of color and pairs well with the grenadine.
Lime Twist: For a subtle tangy contrast.
Pineapple Wedge: Tropical vibes to amplify the refreshing feel.
Mint Sprig: A hint of coolness with every sip.
Edible Flowers: For an elegant and upscale look.
Rim Sugar: A sweet addition that enhances presentation.
Top Tips
Fresh Orange Juice: The quality of your ingredients can make or break a cocktail, and with this Vodka Sunrise recipe, the orange juice is pivotal. Freshly squeezed orange juice not only provides a vibrant color but also imparts a tangy, refreshing flavor that can't be matched by store-bought counterparts. When you use fresh orange juice, you avoid the preservatives and added sugars often found in bottled versions, ensuring your cocktail is as natural and flavorful as possible.
Pouring the Grenadine: The sunrise effect is the signature of this cocktail and achieving it requires a little finesse with the grenadine. Pouring it slowly is key. When you add the grenadine to your drink, aim to pour it directly into the center. As it's denser than the other ingredients, it will naturally sink to the bottom, creating that mesmerizing gradient effect. A slow pour ensures that the syrup doesn't mix too quickly with the orange juice and vodka, preserving the sunrise look.
Chilled Glass: Temperature plays a critical role in how we experience flavors, and with cocktails, a chilled glass can elevate the drinking experience. Before making your Vodka Sunrise cocktail, consider placing your highball glass in the freezer for 10-15 minutes. Using a chilled glass not only ensures your drink stays cold for a longer duration but also adds a touch of sophistication to your cocktail presentation.
Adjusting Vodka Quantity: Cocktails are as much about personal preference as they are about following a recipe. When it comes to the Vodka Sunrise, you can play around with the vodka quantity to suit your taste. If you prefer a stronger drink with a pronounced vodka kick, consider adding a tad more. Conversely, if you're looking for a milder drink, perhaps for a brunch or an early evening sip, you can reduce the vodka amount. Always remember, the key is to find a balance that's perfect for you.
Crafting a cocktail is an art, and with these tips, you'll be on your way to creating a Vodka Sunrise that's both visually captivating and delightfully delicious.
Substitutions
Rum: Swap vodka with white rum for a tropical twist.
Pomegranate Juice: If grenadine is unavailable, pomegranate juice can give a similar hue.
Variations
Sparkling Sunrise: Top with soda or sparkling water for a fizzy touch.
Tropical Sunrise: Use a mix of pineapple and orange juice.
Classic tequila sunrise cocktail: You can use tequila instead of vodka to make the classic version of this drink.
Recipe
Yield: 1 Drink
Vodka Sunrise
The Vodka Sunrise isn't just a drink; it's an experience, transporting you to serene mornings and tranquil dawns with each sip.
Ingredients
2 ounces* vodka
4 ounces orange juice
1 ounce grenadine syrup
Instructions
Fill a highball glass with ice.
Pour in orange juice and vodka. Stir well.
Gently pour grenadine into center of the drink. Allow it to settle at the bottom.
Garnish with an orange slice.
Notes
You can add more or less vodka depending on how strong you like your drink.
When to Make These:
For a themed summer party.
Sunday brunches.
After dinner drinks.
Relaxing weekend getaways.
Sunset gatherings on the beach.
FAQs
How is Vodka Sunrise different from Tequila Sunrise?
The primary difference is the spirit used. Vodka Sunrise uses vodka, while Tequila Sunrise uses tequila.
Can I make this cocktail in advance?
It's best served fresh, but you can prepare the vodka and orange juice mix in advance. Add grenadine just before serving.
Do I need a special glass for this cocktail?
A highball glass is recommended, but any tall glass will do.
Can I use other fruit juices?
Yes, you can experiment with different juices, but the sunrise effect may vary.
Is this a sweet cocktail?
It has a hint of sweetness from the grenadine, but it's balanced by the citrusy orange juice.
What food pairs well with this drink?
Light appetizers, seafood, and tropical fruit salads complement the Vodka Sunrise wonderfully.