Want some fun orange juice cocktails to try out? These drinks are sure to hit the spot.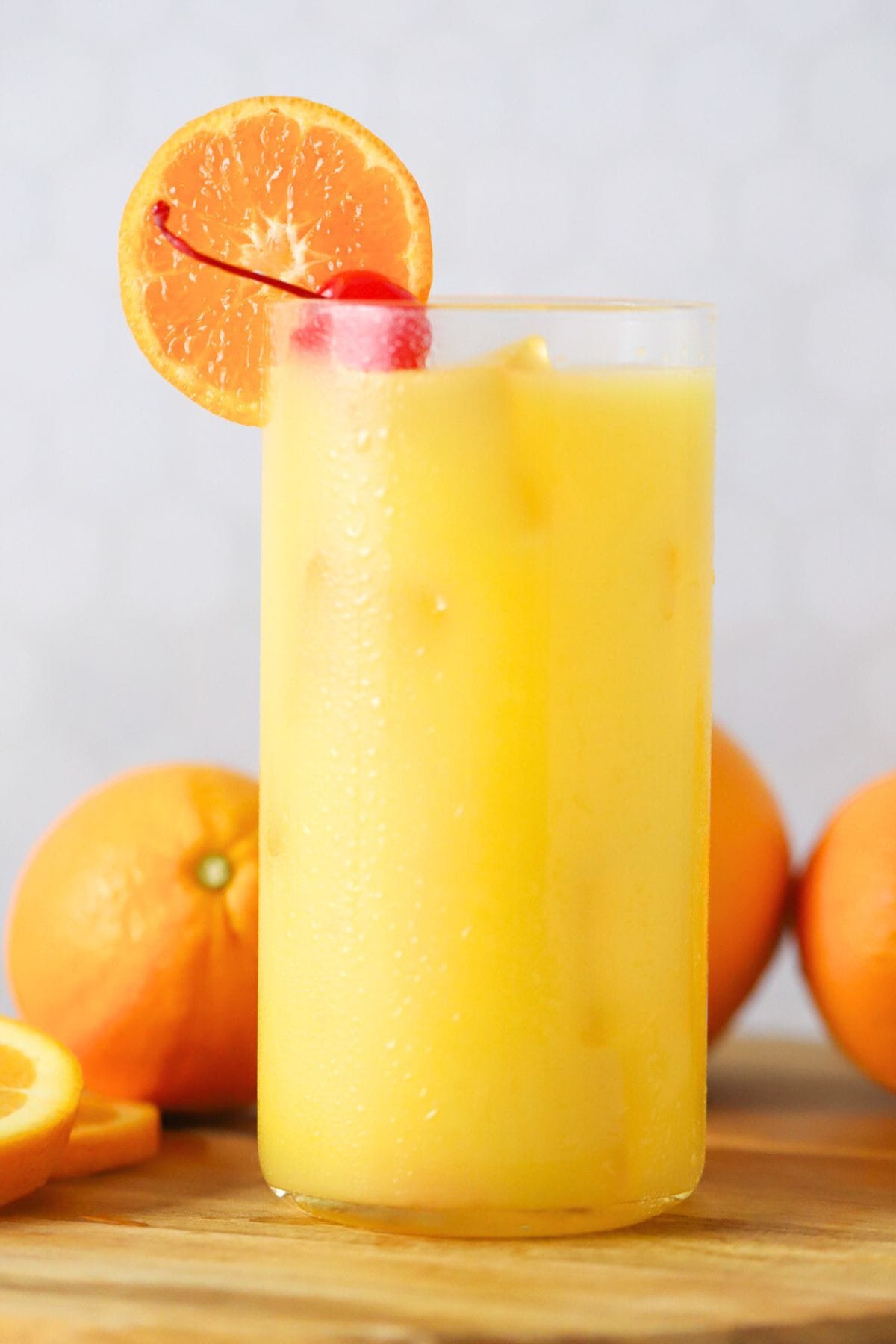 Indulge in a burst of citrusy delight as we explore a collection of drinks made with orange juice.
This refreshing elixir adds a vibrant and invigorating touch to every sip, bringing the essence of sunshine to your glass.
From timeless classics to creative concoctions, these orange juice-based drinks are sure to awaken your taste buds and transport you to brighter, zestier horizons.
Orange juice has long been celebrated as a versatile and beloved cocktail mixer. It's luscious sweetness and natural acidity make it a perfect companion for a wide range of spirits, creating a symphony of flavors that dance on your palate.
Whether you're seeking brunch indulgences, tropical escapes, or simply craving a sip of citrusy goodness, these drinks will quench your thirst and infuse your moments with sunny bliss.
So, grab your cocktail shaker, slice up some fresh oranges, and get ready to savor the zesty pleasures of drinks made with orange juice.
Let the sunshine in as we raise our glasses to these delightful drinks. Cheers to vibrant sips and memorable moments filled with the citrusy zest of orange juice!
Tequila and Orange Juice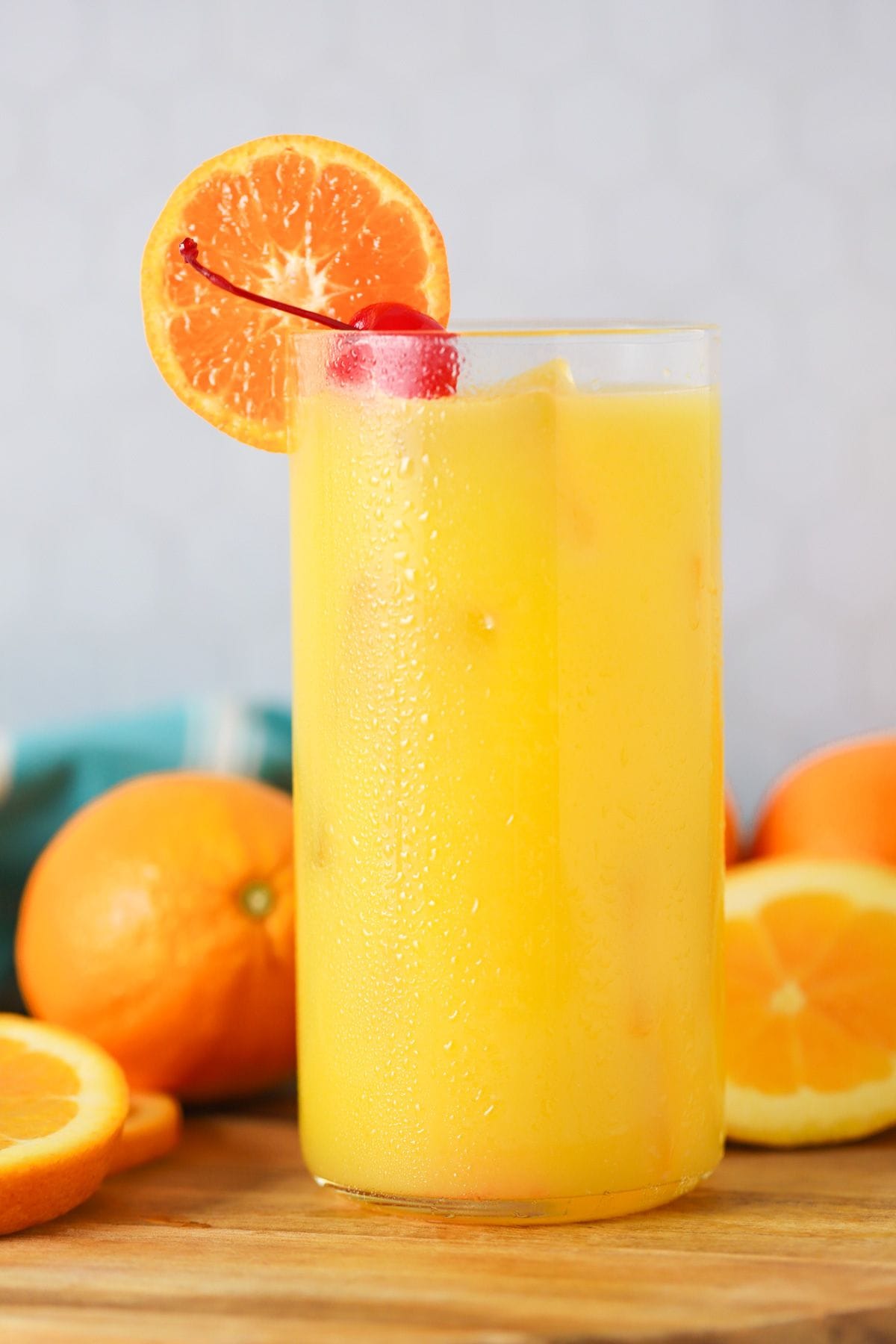 This tequila and orange juice cocktail, or a tequila screwdriver as I like to call it, is a classic combination that brings together the smooth, earthy tones of tequila with the bright and citrusy flavors of orange juice.
This refreshing cocktail is perfect for those who enjoy a balanced blend of tequila's distinctive agave notes and the zesty sweetness of orange juice.
Vodka Sunrise
The Vodka Sunrise is a tantalizing cocktail that embodies the essence of dawn in a glass.
This cocktail combines the crisp, clear bite of vodka with the sweet, citrusy flavors of orange juice and grenadine.
When made, the drink looks just like a sunrise.
With each sip, you can almost feel the warmth of a new day as the robust vodka is softened by the mellow embrace of the orange juice.
Fuzzy Navel
A delightful and easy-to-make cocktail that combines the sweetness of peach schnapps with the tangy kick of orange juice. The Fuzzy Navel is a popular choice for those who prefer a fruity and refreshing drink with a hint of tropical flair.
Screwdriver Cocktail
Simple yet satisfying, the Screwdriver cocktail is a timeless favorite. It features the harmonious pairing of vodka and orange juice, resulting in a smooth and tangy libation.
This classic drink is ideal for those looking for a straightforward and delicious combination.
Frozen Mimosas
Take the classic Mimosa to a new level by turning it into a frozen treat. Frozen Mimosas combine sparkling wine with chilled orange juice and ice for a slushy and invigorating twist on the beloved brunch cocktail.
Perfect for warm days or festive celebrations.
Tequila Sunrise
A visual stunner, the Tequila Sunrise showcases the vibrant hues of a rising sun in a glass.
This cocktail layers tequila, orange juice, and a touch of grenadine, creating a mesmerizing gradient of colors.
Sip on this delightful creation while enjoying the refreshing taste of tequila and the citrusy brightness of orange juice.
Frozen Fuzzy Navel
For those craving a frozen fruity delight, the Frozen Fuzzy Navel is a perfect choice. Blending the flavors of peach schnapps, orange juice, and ice, this icy concoction offers a refreshing and velvety texture with a burst of tropical sweetness.
These orange juice cocktails offer a spectrum of delightful flavors and refreshing experiences.
From classic combinations like Tequila and Orange Juice to innovative frozen treats like a Frozen Fuzzy Navel, these drinks showcase the versatility of orange juice as a mixer.
Whether you prefer the zesty tang or the tropical sweetness, each sip delivers a burst of citrusy delight.
So, whether you're relaxing by the pool or hosting a gathering, these cocktails made with orange juice are sure to invigorate your taste buds and elevate your moments with their vibrant and sunny flavors.
Cheers to the magic of orange juice and the joyous experiences it brings to our glasses!