The Moscow Mule, a classic cocktail known for its refreshing zing and iconic copper mug, is the perfect blend of tangy lime, robust vodka, and spicy ginger beer. Dive in as we explore this timeless drink and its variations, ensuring your next gathering is a hit!
The Moscow Mule, with its origins dating back to the 1940s, has stood the test of time as a favorite among cocktail enthusiasts.
Perfect for summer soirees, cozy winter gatherings, or just a laid-back evening at home, its simplicity, yet layered flavor profile, makes it akin to beverages like the classic gin and tonic or a refreshing margarita.
As part of a broader family of mule drinks, including the Mexican Mule, London Mule, and more, it sets the standard for this beloved drink genre.
Jump to:
Why You'll Love This Drink
Refreshing Taste: The perfect balance of zesty lime and spicy ginger beer.
Simple Ingredients: Easy to source, ensuring you can whip up a mule anytime.
Iconic Presentation: Served in a distinctive copper mug, it's as much a visual delight as it is a treat for your taste buds.
Versatile: A base drink that can be customized with various flavors and spirits.
Ingredients
Vodka: The soul of the Moscow Mule. Opt for a clear, smooth vodka – premium brands like Smirnoff, Absolut, or Grey Goose are reliable choices. While vodka typically doesn't have a pronounced flavor, a quality brand ensures the drink's smoothness.
Lime Juice: This brings a tangy kick that contrasts and complements the vodka. Always use freshly squeezed juice over store-bought for a brighter and more authentic flavor.
Ginger Beer: This effervescent ingredient adds a spicy punch, elevating the drink's character. Look for a ginger beer that boasts a real ginger taste without being overly sweet. Brands like Fever-Tree or Gosling's are excellent options.
Ice: Essential for chilling the drink. Opt for larger ice cubes or spheres which melt slower, preventing the drink from becoming overly diluted too quickly.
Glassware and Equipment
Copper Mug: Traditional for serving Moscow Mules, it keeps the drink cold and enhances the experience.
Bar Spoon: For gently mixing the ingredients.
Jigger: For accurate measurement of spirits.
Alternatives: Any glass tumbler or highball glass.
Instructions
Start by filling your copper mug or chosen glass with ice.
Then, carefully measure and pour in the vodka.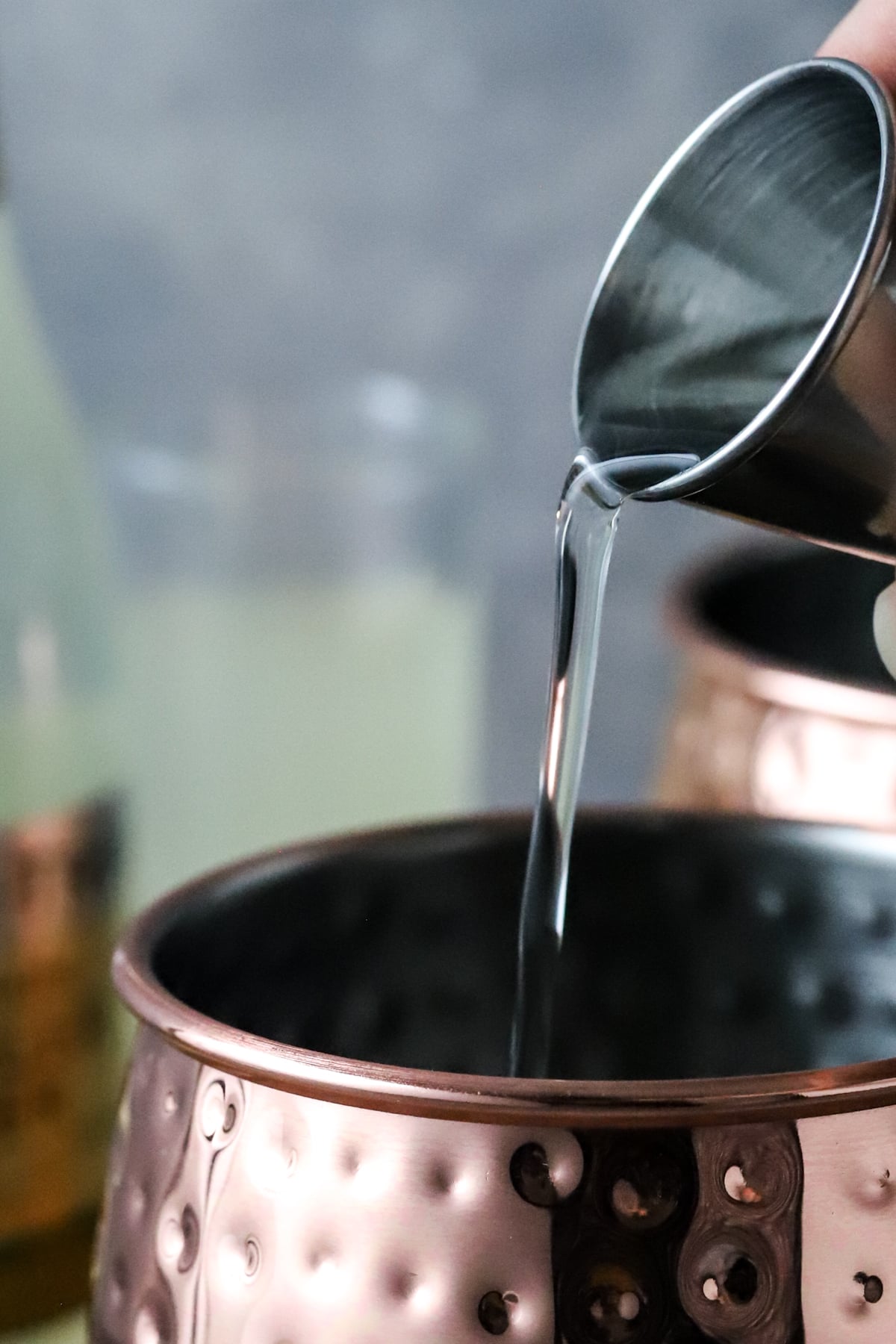 Next, add the freshly squeezed lime juice.
Now, fill the mug with ginger beer, taking care not to overfill.
Finally, gently swirl the contents with a bar spoon to mix.
Your Moscow Mule is ready to serve. Cheers!
Garnish Ideas
Lime Wedge: A classic touch that reinforces the citrus notes.
Fresh Mint: Adds a touch of green and a burst of freshness.
Candied Ginger: A sweet, spicy treat to nibble on.
Cucumber Slice: Introduces a cool, crisp layer.
Lime Zest Spiral: Offers an aromatic hint and visual appeal.
Edible Flowers: A beautiful, decorative touch for special occasions.
Fresh Berries: Introduce a dash of color and subtle sweetness.
Top Tips
Chill Your Ingredients: Before making your Moscow Mule, ensure all ingredients, especially the vodka and ginger beer, are chilled. This ensures a colder drink without over-relying on the ice.
Use Fresh Ingredients: Freshly squeezed lime juice can make a world of difference compared to its store-bought counterpart. The same goes for ginger beer – fresher, premium brands yield better results.
Mind Your Measurements: While mixing drinks might seem casual, the balance of flavors in a Moscow Mule depends on correct proportions. Use a jigger or measuring tool for accuracy.
Stir Gently: After adding all the ingredients, stir gently to combine. Over-stirring can cause the ginger beer to lose its effervescence.
Taste Before Serving: Before handing over your creation, take a small sip. If it needs more tang, add a bit more lime. If it's too strong, a splash more ginger beer can help.
Quality Over Quantity: Investing in premium ingredients can be the difference between an okay drink and an unforgettable one.
Experiment and Adjust: Everyone's taste is different. Some might like their Moscow Mule a bit tangier, others might prefer it spicier. Don't hesitate to adjust the proportions to fit your palate.
Glass Matters: While copper mugs are traditional and help maintain the drink's chill, if you don't have one, use a glass tumbler or highball glass. The experience will be slightly different but still enjoyable.
Substitutions
Ginger Ale: A sweeter, less spicy alternative to ginger beer.
Lemon Juice: For a slightly different citrus twist.
Club Soda: To dilute if the drink is too strong, without altering flavor much.
Variations
Add muddled berries for a fruity twist like in our blackberry mule.
Mix in a splash of cranberry juice for a tart edge.
Swap vodka for whiskey for a "tennessee Mule" twist.
Recipe
Yield: 1 Drink
Moscow Mule
A true classic, the Moscow Mule seamlessly marries the robustness of vodka with the spirited zest of lime and ginger beer.
Ingredients
2 ounces vodka
Juice from ½ a small lime
4 ounces ginger beer
Lime wedge, for garnish
Instructions
Fill a copper mug with ice.
Pour and fresh lime juice.
Top with ginger beer.
Gently stir to combine.
Garnish with a lime wedge.
Notes
After pouring the ginger beer, be sure to only stir gently, as we don't want to disrupt the bubbles.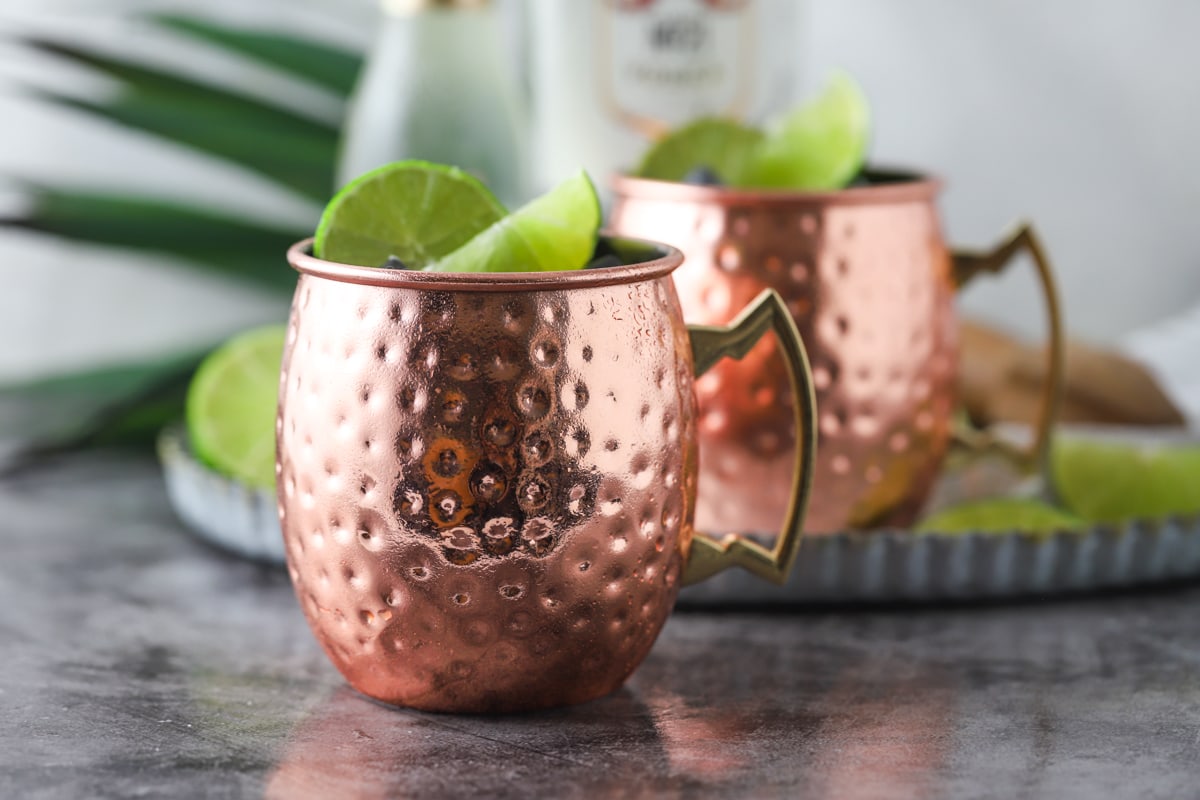 When to Make These Drinks
During hot summer afternoons for a refreshing pick-me-up.
At themed parties, especially retro or vintage affairs.
As after-dinner drinks for a light and rejuvenating touch.
For a brunch surprise, alongside or as an alternative to mimosas.
FAQs
Why is it called a Moscow Mule?
The name "Moscow" is likely a nod to the vodka, a spirit associated with Russia. The "Mule" part is less clear, but it might refer to the kick of the ginger beer.
Do I have to use a copper mug?
While traditional, you don't have to use a copper mug. However, it does add to the overall experience and keeps the drink colder.
Can I use ginger ale instead of ginger beer?
Yes, but ginger ale is sweeter and less spicy, which will change the drink's flavor profile.
What type of vodka is best?
A quality, smooth vodka is recommended. Brands like Smirnoff, Absolut, or Grey Goose work well.
How do I choose a good ginger beer?
Look for brands that offer a spicy kick and avoid those with too much added sugar. I like Fever Tree.
Is there alcohol in ginger beer?
Traditional ginger beer used in Moscow Mules is non-alcoholic. It's a carbonated beverage, similar to soda.
How do the other mules like the Mexican Mule or London Mule differ?
They primarily vary by the spirit used. For instance, the Mexican Mule uses tequila, while the London Mule uses gin.