These cool pool party jello shots are chock full of pool party fun! These vodka jello shots have little gummy bears having their own pool parties!
Dive into a sea of boozy deliciousness with these pool party jello shots! Featuring a tantalizing mix of jello, vodka, and gummy bears encased in life saver gummies, these shots are the perfect way to beat the heat while taking a dip in the pool.
These fun summer jello shots are perfect for any hot day or summer party!
So grab some friends and make a splash at your next gathering with these playful treats that are sure to make a big splash in the party scene!
Jump to:
Ingredients

Blue Raspberry Jello Mix: This sweet and tangy gelatin mix is the base of the jello shots. Its bright blue color makes it perfect for a pool party theme, and its fruity flavor adds a refreshing touch to the shots.
Vodka: Vodka is the alcohol of choice for jello shots as it mixes well with the gelatin without altering its texture. It also adds a subtle kick to each shot while complementing the fruity flavors. You can use one of your favorite types of vodka for this recipe.
Strawberry Ring Gummies: These cute little gummies add a fun twist as acting like a pool floaty for our jello shots. Their strawberry flavor pairs perfectly with the blue raspberry gelatin mix, creating a delicious balance of sweet and tart flavors. You could also use peach rings or watermelon gummy rings.
Gummy Bears: These classic gummy bears add a touch of childhood nostalgia to our jello shots. Their chewy texture and fruity flavors make them the perfect complement to the jello and vodka mixture, adding an extra boost of sweetness to each shot.
For our jello shot cups, we used 2 oz empty plastic cups for our boozy shots.
How to Make Pool Party Jello Shots
In a large mixing bowl, add the blue gelatin mix and cup of boiling water. Whisk until fully dissolved!
Pour in a ½ cup cold water and a ½ cup vodka, whisking until everything is combined.
Line up your cups on a tray and pour the jello mixture into each one almost to the top - careful not to spill over!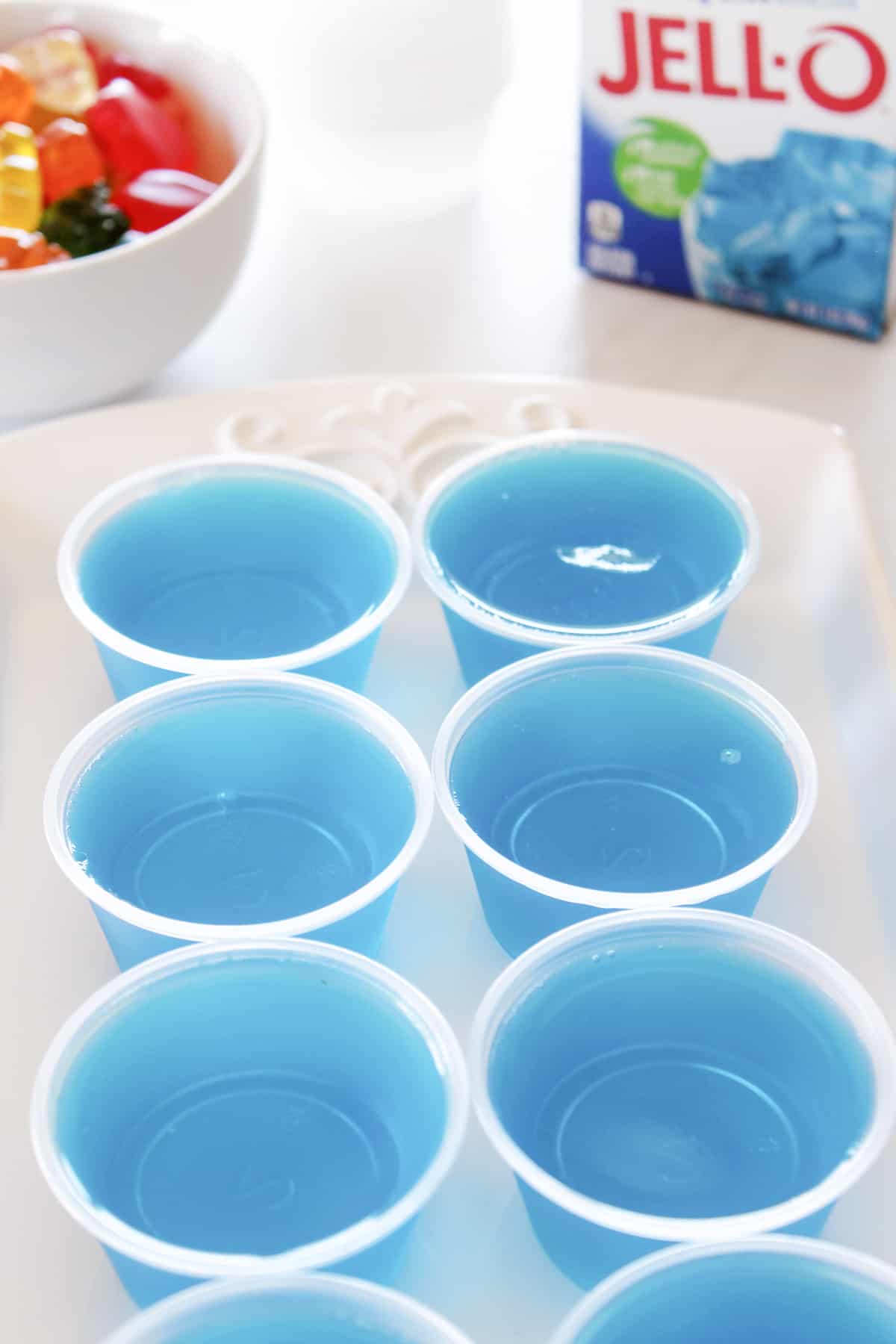 Pop these babies in the fridge for about 3 hours or until they are ready to set.
Once they're done setting, decorate each shot glass with a gummy bear nestled in a gummy ring - you'll be sure to get lots of oohs and ahhs from your guests!
Keep refrigerated until ready to serve and let the good times begin!
Top Tips
Use a measuring cup to make sure you get the perfect balance of water, gelatin and booze. It's important to get the proportions just right to create a jiggly and flavorful shot that won't leave your guests feeling flat.
Keep your ingredients chilled until you're ready to mix them together. Using cold water and vodka will help the gelatin set better and make for a smoother, tastier jello shot.
Make sure to refrigerate your jello shots for at least 3 hours. Patience is a virtue when it comes to jello shots - trust us, it's worth the wait!
Get creative with your decorations! Gummy bears or ring gummies are classic, but you can also experiment with fruit slices, sprinkles or even edible glitter for added pizzazz.
Lastly, don't be afraid to experiment with different flavors and combinations. The sky's the limit when it comes to jello shots.
Recipe
Yield: 16 Shots
Pool Party Jello Shots
Get ready to make a splash with these pool party jello shots! With their bright blue color and cute gummy bear and ring gummy decorations, these shots are a playful and delicious addition to any summertime gathering.
Total Time
3 hours
10 minutes
Ingredients
Blue Raspberry gelatin mix - 3 oz size.
1 cup boiling water
½ cup cold water
½ cup of vodka
Strawberry ring gummies (enough for each shot)
Gummy Bears (enough for each shot)
Instructions
In a bowl add blue gelatin mixture with one cup of boiling water. Whisk together until completely smooth.
Pour in the cold water and vodka, and mix until fully combined
Line jello cups on a try and pour jello vodka mixture into each cup.
Cover the cups and pop in fridge for 3 hours to set.
Once set, decorate each shot with a gummy ring and gummy bear. Enjoy!
Notes
Make sure to keep your jello shots in the fridge until ready to serve, or they might melt.