The Cape Cod cocktail, also known as a cape codder, is a delightful vodka and cranberry cocktail. This refreshing drink is perfect for those who appreciate a balance of flavors in their drinks.
Welcome to the world of mixology, where we celebrate the art of crafting exquisite cocktails. Today, we invite you to indulge in the refreshing and timeless vodka cocktail recipe.
This delightful cocktail combines the smoothness of vodka with the vibrant tang of cranberry juice, creating a harmonious symphony of flavors that has stood the test of time.
The Cape Cod drink, also known as the Vodka Cranberry, emerged onto the cocktail scene in the mid-20th century in Cape Cod, Massachusetts.
This picturesque region, renowned for its stunning beaches, became the birthplace of this drink.
Originally a simple blend of vodka and cranberry juice, the cocktail gained popularity for its refreshing qualities and became a beloved drink associated with leisurely afternoons and carefree beachside gatherings.
Today, it remains a classic favorite, appreciated for its simplicity, versatility, and ability to quench one's thirst with its vibrant ruby hue and invigorating cranberry flavor.
It's a classic vodka cocktail much like the vodka soda and the vodka tonic.
This post may contain affiliate links. That means if you click on a link and buy something, we may earn a small commission at no cost to you. We only recommend products we love and think you would enjoy too. You can read the full disclosure here.
Jump to:
Ingredients
Vodka: The star of this recipe, vodka brings a smooth and crisp character to the cocktail. Its neutral taste allows the cranberry flavors to shine.
Cranberry Juice: Bursting with tangy and fruity notes, cranberry juice complements the vodka beautifully, creating a harmonious blend of flavors. For a sweeter drink use cranberry cocktail juice. For a more bitter flavor use tart cranberry juice.
Lime (for garnish): A simple lime wedge adds a touch of freshness and citrus aroma, enhancing the overall experience of the drink. Adding a squeeze of fresh lime juice elevates the flavors in the drink as well/
Instructions
To make this refreshing cocktail, start by filling a highball glass or cocktail glass with ice cubes.
Pour your of vodka into the glass. Pouring the vodka first will help ensure the ingredients mix together better, instead of the vodka sitting on top of your drink.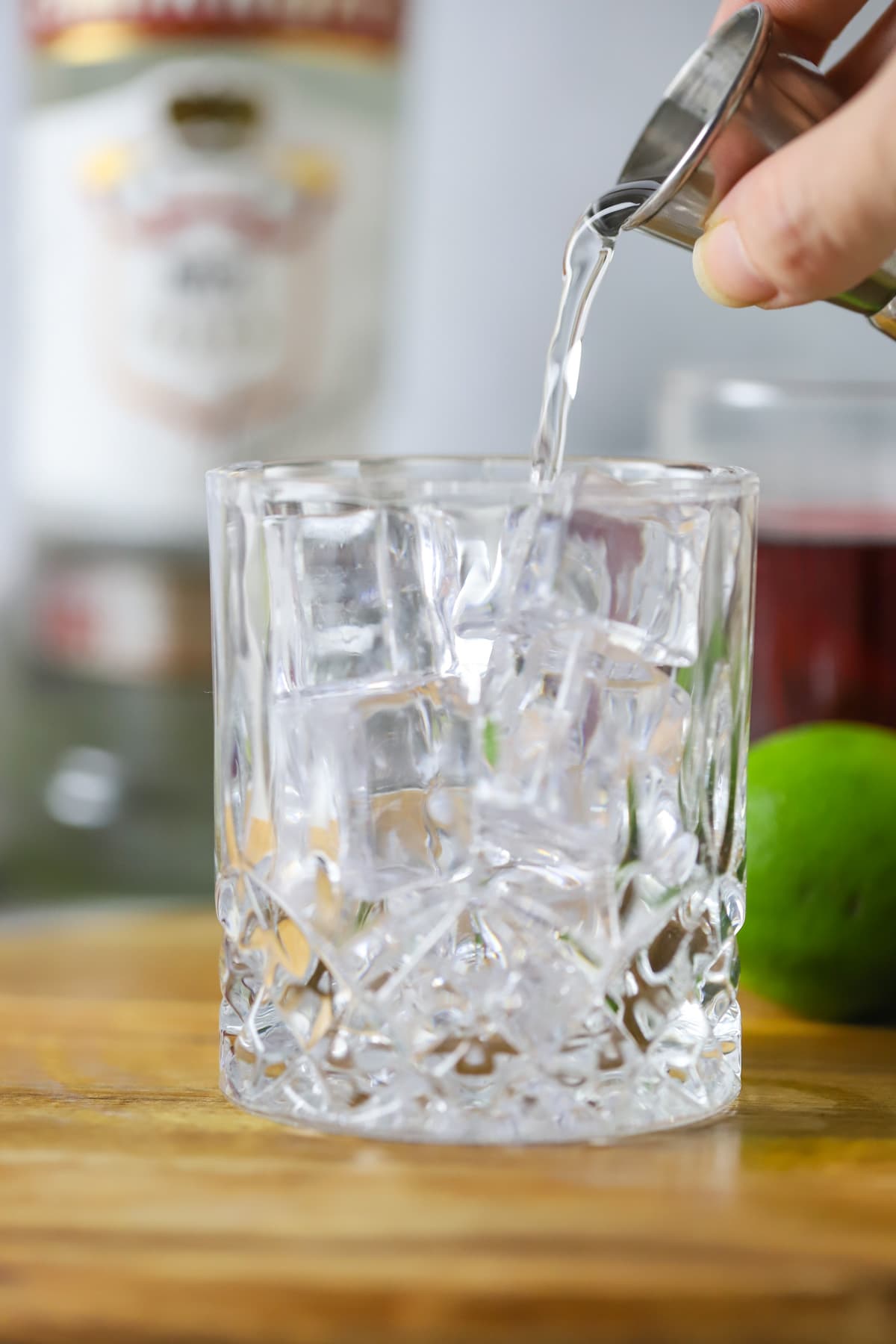 Follow it up with cranberry juice.
Give the mixture a gentle stir to ensure the flavors meld together.
Garnish the glass with a lime wedge for an extra pop of zest.
Sip and enjoy the refreshing and tangy vodka cranberry cocktail!
Garnish Ideas
Fresh Cranberries: These vibrant red berries add visual appeal and a burst of flavor, complementing the cranberry juice in the cocktail.
Lime Wheel: A thin lime wheel placed on the rim of the glass adds a decorative touch and offers a hint of citrus with each sip.
Cranberry Skewer: Thread a few fresh cranberries onto a cocktail skewer and rest it across the rim of the glass. This garnish not only adds a pop of color but also serves as a delightful edible decoration.
Rosemary Sprig: Take a fresh rosemary sprig and gently bruise it by giving it a gentle twist between your fingers. Place it in the glass to release its fragrant aroma, adding an herbaceous touch to your cocktail.
Citrus Twist: Cut a long, thin strip of lemon or orange zest, making sure to avoid the bitter pith. Twist it and drape it over the edge of the glass. This garnish provides a citrusy aroma that complements the flavors of the vodka cranberry recipe.
Sugared Rim: For an extra touch of sweetness, rim the glass with sugar. Dip the rim in a shallow plate of cranberry juice, then roll it in granulated sugar. The sugar rim adds a delightful textural element and a touch of sweetness to each sip.
Top Tips
Use chilled ingredients to ensure a refreshing and crisp taste.
Experiment with different types of cranberry juice, such as cranberry blends or white cranberry juice, for unique flavor profiles.
For an extra twist, muddle a few fresh mint leaves in the glass before adding the ice cubes for a refreshing herbal note.
Substitutions
Vodka: If you prefer a different spirit, you can substitute vodka with a clear rum or even tequila to create a whole new flavor experience.
Cranberry Juice: While cranberry juice is the classic choice, you can experiment with other fruit juices like pomegranate, raspberry, or grapefruit for interesting variations.
Variations
Sea Breeze: The Sea Breeze cocktail is a delightful variation of the vodka cranberry cocktail that adds a splash of tangy grapefruit juice to the classic combination of vodka and cranberry juice. This vibrant and refreshing drink offers a perfect balance of sweet and tart flavors, making it a popular choice for those seeking a tropical twist.
Madras: The Madras cocktail introduces the sunny flavors of orange juice to the mix. The combination of vodka, cranberry juice, and orange juice creates a harmonious blend of tangy and sweet notes, making this drink a perfect companion for any occasion.
Cosmopolitan: The Cosmopolitan is a sophisticated variation that takes the Cape Cod cocktail to new heights by adding a touch of lime juice and triple sec. The result is a perfectly balanced drink with a delightful citrusy tang, complementing the cranberry flavors and giving it a more complex and cosmopolitan profile.
Bay Breeze: The Bay Breeze is a tropical twist on the classic cranberry cocktail, combining the flavors of pineapple juice with vodka and cranberry juice. The addition of pineapple juice adds a luscious and tropical sweetness to the drink, transporting you to a sunny beachside paradise with every sip.
These variations offer delightful alternatives to the classic vodka cranberry cocktail, allowing you to explore different flavor profiles and tailor your drink to suit your preferences. Enjoy the unique characteristics and flavors of each variation as you indulge in the world of vodka cranberry delights.
Recipe
Yield: 1 Drink
Cape Cod (Vodka Cranberry) Cocktail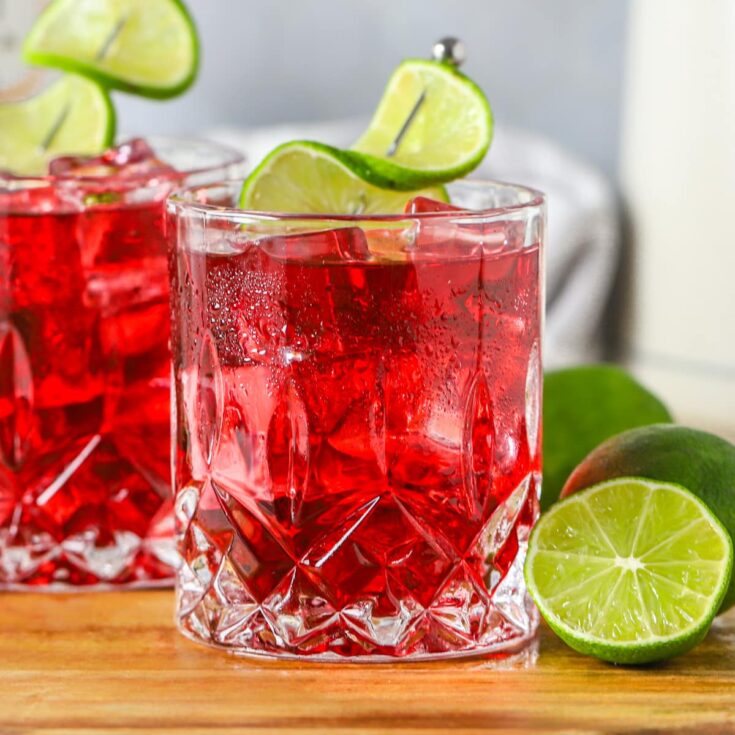 Today, we invite you to indulge in the refreshing and timeless Cape Cod cocktail. This delightful libation combines the smoothness of vodka with the vibrant tang of cranberry juice, creating a harmonious symphony of flavors that has stood the test of time.
Ingredients
2 ounces vodka
3 ounces cranberry juice
Lime (for garnish)
Instructions
Start by filling a highball or cocktail glass with ice.
Pour in vodka then cranberry juice.
Give the mixture a gentle stir.
Garnish and serve.
Cheers!
Notes
For the best tasting drink, use quality ingredients. Since this cocktail is simple and straightforward, the quality of the vodka and cranberry juice will significantly impact the overall taste and experience. Opt for a good-quality vodka that is smooth and clean-tasting, and choose cranberry juice that is not overly sweet or artificial.
Enjoy the Cape Cod cocktail with friends at a summer BBQ, or simply unwind with this delicious drink after a long day. Its tangy flavors and smooth character make it a go-to cocktail that is sure to impress. Cheers!