The Grinch Cocktail is a whimsical and delicious way to bring a touch of magic to your holiday festivities. Its enticing green color and sweet, bubbly taste make it a memorable choice for any joyful occasion.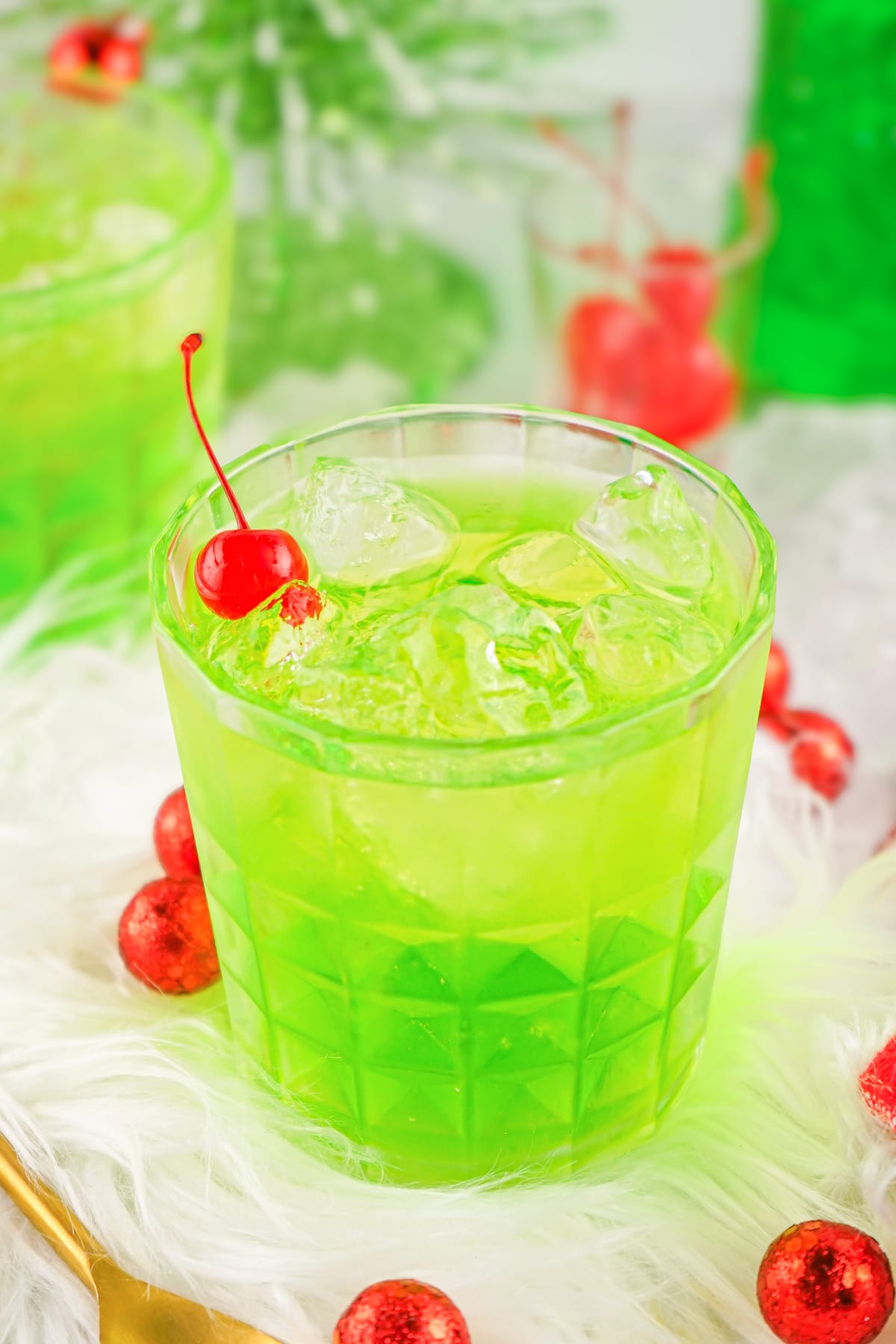 This Grinch Cocktail is not just a drink; it's a celebration in a glass! Perfect for holiday parties, this eye-catching cocktail combines the fruity zest of Midori with the smoothness of vodka, topped off with bubbly soda.
This grinch drink is named after the beloved holiday character and is a popular choice during the Christmas season. It captures the spirit of the holidays with its festive colors and sweet, fruity flavor. Perfect for a holiday party or just a tasty drink for a Christmas movie night.
If you like this drink you'll also want to check out our other grinch drinks like our Grinch mimosa and our Grinch jello shots.
Looking for another Christmas cocktail? You'll like our eggnog white Russian and our Christmas mimosas.
We've also got fun holiday jello shots like our Santa hat jello shots.
Why You'll Love This Drink
Festive Appearance: Its vibrant green color is perfect for holiday celebrations.
Easy to Make: With just a few ingredients, it's simple enough for anyone to mix.
Deliciously Sweet: The perfect balance of sweet and tangy flavors.
Customizable: Easily adjust the strength to suit your taste.
Ingredients
7UP: A key component that adds a sweet, citrusy fizz, enhancing the cocktail's refreshing quality. Look for a brand that's not too sweet to balance the flavors. You can also use Sprite or any other lemon lime carbonated soda.
Midori: This melon flavored liqueur is what gives the drink its signature green color and sweet, fruity flavor. Opt for Midori for its vibrant hue and authentic melon taste, but if unavailable, other melon liqueurs can also work.
Vodka: Vodka is the alcohol base of the cocktail, providing a smooth, clean canvas for the other flavors. Choose a high-quality vodka for a smoother taste. Flavored vodkas (like citrus or vanilla) can add an interesting twist but i suggest sticking to plain for this recipe.
Maraschino Cherries (optional): Adds a pop of red color and a touch of sweet, fruity flavor. The cherry's sweetness contrasts nicely with the tangy drink.
Glassware and Equipment
10-12 Ounce Cocktail Glass: Ideal for showcasing the drink's color.
Jigger: For precise measurement of ingredients.
Cocktail Spoon: For a gentle stir that maintains the fizz.
Instructions
Prepare Your Glass: Start by selecting a 10-12 ounce cocktail glass. This size is perfect for the proportions of this Grinch Cocktail recipe.
Add Ice (Optional): If you prefer your drink chilled, fill your glass with ice, leaving a small space at the top. Larger ice cubes are better as they melt slower.
Measure and Pour Vodka: Using a jigger, measure 1 ounce of vodka to ensure the right balance of flavors. Pour it over the ice.
Add Midori: Next, measure and pour 2 ounces of Midori. The melon liqueur not only adds flavor but also gives the cocktail its festive green color.
Top with 7UP: Finally, top off your cocktail with 5 ounces of 7UP or sprite. Pour slowly to maintain the soda's fizz.
Gently Stir: Use a cocktail spoon to give a slight stir. The key is to mix the ingredients without flattening the soda - a quick swish is all it takes.
Taste and Adjust: Taste your cocktail. If it's too strong, add a bit more 7UP; if too sweet, a bit more vodka.
Garnish Ideas
Maraschino Cherry: This classic garnish adds a festive touch and sweet flavor contrast.
Lime Wheel: A slice of lime can add a refreshing, citrusy note, complementing the sweet melon flavor.
Mint Sprig: For an aromatic touch and a burst of freshness. Mint pairs well with the melon notes of Midori.
Sugar Rim: Coat the rim of the glass in sugar for an extra sweet touch. It also adds a festive sparkle to the drink.
Candy Cane: Place a small candy cane on the rim of the glass for a whimsical, holiday feel. It adds a hint of minty flavor.
Green Sugar Sprinkles: For a playful and colorful addition, rim the glass with green sugar sprinkles.
Edible Glitter: A sprinkle of edible glitter on top can make your cocktail sparkle and shine, perfect for a festive occasion.
Top Tips
Chill Your Ingredients: For a colder drink without diluting it with ice, keep your vodka and Midori in the fridge before making the cocktail.
Balance is Key: When mixing, aim for a balance of flavors. If new to cocktail making, follow the measurements closely.
Gentle Stirring: Remember, the goal is to mix, not to aerate. A gentle stir is sufficient.
Serve Immediately: To enjoy the fizzy texture, serve the drink as soon as it's mixed.
Experiment with Flavors: Feel free to adjust the proportions to suit your taste. More Midori for sweetness, more vodka for strength.
Try Different Garnishes: Don't be afraid to experiment with different garnishes to find your favorite combination.
Quality Matters: Using good quality vodka and Midori can significantly enhance the taste of your Grinch Cocktail.
Don't use a cocktail shaker: It'll make the soda go flat.
Substitutions
Any Clear Soda: Can replace 7UP.
Different Vodka Flavors: To add a unique twist.
Other Melon Liqueurs: If Midori is not available.
Variations
Extra Boozy: Increase the vodka or Midori for a stronger kick.
Non-Alcoholic Version: Replace the vodka with additional soda.
Winter Wonderland: Garnish with coconut flakes for a snowy effect.
Recipe
Yield: 1 Drink
Grinch Cocktail
This grinch cocktail is the embodiment of holiday cheer in a glass. Its radiant green shade is perfectly matched by the refreshing and lively flavors of Midori and 7UP, creating a drink that's both invigorating and joyously festive.
Ingredients
5 Ounces 7UP
2 Ounces Midori
1 Ounce Vodka
Maraschino Cherry (optional)
Ice (optional)
Instructions
Fill glass with ice, leaving a small space at the top.
Measure out and vodka, then Midori.
Top with the 7UP or other lemon lime soda.
Give a slight stir.
Serve and enjoy. Cheers!
Notes
I do not recommend
mixing these in a cocktail shaker before serving since it will cause the soda
to go flat.
When to Make These
At a Christmas or holiday-themed party.
As a fun after-dinner drink during the festive season.
During a cozy night in, watching holiday movies. Especially The Grinch.
We hope you enjoy our easy version of a grinch cocktail. Its simple, but delicious!