Looking for a bold and flavorful cocktail to add to your repertoire? Look no further than the Red Headed Slut shot! This fun and fiery drink is perfect for parties, gatherings, or just a night in with friends.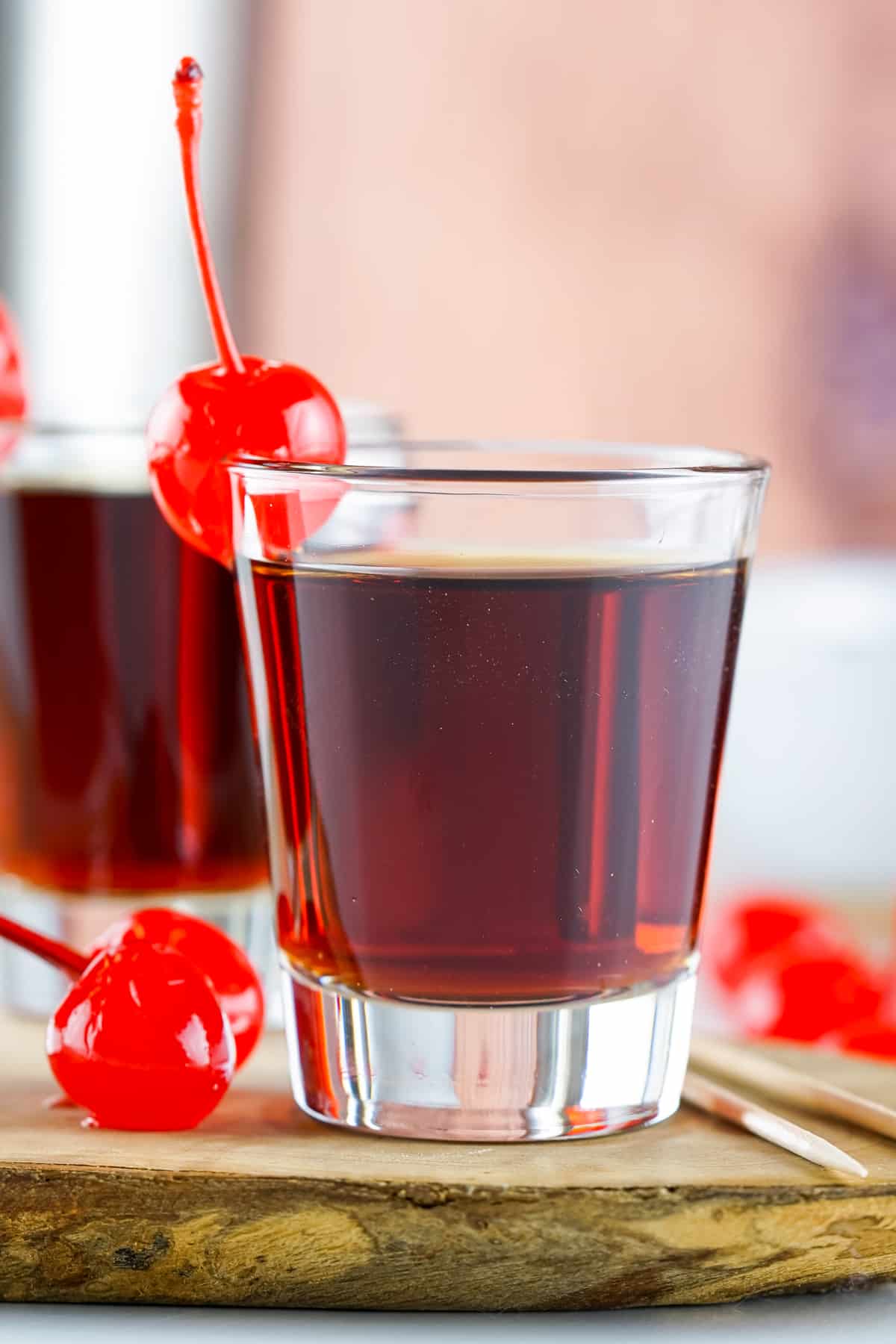 A Red Headed Slut shot is a popular cocktail that's as bold in flavor as it is in name. This fiery shot typically consists of peach schnapps, Jägermeister, and cranberry juice, resulting in a sweet yet tart taste with a hint of herbal bitterness.
The vibrant red color of the drink adds to its appeal, making it a fun and eye-catching addition to any party or night out.
Whether you're looking for a quick pick-me-up or want to impress your friends with your bartending skills, this Red Headed Slut is sure to pack a punch!
These are great for attention grabbing party shots, much like our delicious lemon drop shots and colorful woo woo shots.
Jump to:
Ingredients
Jagermeister: A German herbal liqueur made from a secret blend of 56 different herbs, fruits, roots, and spices, including star anise, ginger, citrus peel, and ginseng. The resulting flavor is complex and intense, with a distinct herbal bitterness that's both unique and unmistakable.
Peach schnapps: Adds a sweet and fruity flavor that's both juicy and refreshing, with notes of sweetness and tartness, making it perfect for mixing into cocktails.
Cranberry Juice: Tones down the rest of the drink and gives the red headed slut it's distinctive bright red color.
Maraschino Cherries: For garnish, optional. Plus they're tasty.
See recipe card for quantities.
Instructions
Measure out and pour the ingredients into a shaker glass. Shake lightly to mix.
If you're not using already chilled ingredients, be sure to pour ice into the shaker to cool your shots down.
Pour into shot glasses and garnish.
I usually keep my ingredients in the fridge before making these shots. I prefer to use cold ingredients instead of using ice, as it waters down the taste of the shot.
Garnish Ideas
While the bright red shots warrant plenty of attention all on their own, here are a few ideas to garnish your shots with:
Are you ready to elevate your Red Headed Slut Shots game? Let's talk garnishes! Here are the top picks for perfect pairings that will take your drink from good to great!
Lime Wedge: This little citrus gem adds a tangy twist that cuts through the sweetness of the drink.
Cherry On Top: Nothing says "party time" like a bright red cherry perched on the rim of your shot glass. Plus, it's a sweet treat to nosh on after you've slammed back your boozy beverage.
Candied Ginger: If you're looking for a little extra heat (without going overboard), candied ginger is the way to go. It's sweet, spicy, and sure to leave a memorable impression.
Sugar Rim: Who doesn't love a sugar rush? Rim your shot glass with coarse sugar for a sweet and crunchy contrast to the bold flavors of the drink.
Bacon Bit: Yes, you read that right! Bacon bits may seem like an unexpected garnish for a fruity shot, but trust us - it works. Salty, smoky, and a little bit sinful, this garnish is not for the faint of heart. Give it a try and thank us later!
Top Tips
eady to become a Red Headed Slut Shots expert? Here are some top tips to ensure your drink is the best on the block:
Use Quality Ingredients: The key to a mouthwatering drink is to use high-quality ingredients. Don't skimp on the peach schnapps or opt for a cheap cranberry juice - trust us, it's worth it!
Shake it Like a Polaroid Picture: For the best flavor and texture, be sure to shake your Red Headed Slut Shots with ice before serving. It'll create a frothy, flavorful concoction that is sure to impress.
Chill Out: Speaking of ice, make sure you chill your shot glasses before serving. A cold shot is a better shot, after all.
Keep it Simple: While there are plenty of garnishes and add-ins that can take your drink to the next level, sometimes less is more. Stick to the classic ingredients and add just one or two garnishes for a balanced and delicious drink.
Have Fun with it! The best part of making drinks is getting creative and having fun. Don't be afraid to experiment with different flavor combinations and garnishes to make your Red Headed Slut Shots uniquely yours.
So there you have it! With these tips, your Red Headed Slut Shots will be the life of the party. Cheers to sipping in style!
Recipe
Yield: 4 Shots
Red Headed Slut
The Red Headed Slut is a shot that's as bold and sassy as its name suggests. With peach schnapps, Jägermeister, and cranberry juice, it's a party in your mouth that'll leave you feeling anything but sluttish.
Ingredients
2 ounces cranberry juice
1 ounce peach schnapps
1 ounce Jagermeister
Instructions
Place all ingredients into a shaker. Mix gently.
Pour into shot glasses.
Notes
This can be served as a cocktail or shot, depending on which type of glass you serve it in.
If you're ingredients are chilled you won't need ice. If using room temperature ingredients, add ice to your shaker before shaking.